What is a Divine Appointment?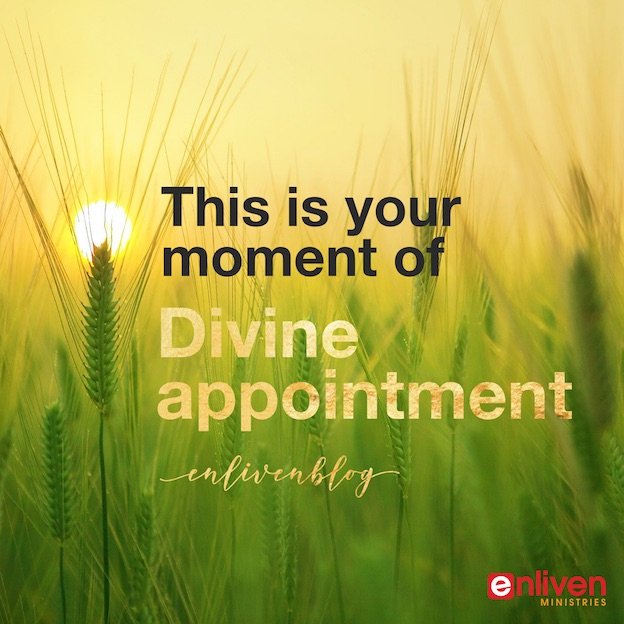 A Divine appointment is a moment in time, in which:
You encounter God
You come across a person or group that is significant in God's purposes for you, or
A circumstance takes place, that you realize has been set up by the Holy Spirit
It is a miracle moment.
You may have entered a Divine appointment, knowing it is one. But often, a Divine appointment is unexpected! It is only during or afterward, that you become aware of its significance.
A Divine appointment is an event that has been orchestrated by God.
---
6 Characteristics of a Divine Appointment
1. A Divine Appointment Often Takes Place in a Vulnerable Moment
It was a day Jacob later referred to, as "the day of his distress" (Gen 35:3).
He was fleeing for his life, away from his childhood home—and his murderous brother.
Late that day, Jacob reached a stony, lonely place. "A certain place" (Gen 28:11).
The night was coming on, and he could travel no further.
Jacob had no idea he was about to encounter God. For he hadn't stopped there by choice—only necessity.
A Divine appointment often happens when we are at the end of our capability.
And this is the grace of God! For He is saying to many of us today, "Where you are—this place, this moment, this season in your life: I am with you."
You may have ended up somewhere you weren't expecting.
It may seem dry; it may be hard.
You may feel vulnerable in some way.
But He says, "This is your place of Divine appointment."
---
2. A Divine Appointment Turns Your Distress to Worship
That night, lying on the hard ground, Jacob had a dream.
He saw a staircase reaching from Heaven to earth, with angels traveling up and down it
Above the stairs, stood God Almighty—telling Jacob of his identity, his purpose and destiny!
He awoke and realized, "This place—is not what I thought".
He had stumbled into a Divine appointment.
And Jacob declared with wonder,
"How awesome is this place! This is none other than the house of God; this is the gate of heaven." (Gen 28:17)
Because of that encounter with God, the place of Jacob's distress turned into a place of worship.
"Early the next morning Jacob took the stone he had placed under his head and set it up as a pillar and poured oil on top of it. He called that place Bethel" (Gen 28:19, NIV)
Today, hear your Father say, "I love you! I am here!"
As God interrupts the darkness with His glory, your heart will turn towards Him in worship.
---
3. At the Divine Appointment, Your Perspective is Changed
At Bethel, Jacob's expectations changed.
He was no longer running from his past—he was stepping into his future.
"He called that place Bethel" (Gen 28:19).
Jacob renamed his location.
From now on, future generations knew that place as "Bethel", meaning "the House of God".
Today you can anticipate, that as He did for Jacob, God is giving you grace to rename your location.
Dry, tough place
Hard place
Place of waiting
Challenging place
You realize, "This is my place of Divine appointment. God is in this location!"
---
4. At the Divine Appointment, Your Fear Meets God's Favor
In his flight from home, Jacob was motivated by fear—and probably, stung by regret.
He had just cheated his brother Esau out of his father's blessing.
Now, Esau was plotting to murder him.
He was alone, his father Isaac was dying, and Jacob would never see his beloved mother again.
In spite of all of that, at the height of Jacob's pain, God showed up in His glory
Instead of shaming him, God called, "Jacob! I've chosen you!"
Fear met the favor of God—and Jacob was never the same again.
Today, receive the touch of the Holy Spirit upon the eyes of your heart.
Be assured that God is present in your pain.
And not only that, He doesn't shame you for your mistakes.
Instead, He extends His favor towards you.
Jesus reaches out His hand through your fear, to rescue you.
---
5. At the Divine Appointment, God Reveals His Grace to You
A painful circumstance is usually complex.
And in Jacob's situation, it was not only that he had failed.
His family had also failed him.
Our messy situation, or painful transition, may be the result of others' mistakes, as well as our own
We may recognize our own flawed choices have, in part, led to where we are
And yet, and this is the very place God shows up. Here, your Father says, "I choose you!"
There was nothing Jacob had done to deserve this favor.
God's favor towards Jacob was not based on personal merit: it was founded on covenant.
Simply, Jacob was an heir to the promises given to his father and grandfather.
And like Jacob, you are an heir of a covenant; and of a promise, through faith in Christ. [2]
Now, no matter what has been before, He says, "I have a hope and a future for you." (Jer 29:11)
---
6. In a Divine Appointment, Everything Changes
Jacob's life was changed by the revelation of an open heaven above him.
Up until now, Jacob had not known God personally. To Jacob, He was the God of his father and grandfather.
But from this time on, He would be known as "the God of Abraham, Isaac, and Jacob". [3]
In the midst of his pain, Jacob was assured of his identity and purpose.
And years later, he led his own children back to Bethel.
Another generation had a worship encounter with God.
When we are led by the Holy Spirit, every moment is sacred.
But a Divine appointment stands out as a tipping point—afterward, things will never be the same.
This is your miracle moment.
---
Notes:
[1] You can read the story of Jacob's encounter with God at Bethel in Genesis 28.
[2] 1 Cor 11:25, 2 Cor 3:6, Gal 3:16, Gal 4:21-31
[3] Gen 50:24, Exodus 3:6
Related Posts:
---
© 2019 Helen Calder Enliven Blog – Prophetic Teaching
Enliven Ministries: Prophetic ministry for a revival generation