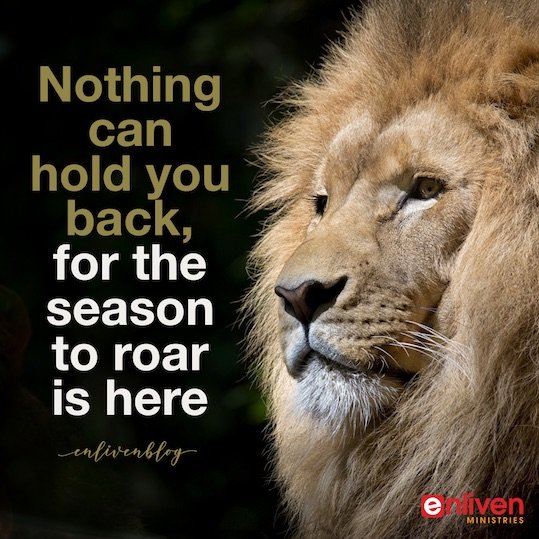 Today, I believe God is saying to many of His prophetic people, "I am restoring your roar!
"And though the enemy has sought to rob you of your voice—and extended trials have brought weariness to you, heart, soul and body—I am renewing your voice.
I have a greater measure of prophetic authority for you to walk in.
Nothing can hold you back, for the season to roar is here."
---
Why Does a "Roar" Symbolize the Prophetic?
Those of us who are prophetic in our gifts and calling see our "roar" as our prophetic voice and message. And here are some reasons why:
1. The lion and its roar are symbolic of prophetic ministry, and prophets:
"Surely the Lord God does nothing,
Unless He reveals His secret to His servants the prophets.
A lion has roared!
Who will not fear?
The Lord God has spoken!
Who can but prophesy?" (Amos 3:7-8, NKJV)
2. We need boldness to step out in our prophetic calling, and the lion is symbolic of courage:
"The righteous are as bold as a lion." (Prov 28:1)
3. A lion in Scripture also represents royalty and kingship:
One of Jesus' names is "The Lion of the Tribe of Judah" (Rev 5:5).
We can trace this back to Genesis; to Jacob's prophecy over his son Judah, whose name meant "praise".
Jacob declared that Judah's nature, and that of the future tribe he represented, would be that of a lion. That Judah was the "lion's whelp" (offspring) and his lineage would bring forth kings; ultimately, the Messiah (Gen 49:8-10).
In our prophetic calling, we often see ourselves as the offspring of the Lion of Judah.
It is true of every child of God, but particularly dear to our hearts
---
The Birthplace of the Roar
God's promise to release our prophetic voice stirs us.
But what if His pathway to restoring our "roar" is not what we expect—and instead of a sudden rise, we find the birthplace of our roar is a position of humility, even weakness?
We discover that Jesus waits for us to encounter Him, in a way that we are not used to.
This happened to me recently.
---
A Lamb Caught in a Thicket
Two months ago, my husband and I were having a short break by the sea.
I'd had an exhausting few weeks and tasks I was working on, became unusually complicated.
In fact, it seemed that more problems were being created than solved.
One night, I was pacing up and down a deck, praying in the twilight. As I prayed, the sky turned to night above me, and the darkened sea stretched out into the distance.
I was completely alone—just me and the Lord. And in that moment, Jesus spoke.
"You have known Me as Lion of Judah, but I also want you to know Me as your Shepherd".
And I saw it, in my mind's eye.
A lamb caught in a thicket, exhausted and entangled. I needed my Shepherd to rescue me.
That night, I encountered Jesus, and the conversation with Him that followed has changed my life; my heart, attitude, habits and environment.
---
Where Your Roar is Being Restored
"The Lord is my shepherd; I shall not want.
He makes me to lie down in green pastures;
He leads me beside the still waters.
He restores my soul" (Psalm 23:1-3, NKJV)
The truth is, if we don't rest, we will need to be rescued.
And if you are feeling as though you are at that stage, Jesus is here for you. He is your Rescuer, your Deliverer.
Your Shepherd.
And here, in moments of rest, being tended by your Shepherd, your roar will be restored.
---
Your Redeemed Identity
Many of us who are prophetic in our gifts and calling, desire to be "lion-like".
On the other hand, we tend to associate sheep with weakness!
After all, doesn't the Scripture say, "All we like sheep have gone astray"? (Is 53:6)
Yet Peter describes this as our redeemed identity:
"For "you were like sheep going astray," but now you have returned to the Shepherd and Overseer of your souls." (1 Peter 2:25 NIV)
Our identity is that of restored sheep, following Jesus our Shepherd. And He is calling those of us who love to hear His voice to remember:
Jesus taught on hearing His voice, in the context of sheep listening to the voice of their shepherd
Jesus called Himself the Good Shepherd, who calls His sheep out by name (John 10:3).
Your Biblical identity as "a sheep" and Jesus as your Shepherd is declared by God. It is true—it is valuable.
This is your glorious identity!
Jesus Himself declared it. Writers of the New Testament restated it.
The Gospel writers. Peter, John, Paul, the writer to the Hebrews. [2]
All attested to it.
Jesus, Your Shepherd King
Jesus is both your King and Shepherd.
The glorious King, the Lion of Judah, is also the Shepherd seated on the Throne!
"For the Lamb at the center of the throne will be their shepherd; 'he will lead them to springs of living water.' 'And God will wipe away every tear from their eyes.'" (Revelation 7:17 NIV)
Today, take time to breathe. Jesus is visiting you with restoration—He is delivering you in your place of weakness, restoring your roar.
The Shepherd-King is here to show you your ultimate identity; that you are His Beloved.
"The Shulamite:
Jerusalem maidens, in this twilight darkness, I know I am so unworthy—so in need.
The Shepherd-King: Yet you are so lovely!
The Shulamite: I feel as dark and dry as the desert tents of the wandering nomads.
The Shepherd King: Yet you are so lovely—like the fine linen tapestry hanging in the Holy Place."
(Song of Songs 1:5, TPT)
"Now may the God of peace, who through the blood of the eternal covenant brought back from the dead our Lord Jesus, that great Shepherd of the sheep, equip you with everything good for doing his will, and may he work in us what is pleasing to him, through Jesus Christ, to whom be glory for ever and ever. Amen." (Heb 13:20-21 NIV)
Notes
[1] See examples, Matt 2:6, Acts 20:28, Heb 13:20, 1 Pet 2:25
[2] Another prophetic insight about the Shulamite is here: The Wounded are Rising and Leading Revival
---
Related Posts:
---
© 2019 Helen Calder, Enliven Blog
Enliven Ministries: In the David McCracken Ministries family