Why would you learn about spiritual warfare? Here are 7 reasons why learning about spiritual warfare and how God has given you the power to overcome, is a great thing to do:
1. You Grow in Biblical Wisdom
Spiritual warfare is a major theme of the Bible—from the third chapter of Genesis when the serpent enters the garden, to the twentieth chapter of Revelation when the devil is once and for all thrown into the lake of fire.
And the Bible tells us: 'The reason [Jesus] the Son of God appeared was to destroy the devil's work.' (1 John 3:8b)
So if this topic plays such a significant part in Scripture, then it should be something we pay attention to.
---
2. You Get a Balanced Perspective
There are two errors Christians can fall into when it comes to spiritual warfare – one is, to make too much of it, and at the other extreme, is to ignore it altogether. And the remedy for both of these is to find out what the Bible says about the topic.
Jesus addresses this in Luke 10, when He sends 70 disciples out on a ministry trip. And right there in that story, we have:
The reality check, that when we follow Jesus and do His work, we will engage the enemy
Assurance of our authority to deal with warfare when it comes up
A reminder of our protection
And a call to balance
As Jesus said to His rejoicing disciples, "Do not rejoice that the spirits submit to you, but rejoice that your names are written in heaven." (Luke 10:20)
---
3. It Leads You to Worship Jesus
And having disarmed the powers and authorities, he made a public spectacle of them, triumphing over them by the cross. (Col 2:15)
Our first point of reference in spiritual warfare is in the past. It's back to the cross where the victory was won by Jesus once and for all! And when you meditate on what He's done through His suffering and think about Jesus' greatness and His supremacy, you can't help but be amazed and worship Him.
---
4. You Find out More About Who You are
'You, dear children, are from God and have overcome them, because the one who is in you is greater than the one who is in the world.' (1 John 4:4)
You are an overcomer in Christ. That's your DNA—it's your heritage, your legacy. It is the nature of the Holy Spirit within you. He is a Spirit of boldness and conquest. And a great way to discover your spiritual authority is in the context of learning about spiritual warfare.
---
5. It Breaks the Power of Intimidation
The Bible says, 'God has not given us a spirit of fear, but of power and of love and of a sound mind' (2 Tim 1:7). Fear has to do with deception—which is always broken by the truth of God's Word.
---
6. You are Prepared for Spiritual Attack
'Be sober, be vigilant; because your adversary the devil walks about like a roaring lion, seeking whom he may devour.'(1 Peter 5:8)
The Bible tells us to be alert and to resist the devil—and we can only do that when we're properly equipped and prepared, and have the faith that arises from knowing God and His Word.
---
7. You can Pursue God's Plan for Your life
Our goal in spiritual warfare is not to draw attention to what the devil is doing. Instead, our goal is to focus on our Heavenly Father and pay attention to what He is doing—and to not put up with less than His best. To not allow pressures, obstacles, hindrances, or battles to stand in our way, but to honor Jesus and His purpose for our lives.
---
This week I have launched first new online course, 'Spiritual Warfare 101: How to Identify and Overcome Spiritual Attack' and I warmly invite you to join me!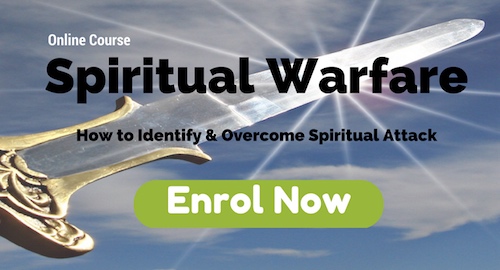 This course includes around 30 mini-lectures on video and is full of Biblical wisdom and strategies to help you overcome in time of battle. There is also a downloadable full transcript in PDF version.
And once you're in, there is no expiry date, so you can continue to journey with me through upgrades and increased course content in the future.
I have added two bonus eBooks into the course content. These are 'The Script: Choose Your Story, Change Your Life' and 'Unlocking the Gift of Discernment' (2nd Edition).
The Bible has great news. You do not have to be weighed down by spiritual oppression or put up with pressure and attack! Find out more about the course, 'Spiritual Warfare 101: How to Identify and Overcome Spiritual Attack' here.
---
Related Post:
12 Signs of Spiritual Warfare (to Help You Identify it)
---
© Helen Calder Enliven Blog – Prophetic Teaching
Enliven Ministries
In the David McCracken Ministries family