A Day I Received a Strategy from the Holy Spirit
In 2001, my husband and I were involved with a mission agency, that was going through a season of transition.
The ministry was in a financial crisis. I wrote in my diary, "we're in one of the most difficult seasons ever."
One night when my husband was out at a meeting and my children were asleep in bed, I got down on my knees. I was crying out to God about what was happening in our missions ministry. Suddenly, while on my knees praying, I saw in my mind's eye some diagrams. They clearly explained the changes affecting our organization.
I got up off my knees, found some paper, drew the pictures that I'd seen, and sat up late writing notes from them.
Spirit-Inspired Diagrams
Those diagrams described a paradigm shift taking place in the way local churches approached missions, and they helped turn our ministry around. Wherever my husband Malcolm and I went, and we showed the diagrams to pastors and leaders, they were electrified. "That's it! That's what's on our hearts!"
That insight—described in pictures and given by the Holy Spirit—contributed to the turnaround of our New Zealand ministry, and was instrumental in moving us here to Australia—into God's new season for our lives! [1]
---
Supernatural Strategies and Blueprints
We often pray and ask God for guidance; for direction. For where to go. But there are times when He wants to add to that. He has made available strategies and blueprints that describe our destination, as well as how to get where we're going. We simply need to ask.
One definition of a blueprint is, "a guide for making something — a design or pattern that can be followed." [2]
Our Father is saying, "Will you believe and ask Me to give you supernatural strategies, and blueprints—patterns and designs? Will you seek Me for wisdom? I long to give you so much more than you've received up until now."
---
The Power of an Anointed Strategy
In Genesis 41, Joseph interprets Pharaoh's prophetic dream—that seven years of plenty in the land are going to be followed by seven years of famine.
Joseph doesn't stop with the interpretation—he boldly follows it with an anointed strategy for how Pharaoh can manage the situation and save the nation.
And Pharaoh asks, "Can we find anyone like this man, one in whom is the Spirit of God?" (Gen 41:38). He then puts Joseph in charge of the project!
One anointed strategy from God is powerful; it can even save nations.
---
God's Wisdom does not Always Make Earthly Sense
In 2 Kings 4, a widow cries out to the Prophet Elisha because she is in debt. He doesn't give her money—he gives her an anointed strategy from the Holy Spirit that uses a resource she already has on hand. "Go get as many empty jars as you can, pour your oil and keep on pouring—sell the oil."
Here's the thing about strategies from Heaven. Sometimes God's wisdom may not make earthly sense. And maybe no one has articulated it this way before—but God is giving you a strategy that's a 'now' blueprint for the new thing He's doing.
It's supernatural wisdom
It's a Heavenly solution to your earthly problem
Now is the time for you to have faith in God, and be open to receive a Heavenly strategy! It will give Him glory because Jesus is the only explanation for what people see taking place.
How do you receive a strategy from God? Simply believe, ask, listen, and record.
The strategy may come in a dream, in a prophetic word, in a picture, or in a moment of practical but God-breathed wisdom insight. So, be open to the many ways God can speak to you.
Right now the Holy Spirit is stirring us, and He's saying, "Will you believe and ask Me not only for direction but also the strategy, the "how" of getting there?"
Be encouraged by these words of James:
'If any of you lacks wisdom, you should ask God, who gives generously to all without finding fault, and it will be given to you.'(James 1:5)
---
Notes:
[1] My husband Malcolm was the National Director of a mission organization called Asian Outreach from 1995 – 2002 in New Zealand and 2002 – 2004 in Australia. We also served for seven years prior to that, in a voluntary capacity.
[2] Source: https://www.vocabulary.com/dictionary/blueprint
---
Study Online: A Prophetic School for Those Growing in Prophecy: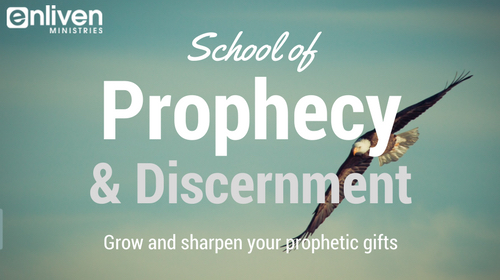 The best mentoring and teaching I can give you is now rolled into this one place, on the Enliven School of Prophecy and Discernment.
Classes include: How to hear God's voice, How to Begin and Grow in Prophecy, The Character of the Prophet, The Seer Gift: How to Grow in Pictures and Visions, Prophetic Discernment, Discernment, and Prophetic Warnings, and the Prophetic Guidance Master Class.
You can view and sign up for my self-paced video lecture series in the Enliven Prophetic School here. Choose between a small monthly subscription or a one-off payment with no expiry date.
---
© Helen Calder Enliven Blog – Prophetic Teaching
Enliven Ministries: in the David McCracken Ministries family