Has anyone ever said to you, 'Do you want the good news or the bad news first?' At that moment, you hope that the good news more than compensates for the bad news!
This is the approach Peter takes in his first New Testament letter. 'Be alert and of sober mind. Your enemy the devil prowls around like a roaring lion looking for someone to devour.' (1 Pet 5:8) After sharing the bad news, he adds:
You are able to resist
You can stand firm in faith
And, you are not alone (see 1 Pet 5:9)

This good news does not just alleviate the bad news—it completely overturns it! The truth is that you are victorious through Christ. However, being alert means that you need to pay attention, so that you can identify when the enemy is at work.
There are going to be times when you are faced with opposition from people, or human institutions, or systems set up by people. And those things are applying pressure against you.
Perhaps you can relate to this now.
Paul reminds us to discern with our spiritual senses when this occurs. For although the conflict appears to be from a human source, there may be a demonic power behind it.
'Finally, be strong in the Lord and in his mighty power. Put on the full armor of God, so that you can take your stand against the devil's schemes. For our struggle is not against flesh and blood…' (Eph 6:10-12a)
The word 'schemes' in the Greek is methodeia. It means 'to follow craftily, frame devices, deceive' and is also translated 'wiles' or 'lie in wait.' [1]
It is this very trickery that causes us to believe that the source of our battle is a person or human in origin when it is not.
---
5 Signs you are 'not fighting flesh and blood'
'For our struggle is not against flesh and blood…' (Eph 6:12a)
The Greek word Paul uses for 'struggle' can also be translated 'wrestle'. It is defined as:
'Wrestling (a contest between two in which each endeavor to throw the other, and which is decided when the victor is able to hold his opponent down with his hand upon his neck)' [2]
This metaphor gives us some insight as to the signs and effects of a spiritual battle taking place: [3]

You feel stifled; it feels as though there is a stranglehold coming against you
Perhaps, you are being held back or pushed back in some way
You are on the ground (feeling disabled) and you don't know how you are going to get up
It is tempting to feel as though you are a victim
You are feeling knocked around or beaten up
The struggle is against God's purpose for your life, your marriage, family, work, or ministry, and you may even be tempted to give up.
As soon as you become aware of the true nature of the battle, you can turn it around.
At the very moment you discern the true source of that warfare—that it is not a person, a system, or an institution—you can shift the battle into the spiritual realm.
---
How the Battle Turns
'Submit yourselves, then, to God. Resist the devil, and he will flee from you.' (James 4:7)
Interestingly, James makes this statement in the context of human conflict (see James 4:1-6). Are you looking for a person fighting with you to change, in order for the battle to shift? According to the Bible, the turning point of spiritual warfare is not when the other person changes.
The turning point comes when you recommit personally to God, coming under the authority of the One who has ultimate authority.
Submitting is whatever the Holy Spirit shows you to do—and can involve many things including:
A conscious reaffirming of Jesus' Lordship in every area of your life
Coming back to a position of faith and believing God's Word
Repentance, so that any 'foothold' the enemy has had in your life is broken (Eph 4:27b)
Repositioning in your thinking
An attitude of worship
Recognition that the battle is a spiritual one and that your place is with Jesus, 'seated in Heavenly places' (Eph 2:6)
Now, you resist—and that enemy must flee. Because submitting to God and actively resisting makes you dangerous.
Finally, the best news of all:
'The Lord is a warrior; the LORD is His Name'. (Ex 15:3, NIV)
'The Lord shall go forth like a mighty man; He shall stir up His zeal like a man of war.' (Isaiah 42:13a NKJV)
There is a revelation of Who your God is, that you will only receive in the midst of a conflict.
---
Notes:
[1] https://www.blueletterbible.org/lang/lexicon/lexicon.cfm?Strongs=G3180&t=KJV See also Eph 4:14 KJV
[2] https://www.blueletterbible.org/lang/lexicon/lexicon.cfm?Strongs=G3823&t=KJV
[3] For more signs, see my article 12 Signs of Spiritual Warfare
---
Spiritual Warfare Online Course
I have just launched my first new online course, 'Spiritual Warfare 101: How to Identify and Overcome Spiritual Attack' and I warmly invite you to join me!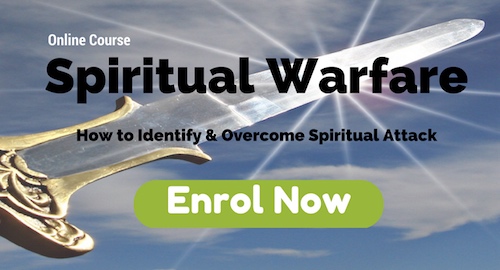 This course includes around 30 mini-lectures on video and is full of Biblical wisdom and strategies to help you overcome in time of battle. There is also a downloadable full transcript in PDF version.
And once you're in, there is no expiry date, so you can continue to journey with me through upgrades and increased course content in the future.
The Bible has great news. If you have discerned signs of a spiritual battle taking place, you do not have to be weighed down by spiritual oppression or put up with pressure and attack! Find out more about the course, 'Spiritual Warfare 101: How to Identify and Overcome Spiritual Attack' here.
---
Related Post:
---
© 2016 Helen Calder Enliven Blog – Prophetic Teaching

Enliven Ministries: in the David McCracken Ministries family