Over the years that my husband Malcolm and I have traveled for ministry, we have noticed that just as places have a unique physical environment, they also have a distinctive atmosphere.
An atmosphere is defined by the dictionary as 'the pervading tone or mood of a place…' [1]
What is true of localities is also true of our families, our ministries and workplaces, or any group, church, or sub-community.
It is also true of our lives.
Have you stopped to consider what the prevailing atmosphere of your life, family, church, ministry or locality is right now?
Many things can impact the atmosphere of a region, for example:
The history, any injustices that have taken place
The distinctive culture or culture-mix of residents
Memories and emotions concerning events that have occurred locally
Spiritual strongholds that are unique to the area
Judgments and opinions related to politics, people, systems, and organizations
Expectations (or lack of them) with regard to "a future and a hope." (Jer 29:11)
In the same way, there are factors from the past, and things taking place right now, that may be affecting the atmosphere of your family or your personal life.
The amazing thing is, in spite of all these things, an atmosphere can be changed. This is the power of the Gospel!
---
How to Change the Atmosphere by Speaking Prophetic Words of Life
In the book of Acts, we learn of how the city of Samaria, once bound in deception to sorcery, heard the Good News about Jesus. The atmosphere of the entire city became one of 'great joy.' (Acts 8:8)
As followers of Jesus, we do not have to put up with or be affected by a negative atmosphere. Instead, we can partner with God to influence and transform the atmosphere.
In Genesis 1, we read of how the earth's atmosphere was dark and empty. When God spoke a 'let there be' word, that atmosphere was transformed. Light came. Life came.
When we speak in agreement with what Father is speaking, creative power is released for the fulfillment of His plans. 'For no word from God will ever fail.' (Luke 1:37)
5 Ways to Speak Prophetic Words of Life
The tongue has the power of life and death, and those who love it will eat its fruit.' (Prov 18:21)
The Bible tells us that life-giving power is released when God's people speak words of life. Here are 5 ways that you can speak prophetic, life-giving words that will transform the atmosphere around you:
1. Focus on and Talk about what God is doing (and what He Intends to do)
Jesus said, 'The thief comes only to steal and kill and destroy; I have come that they may have life, and have it to the full.' (John 10:10)
When we are going through a trial, it is easy to focus on the difficulty and the pain. In these situations, 'death' has to do with loss and the passing of something. Life means something fresh and new is here and on its way.
It takes a special kind of focus to see what the Holy Spirit is up to. Yes—we can be honest concerning the facts of what is taking place. However, we can choose a Kingdom perspective. Let's gossip about the goodness and purposes of God—and when we do, the atmosphere will shift.
2. Speak Blessing
There is life-giving impact when we speak, pray or declare words of blessing over people, situations, and over ourselves.
A blessing does not have to be formal. It can be spoken in a natural way ('May you receive God's healing in your body' / 'May you experience growth and increase in your business.')
We can offer to pray a blessing over a person or situation. We can also incorporate blessing as a tradition—for example in our family life. Words of blessing will change the atmosphere. [2]
3. Pray with Praise and Thanksgiving
Prophetic praise and prayer celebrate God's outcome before it even manifests physically—and those declarations of praise and thanks shift the atmosphere and contain the power for a breakthrough. Miraculous power is released when we pray according to God's purposes in Jesus' Name. [3]
4. Use Prophetic Scripture Declaration
Pray and ask God for specific Scriptures that reflect what His heart and purpose are, and what He is doing.
'Prophetic' means that we have insight from the Holy Spirit and God's Word as to God's intended outcome for a situation or for people. There is a tremendous authority when we declare God's Word.
5. Take Every Opportunity to Share the Gospel
The good news about what Jesus accomplished on the cross and how people can receive forgiveness and life through Him, changes lives and shifts atmospheres.
Jesus said, 'The words I have spoken to you—they are full of the Spirit and life.' (John 6:63)
As we follow Jesus, we will become like Him.
What an amazing thought that we too can speak life-giving words, words that are full of the Holy Spirit and empower God's purposes!
---
Notes:
[1] Google request: 'define: atmosphere'
[2] See the article '3 Mistaken Beliefs About God's Blessing' for more information about blessing.
[3] For important insights about prayer—whether it be for a personal, or regional breakthrough, see the post, 'Fresh Ways to Pray for Your Nation or Region.'
My recommended posts:
---
Study Online: Classes for Those Growing in Prophecy:
When it comes to spiritual gifts, I know what it is like to go on a long journey, and often a lonely one.
My own experience of struggling to find good mentoring is why I am extremely passionate about helping others learn how to hear God's voice, and grow in their gifts of prophecy and discernment.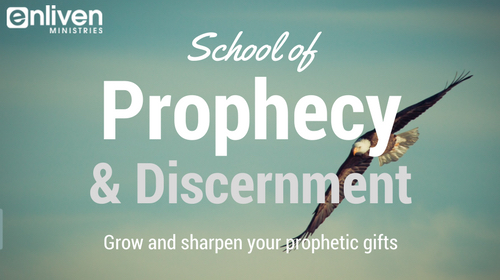 The best mentoring and teaching I can give you is now rolled into this one place, on the Enliven School of Prophecy and Discernment.
You can view and sign up for my self-paced video lecture series in the Enliven Prophetic School here. Choose between a small monthly subscription or a one-off payment with no expiry date.
---
© Helen Calder – Enliven Blog
Enliven Ministries: Prophetic ministry for a revival generation