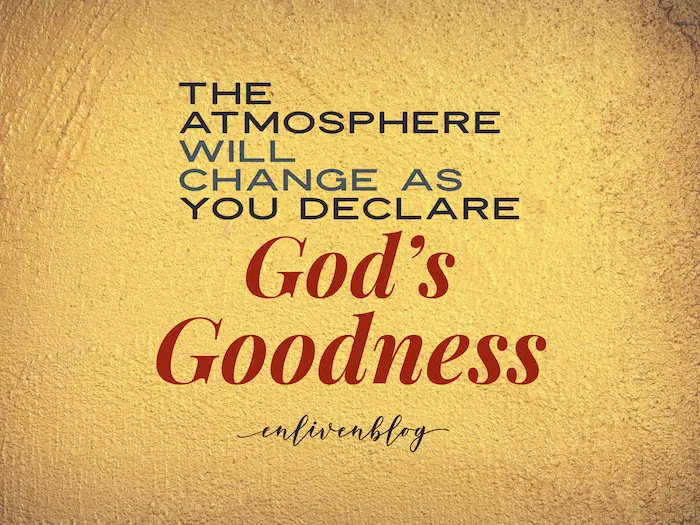 Have you ever considered that one of the most powerful declarations you can make, is very simple?
"The Lord is good, and His mercy endures forever!"
I believe the Lord is emphasizing this word again, as a glorious battle cry through His people!
And if you can relate to feeling a restriction in the atmosphere—or melancholy—this word of encouragement is for you.
For the atmosphere of the Kingdom is "righteousness, peace, and joy in the Holy Spirit" (Rom 14:17) and you are about to breathe freely of Heaven's fresh air again.
---
A Battle Cry that Helped Win an Impossible War
A "battle cry" is a call or shout that rallies an army—one that can precipitate an advance! For example:
When Joshua led the Israelite army against Jericho, their battle cry was one final shout of victory (Joshua 6:20)
Later, when Gideon led his small band against the Midianites, their cry was, "The sword of the Lord and of Gideon!" (Judges 7:20)
And then, there was the unusual case of King Jehoshaphat of Judah.
He sent a choir ahead of the army singing, "Praise the LORD, For His mercy endures forever." (2 Chron 20:21)
Judah didn't have to engage in that battle, even though the odds were against them! As God moved, their enemies turned against each other.
---
The Cloud of Glory Followed
God's goodness and his mercy come together in this power-packed statement. And it's one that you can declare:
"The Lord is good, and His mercy endures forever!"
This is the declaration of praise that preceded the cloud of God's glory, filling the temple. As the Lord's weighty presence filled the room, the priests could not stand to minister! (2 Chron 5:13-14)
It's also the cry of the psalmist in the face of warfare (Psalm 118)
---
Know that God is Good "All the Time!"
The enemy wants you to doubt the goodness of God in your circumstances.
Yet in the face of the storm, and the greatest of threats, you can proclaim, "My God is good, and He is full of mercy towards me."
And you will know that God's goodness is not dependent upon people, feelings, or circumstances.
For "good" is your Father's identity—it's who He is!
When Moses asked God, "Show me your glory", God said, "I will make all of My goodness pass before you". (Ex 33:18-19) [2]
---
Knowing God's Goodness Brings Security
Today, receive healing to your heart and mind, as you contemplate His kindness.
For God's goodness and kindness are unstoppable! There is never any time, or any moment when He's not good and kind.
You can rest secure in God's goodness, for He never changes and is always good. Your Father is always kind and He is watching over you.
Jesus said, "I am the good shepherd" (John 10:11).
This truth is your assurance, your security, and the rock that you stand on: "The Lord is good, and His mercy endures forever!"
---
A Declaration of God's Goodness Routes the Enemy!
The story of how King Jehoshaphat trusted the prophet's word and sent the choir before the army encourages us today:
That in the face of pressure—in the face of obstacles, you have a simple declaration of praise at hand
You may speak this confession quietly, yet it's a lion-like roar in the spiritual realm
For it is a word of truth that silences demonic whispers—it dispels dark messages with a breath of life
"I praise You, my God. For You are good and Your mercy endures forever!"
---
His Goodness and Mercy are in Your Future!
His goodness is active right now, in your present! For His Spirit is within you—along with all His fruit of kindness and goodness (Gal 5:22).
These words of David are a battle cry for someone today:
"Yet I am confident I will see the Lord's goodness while I am here in the land of the living." (Psalms 27:13, NLT)
Secure in Christ, God's goodness is in your future, both in this lifetime and in eternity! So that throughout all your life, God's goodness and mercy are like a mighty river, and you are swept up in its current (Psalm 23:6).
---
A Practice of Blessing
Maybe, like I've done this week, it's time to pray through your home, workplace, or somewhere where there has been a specific challenge. Especially if the atmosphere has been affected, either long-term or recently.
Declare the goodness and mercy of God—and see by faith, the enemy fleeing!
Thank God for redeeming what has gone before, and speak a prophetic word of blessing, in Jesus' Name.
For a fresh wind of worship is here.
---
Notes:
[1] The Hebrew word translated mercy, "chesed" (Strong's H2617) means, mercy, kindness, loving-kindness, and goodness.
The Hebrew word for good and goodness, "tuwb" (Strong's H2896) also carries the meaning of fairness, beauty, joy, prosperity, and gladness.
[2] See my post, "Why Did Moses Ask, "Show Me Your Glory"?
---
Do you love Prophetic Worship?
Be equipped, gain confidence, and go on a prophetic journey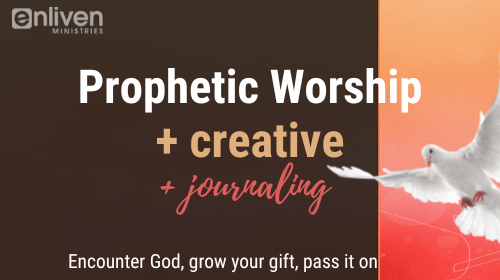 This course is for you, if you love worship, identify as being prophetic—or would like to be—and are creative.
So, if you are hungry for God and ready to go on a journey of personal renewal—welcome to the Enliven Prophetic Worship + Creative course.
This is a space where we value creative expression in worship, writing, and other art forms.
And above all—make room to encounter, worship, and honor Jesus.
Be equipped to convey a vision for prophetic worship confidently
Experience the power of prophetic worship at a personal level, and receive your "glory garment" of praise
Be inspired to break your art and creativity out of stuck places
Learn how to operate in the Holy Spirit's anointing in your gift
Find out how to gather the treasure of what God is saying to you through prophetic journaling
And I encourage you with prophetic words and grace-filled insights along the way.
+ includes entry to a private Facebook group
Suitable for beginners, with content for those who are advanced.
This is a self-paced video course ~ introductory price for a limited time ~ with more content on prophetic worship on the way!
Course news:


I've just added a 10-page PDF on "Prophetic Flow", with tips and insights to operate in the prophetic in worship

Enroll or learn more about the Prophetic Worship + Creative course here.
---
© 2022 Helen Calder, Enliven Blog
Enliven Ministries: Prophetic ministry for a revival generation