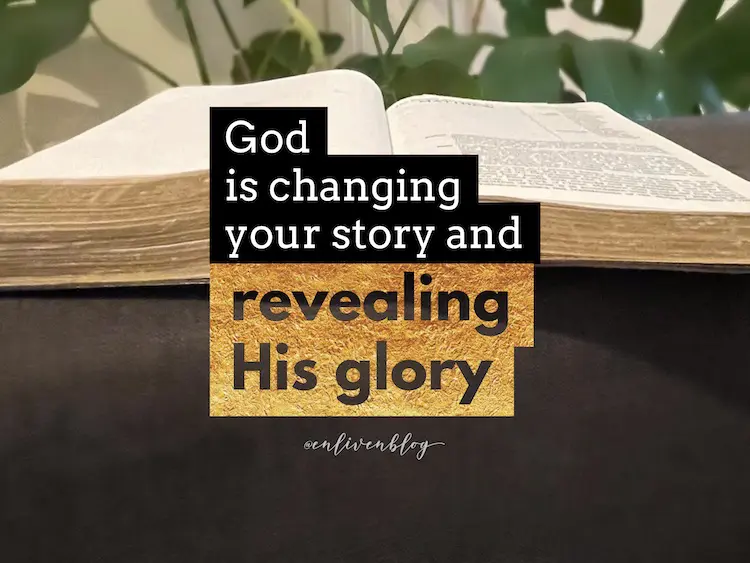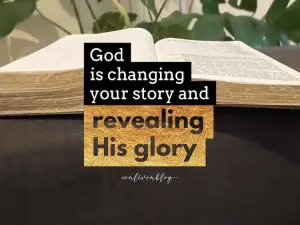 "My glory is coming to the wilderness places!"
This is the message of the prophet Isaiah—repeatedly [1]: "The presence of your Savior changes everything!"
Only Jesus can turn a past story of loss into a present testimony of power.
So, receive His touch on every part of your life—even those past times that felt like "wilderness seasons".
For right now, He is visiting you with headlines from Heaven.
---
"I am Changing the Story You Tell"
Several years ago, God spoke to my husband and me one evening. It was 2019 and we were musing about a tragic event in our family's history over dinner—when the Holy Spirit interrupted us.
And He said, "I am removing shame from the generations; I am changing the story you tell from now on."
When we prayed over that event and over our family, He intervened with signs and a miracle.
God broke into our story with a fresh encounter, and our view will never be the same again.
As long as we have an earthly viewpoint, we will tell an earthbound version of our story. But when the Holy Spirit is present to lift our vision, we see God's greater purpose:
And that is the redemption of our story
---
An Unusual Backstory
I believe that right now, God is releasing grace encounters to those who have been feeling conflicted in some way.
If you can relate to this, I believe Psalm 34 contains a healing word for you.
As this Psalm opens, we learn there is an unusual backstory:
David composed Psalm 34 after he fled from King Saul and escaped across the border to Gath
But his heroic reputation went with him and the king of Gath began to suspect him
As a result, David was in immediate danger and became very fearful.
And in order to avoid arrest, he pretended to be insane!
The ploy worked, and David escaped unharmed.
---
David Resorted to Deceit
This is not a story in which we read of angelic rescues or miracle interventions from God—that is not in the narrative!
Instead, we learn of a man who was terrified, and who humiliated himself, by acting out a lie
What if God could have delivered David without him resorting to deceit and trickery?
For the anointing and prophetic call on his life guaranteed David's safety (remember Goliath)!
Yet through it all, and in spite of his weakness, David encountered God's grace and saving power—even angelic protection.
And how do we know this?
Because of the song that he sang afterward.
---
God is Present in the Wilderness Season
David marked the moment by composing a song, and this is his testimony:
"I sought the LORD, and He heard me, and delivered me from all my fears. They looked to Him and were radiant, and their faces were not ashamed." (Psalms 34:4-5 NKJV)
So, if fiery darts of self-doubt have come against you—or you have endured a painful transition and been misunderstood by others.
You may feel as though you are in a wilderness season right now, but God is present with you. And He's filled with love and grace towards you.
---
Headlines from Heaven
In my NKJV Bible, a translator sums up the theme of Psalm 34 with this headline:
"The happiness of those who trust in God!" [2]
In a book, a chapter title sets the tone, the atmosphere, and the expectation of what the story is about.
And I believe this is a time in which God is revealing headlines from Heaven!
You shall see His purpose, even to do with past "wilderness seasons".
And from now on, God's purpose will be your headline for that chapter in your life.
---
I Saw God's Greater Purpose
Earlier this year, the Lord led me to change the "chapter titles" of some wilderness seasons in my life—going back decades!
And this included some traumatic events.
But as I reflected on God's greater purpose, by His grace, I was able to name the events accordingly.
For example:
A closed door and rejection became "God's Greater Plan"
A time of burnout was, "Discovering The Father's Heart"
Moving to Australia—very difficult for me—became "Positioned For Harvest"
Letting go of a ministry we thought was our life's calling was, "Gateway To Prophetic Leadership"
Some years in which I felt I was barely surviving became, "Bringing Forth Gold"
As I wrote these in my journal, I could see the progression!
And this prayerful exercise helped me discover God's chapter title for my current season.
---
Let Go of Regret
Perhaps the Lord is speaking to you today about some wilderness season. It may even be long ago, but ripples from it have affected you to this day.
This is a time to let go of regret and to release and forgive those who caused you pain
And that includes releasing yourself
For this is a time when God is revealing His "chapter headlines" from Heaven and making His glory (in your story) known to you.
And you will see that God's purpose is not merely a postscript, or a bridging paragraph leading to your next chapter.
But it is the chapter title! For His redemption changes the whole, washing through your entire story.
Hear Him say, "Beloved! I am changing the story that you tell. And I am revealing My ever-increasing glory in your life."
---
Notes:
[1] Isaiah 32:15, 35:1-2, 40:3-5, 43:19, 51:3
[2] See Psalm 34, NKJV here
---
Do you love Prophetic Worship?
Be equipped, gain confidence, and go on a prophetic journey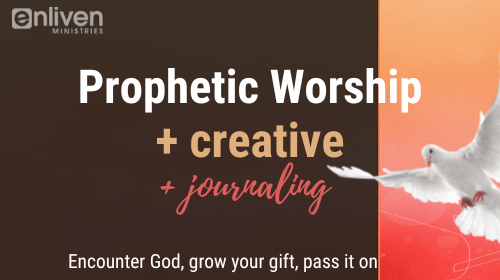 This course is for you, if you love worship, identify as being prophetic—or would like to be—and are creative.
This is a self-paced video course ~ the introductory price is for a limited time ~ with more content on prophetic worship on the way!
So, if you are hungry for God and ready to go on a journey of personal renewal—welcome to the Enliven Prophetic Worship + Creative course.
This is a space where we value creative expression in worship, writing, and other art forms.
And above all—make room to encounter, worship, and honor Jesus.
Worship has always been at the heart of the move of God in my life. And still, today is like the "headwaters" of my prophetic ministry.
So, I'm excited to share this with you.
Be equipped to convey a vision for prophetic worship confidently
Experience the power of prophetic worship at a personal level, and receive your "glory garment" of praise
Be inspired to break your art and creativity out of stuck places
Learn how to operate in the Holy Spirit's anointing in your gift
Find out how to gather the treasure of what God is saying to you through prophetic journaling
And I encourage you with prophetic words and grace-filled insights along the way.
+ includes entry to a private Facebook group
Suitable for beginners, with content for those who are advanced.
Course news:


I've just added a 10-page PDF on "Prophetic Flow", with tips and insights to operate in the prophetic in worship

Enroll or learn more about the Prophetic Worship + Creative course here.
---
© 2022 Helen Calder, Enliven Blog
Enliven Ministries: Prophetic ministry for a revival generation