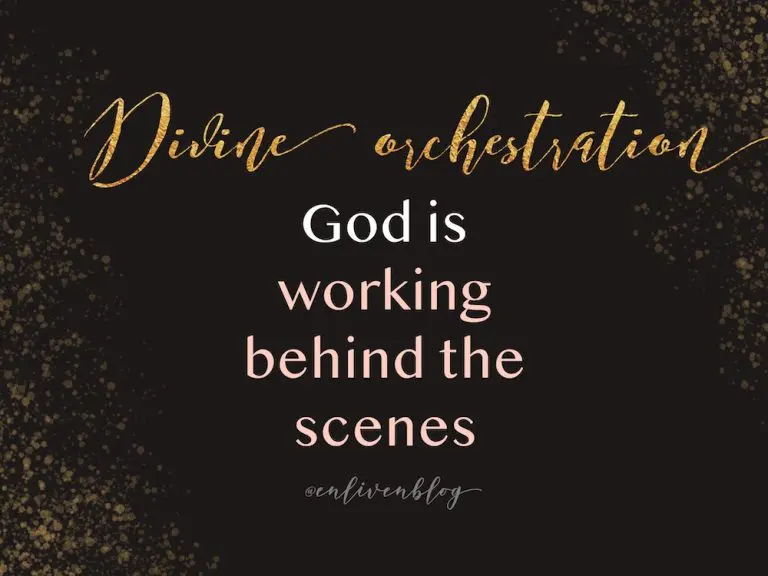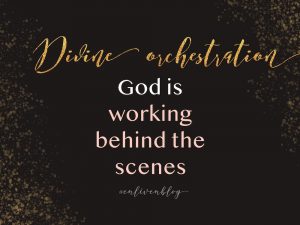 Have you been facing challenges and uncertainty? The Lord wants you to know that as you have put your trust in Him, the Holy Spirit is at work.
And even now, Divine orchestration is taking place.
It's a biblical principle that Paul describes this way:
"…we know that all things work together for good to those who love God, to those who are the called according to His purpose." (Rom 8:28, NKJV)
---
What is Divine Orchestration?
Divine orchestration refers to God working in the background—in the unseen realm—to bring about His purposes on earth in response to prayer. [1]
Hear God say, "Regardless of what it looks like right now, I am working within the scenes, and I am moving behind the scenes."
What an amazing truth—that the One who is the great conductor of the universe knows what you are facing right now.
And He is extending His mercy and power towards you.
---
A Prophetic Dream About a Train Station
A couple of years ago, I dreamed I was in a crowded train station, where people were milling around. It was confusing and chaotic.
A train station can represent a time of waiting or transition—or a felt need to get back on track!
And no wonder, for I received the dream early in the pandemic when we—along with so many globally—were in lockdown. So, the following day, as we worshiped with our church online, I remembered the dream and asked the Lord about it.
What a surprise I had!
Suddenly in a vision, I saw a train carriage stop directly in front of me, with the door open. As though in a movie, it "popped" out of the frame, completely still, and Jesus was in the carriage.  He was leaning forward, His arm outstretched so that He could help me on board. [2]
I knew that time had stopped and within that timeframe, God was moving—and His angels were at work!
Oh, glory! It gave me reassurance, especially as it was so vivid and the sense of Jesus being there was so real.
It was an "I've got this" message from God.
---
God is at Work in Divine Orchestration
See Jesus extending His hand to you right now.
The One who loves you dwells in the eternal realm and He already knows the future. In fact, He occupies it and is neither frustrated by time nor hampered by it—for He operates both inside and outside of time.
God is constantly working on your behalf, and no issue is beyond your Father's reach (Ps 139).
Plus, He is the Master of synchronization and timing. What we see as a miraculous "coincidence", is actually our Father at work.
The time comes when God reveals what He has been up to all along. And we are in awe as He moves in His power to supply what we need.
---
Divine Orchestration is at Work When Supply is Limited
We see a great example of this in Jacob's story:
Jacob and his family lived in Canaan at a time when the region was in a devastating drought. And their supply of grain was not getting replenished by what they could grow.
But little did Jacob know that in the midst of crisis, Divine orchestration was at work!
And that Joseph—the son Jacob thought he had lost forever—was in Egypt, ruling the land.
Meanwhile, Joseph was amassing vast quantities of grain on behalf of Pharaoh.
"Joseph gathered very much grain, as the sand of the sea, until he stopped counting, for it was immeasurable." (Gen 41:49)
What a contrast—even though Jacob didn't realize it and couldn't see it, this abundance of provision was already available to him. It was there, prepared, and waiting!
---
The Language He Spoke
So God had already set aside what Jacob needed. Yet all Jacob could see was the limitation in front of him—the dwindling grain supply for his household.
"And it came to pass, when they had eaten up the grain which they had brought from Egypt, that their father said to them, "Go back, buy us a little food." (Gen 43:2)
"A little food" That word translated as "little" in Hebrew (Strong's H4592), also means small, hardly, or of little worth.
And that was Jacob's expectation! It was all he could see; it was the language he spoke.
"Purchase just enough to get by—for now."
---
Divine Orchestration: "I Will Enlarge the Ground Under You"
Today, whatever contradiction confronts you—be assured that as He did for Jacob, God already has a portion set aside for you!
Joseph later explained, "…God sent me before you to preserve a posterity for you in the earth, and to save your lives by a great deliverance." (Gen 45:7)
So God was at work orchestrating the answer before the problem even began!
Today, hear your Father say, "My beloved child, I am working all things together in your life.
Even when confronted with what appears to be a limiting factor, you can be assured that it does not restrict Me. It can never prevent My action on your behalf."
"Dear one, come and see what I see. Step into My Word and I will show you what I have made available to you. As you take one tiny step, I will enlarge the ground under you.
Even while you wait and wonder, I am at work.
And together, we will not be late—we will be right on time."
---
Notes:
[1] Google search "Define orchestration" accessed 6th Oct 22
"the planning or coordination of the elements of a situation to produce a desired effect, especially surreptitiously."
[2] When I describe a vision, it's usually a vivid impression in my mind's eye accompanied by a strong sense of God's Presence—and not an "open" (physical) vision. I believe all prophetic words, encounters, and visions should be compatible with Scripture and need to be weighed up—if you'd like to know more see 8 Ways to Grow In Prophetic Visions and Pictures.
---
Related Posts
It's Now O'Clock: Step into Heaven's Time Zone
6 Principles of Kingdom Mathematics
---
Study Online: Classes for Those Growing in Prophecy:
I have activated a

20% discount

from $49.95 to $39.95 on the one-off payment until 29th November
Would you like clear and easy-to-understand, Biblical teaching on the prophetic gift and ministry? Would you benefit from some straightforward keys to get you on track as you learn and develop in prophecy?
My own experience of struggling to find good mentoring is why I am extremely passionate about helping others learn how to hear God's voice, and grow in their gifts of prophecy and discernment.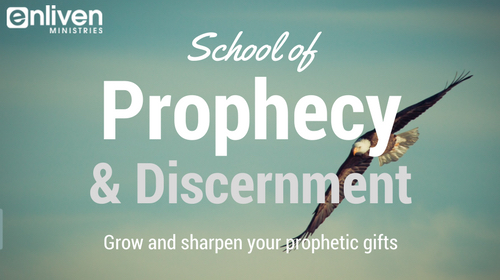 The best mentoring and teaching I can give you is now rolled into this one place, on the Enliven School of Prophecy and Discernment.
Classes include: How to hear God's voice, How to Begin and Grow in Prophecy, The Character of the Prophet, The Seer Gift: How to Grow in Pictures and Visions, Prophetic Discernment, Discernment, and Prophetic Warnings, and the Prophetic Guidance Master Class.
You can view and sign up for my self-paced video lecture series in the Enliven Prophetic School here. Choose between a small monthly subscription or a one-off payment (discounted) with no expiry date.
---
© 2022 Helen Calder, Enliven Blog
Enliven Ministries: Prophetic ministry for a revival generation