Today, I believe the Lord is saying to many: "I am giving you grace and My power to stay on track".
Maybe you are wondering how to continue—it may even feel like you are holding on to a thread!
But what seems to be a disadvantage, turns out to be a blessing in disguise.
For, "you're blessed when you're at the end of your rope. With less of you, there is more of God and his rule." (Matt 5:3, MSG)
Hear Jesus say, "I am your source and your reward."
---
He Refused to Turn Aside!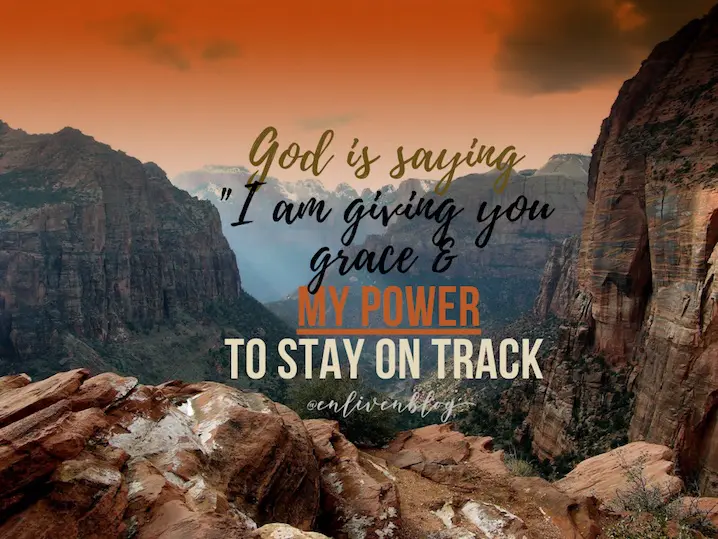 There is a prize that is only available as you stay on track. (Heb 12:1-2)
But it's going to take the gift of tenacity
Tenacity is the quality of being:
"…persistent in maintaining, adhering to, or seeking something valued or desired." [1]
We see it in Nehemiah.
Although his enemies tried many times to distract him and hinder his progress, Nehemiah refused to turn aside from his task of rebuilding Jerusalem's walls!
And what seemed to be an impossible task was finished at last.
"So the wall was finished on the twenty-fifth day of Elul, in fifty-two days. And it happened, when all our enemies heard of it, and all the nations around us saw these things, that they were very disheartened in their own eyes; for they perceived that this work was done by our God." (Neh 6:15-16, NKJV)
---
There is a Reward in the Climb
"The Sovereign Lord is my strength! He makes me as surefooted as a deer, able to tread upon the heights…" (Hab 3:19a, NLT)
Tenacity.
The ibex—a wild mountain goat—climbs the sheer wall of the face of a dam. [2]
Her vertical climb seems impossible. And yet, the deft hooves of the ibex find a place in the crevices of the rock.
The reason for her perseverance is the prize!
She knows there are minerals, including calcium and salt, that can only be found in the high places of the rock.
These minerals are vital to her health.
---
Defying Gravity
"As the deer pants for the water brooks, so pants my soul for You, O God." (Psalm 42:1, NKJV)
It's like a thirst, that can only be quenched by taking the climb. It is a driving need to taste that goodness, that pulls the ibex to her destination.
And there she clings, to that bare rock face.
Defying gravity.
Finally, in that precarious position, she turns her face to the rock.
And partakes of its treasure.
There is a reward that you can only find as you continue the climb.
"Taste and see that the Lord is good. Oh, the joys of those who take refuge in him!" (Ps 34:8, NLT)
---
Unsteady but Pursuing
"It is God who arms me with strength, and makes my way perfect. He makes my feet like the feet of deer, and sets me on my high places." (Psalms 18:32-33, NKJV)
Whatever the climb God has called you to, your Father has crafted you for it. He says, "Beloved, I have created you for this. Climb with me!"
We reply, "Lord, I choose this! I want to go to the high places with you."
The young ibex still has unsteady limbs and yet, he is bound to follow his mother.
The little one sets out hesitantly.
Following her example, he dares to do the impossible.
He takes the tricky climb up the rock face.
Sometimes, he slips and slides. But still, he perseveres, pursuing the one who gave him life.
---
The Source of Your Desire
Today, be assured of this: that you can hold on.
You are able to stay on track, even in the midst of contradiction.
When the source of your desire and the One you are pursuing is Jesus, you have all the tenacity you need.
You can climb because He not only shows you the way, He is the way!
So, you can follow in His sure footsteps.
Right now, see Jesus' hand outstretched towards you.
He says, "Beloved, you can do this, for I am with you. My grace and power are yours!"
"How beautiful on the mountains are the feet of those who bring good news, who proclaim peace, who bring good tidings, who proclaim salvation, who say to Zion, "Your God reigns!" (Is 52:7 NIV)
---
Happy Birthday Enliven Blog ~ 12 Years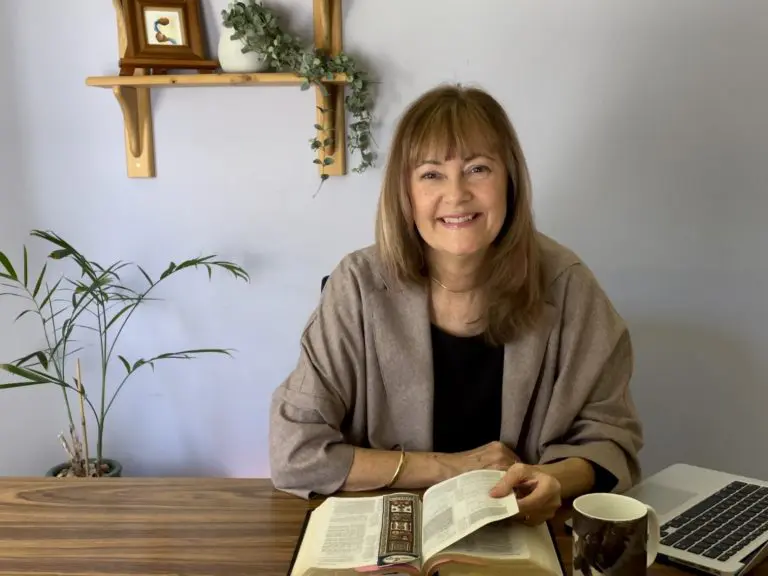 Today marks the 12th anniversary of Enliven Blog! I know it is only by God's grace, that I have been able to continue this work.
When you need endurance, it helps to be journeying with others! And especially, those who not only cheer us on, they also spur us on.
Today, I especially wish to thank my husband Malcolm Calder, David and Margaret McCracken, our David McCracken Ministries family, and our Pastors Russell and Sam Evans of Planetshakers Church.
Thank you for inspiring me, speaking into my life, and leading by example.
A special thanks also to my Enliven Ministries team, and my Board—this is not a solo ministry. Speaking of tenacity, I also want to give a shout-out to my Board member Steve McCracken who has been writing his daily devotional, "Believing in You" for 13 years! I especially want to mention Rosie Eloff, my Treasurer and a member of my Board of Directors.
You have made the journey of Enliven Ministries possible, and I'm grateful.
---
Reflecting on 12 Years
As I've been reflecting on the past 12 years, we have had times of the most extraordinary encounters with God.
And there have also been low times—seasons of spiritual warfare, battles in health, and turbulent change. Personally, we have had the richest of family events, and occasions of great sadness.
I've also been busy in ministry. I'm privileged to not only write but also to be amongst people, sharing with churches, businesses, Christian organizations, prophetic schools, and more.
But even when I am squeezed for time, the Holy Spirit calls me back to this blog as a first priority.
Sometimes, it is difficult to write.
Yet, lives are being touched.
I'm grateful for all of the Enliven Blog readers and our "tribe". This work exists because of your hunger.
---
How Enliven Ministries Receives Income
Enliven Ministries is uniquely set up, in that we are not a business, but a "not for profit" charity, registered in Australia.
Many of our free resources (such as the blog) cost a significant amount each month to keep going. And I have kept course prices low so that as many people as possible can gain access to them.
Up until now, I have also resisted placing advertisements on our platforms. Courses, resources, and honorariums do provide a portion of our income, but a good part of our support comes through partnership and donations. I can testify of God's faithfulness in providing throughout our journey.
If you have been touched by Enliven Blog and would love to donate to our ministry, please see our partner page here.
---
Notes:
[1] Quote from the definition of "Tenacious" in the Merriam Webster Dictionary
[2] The source of this story about the ibex is this BBC YouTube clip on "The incredible ibex defies gravity and climbs a dam" which you can see on YouTube here.
---
Leave a Comment
Is today's word about "tenacity" meaningful to you? I'd love to hear from you, so share your thoughts or your prayer request in the comments box below
---
Related Posts:
---
Study Online: Classes for Those Growing in Prophecy:
I've been privileged to receive extraordinary prophetic mentoring, as one of a ministry team of prophets and teachers with David McCracken Ministries.
But it hasn't always been that way. When it comes to spiritual gifts, I know what it is like to go on a long journey, and often a lonely one.
My own experience of struggling to find good mentoring is why I am extremely passionate about helping others learn how to hear God's voice, and grow in their gifts of prophecy and discernment.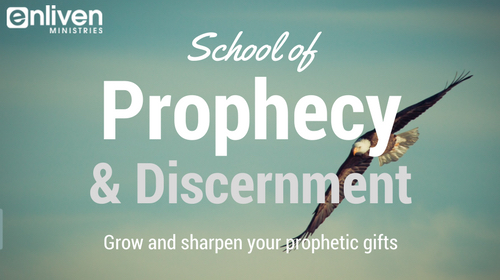 The best mentoring and teaching I can give you is now rolled into this one place, on the Enliven School of Prophecy and Discernment.
You can view and sign up for my self-paced video lecture series in the Enliven Prophetic School here. Choose between a small monthly subscription or a one-off payment with no expiry date.
---
© 2020 Helen Calder, Enliven Blog
Enliven Ministries: In the David McCracken Ministries family