"Beloved, My power is resting on you".
It's an unusual, but I believe significant prophetic word for us at this time:
JUXTAPOSITION.
The word means,
"The fact of two things being seen or placed close together with contrasting effect."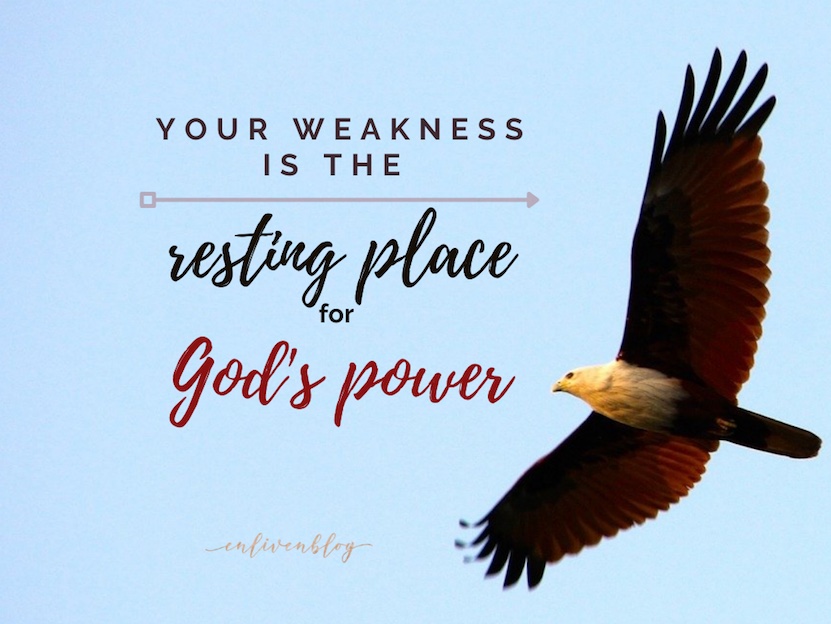 If you relate to facing some tough battles lately, be encouraged by this truth from God's Word:
"My grace is sufficient for you, for My strength is made perfect in weakness." (2 Cor 12:9a)
In the midst of the groan and the glory—
At the juxtaposition of darkness and light, of trial and joy, of weakness and strength—you are empowered and loved by God!
As you are, and where you are.
---
A Worker of Miracles Despaired of Life
Juxtaposition.
It is a theme we see throughout Paul's life and letters.
He towers in Scripture as an Apostle, worker of miracles, and servant of Christ.
He receives mighty revelations.
Yet, the Apostle Paul vividly describes low places in his journey:
"…we were burdened beyond measure, above strength, so that we despaired even of life." (2 Cor 1:8, NKJV)
"For out of much affliction and anguish of heart I wrote to you, with many tears…" (2 Cor 4a).
---
Times of Turbulence
Like the waves of the sea, there will be times when life's highs and lows roll together.
There is chaos and contradiction all around us.
Your own family, church, city, state or nation, may be experiencing turbulence.
Know that God's glory shines brightest in this place—this juxtaposition—where your weakness, and His fullness, run together.
"You have this treasure in earthen vessels, that the excellence of the power may be of God and not of you." (see 2 Cor 4:7)
---
God's Power Enfolds You
When he was being buffeted by a spiritual attack, Paul cried out three times, "Lord, take this away!"
God responded to him, "My grace is sufficient for you, for My strength is made perfect in weakness." (see 2 Cor 12:7-10)
Today, be assured that in the midst of whatever battle you are facing, the grace of God is sufficient for you.
You will discover God's grace is not passive, it is powerful!
As the Apostle declared:
"Therefore most gladly I will rather boast in my infirmities, that the power of Christ may rest upon me." (2 Cor 12:9)
"Rest" in the original Greek means to dwell as a tent over, to completely enfold in (Strong's G1981)
Your weakness is the resting place for God's power.
Think of this:
God's power is not only within you, it's surrounds you. It encompasses you.
It enfolds you.
---
You Become a Conduit for God's Power
"that the power of Christ may rest on me".
What is this tipping point Paul describes?
The glorying. The boasting.
The rejoicing.
Power is being released as you give voice to joy and assurance, "My God is mighty! And I am strong with His strength!"
For as Paul tells us, God doesn't rest his power upon a people who "have it all together" humanly speaking, but upon those who are wholly dependent upon Christ.
There is a power that can only be experienced in the storm.
You may not have command of the situation right now, but God does.
In the midst of the buffeting, you discover what it means to be wholly reliant upon Jesus.
So, lift up your hands. Recognize that you are enfolded in His power—and rejoice.
And in your glorying, in your worship, comes the tipping point.
At the juxtaposition, your brokenness becomes a conduit for God's grace and power.
---
The Power of God Rests on You
So, today, lift up your head.
Know that you are loved and strong.
Hear your Father say, "I love you. I am proud of you."
Shame does not belong here.
Fear does not live here.
The power of God rests here.
"Do not rejoice over me, my enemy; When I fall, I will arise; When I sit in darkness, The LORD will be a light to me". (Micah 7:8, NKJV)
---
Related Posts:
Don't Let Personal Weakness Stop Your Calling
Prophetic Word: God's Power is Over You
There's a Miracle in the Midst of Your Storm
---
Leave a Comment:
Which point in the study do you most relate to? What is the "Juxtaposition" you are currently experiencing?
I'd love to hear from you.
Scroll down to share your thoughts and prayer requests in the comments box below.
---
Study Online: Classes to Help You Growing in Prophecy
Would you like clear and easy to understand, Biblical teaching on the prophetic gift and ministry?
Do you need some straightforward keys to get you on track as you learn and develop in prophecy?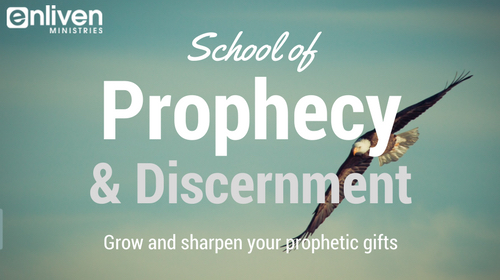 The best mentoring and teaching I can give you is now rolled into this one place, on the Enliven School of Prophecy and Discernment.
Classes include: How to hear God's voice, How to Begin and Grow in Prophecy, The Character of the Prophet, The Seer Gift: How to Grow in Pictures and Visions, Prophetic Discernment, Discernment and Prophetic Warnings and the Prophetic Guidance Master Class.
You can view and sign up to my self-paced video lecture series in the Enliven Prophetic School here. Choose between a small monthly subscription, or a one-off payment with no expiry date.
---
© 2021 Helen Calder, Enliven Blog
Enliven Ministries: In the David McCracken Ministries family