It's a prophetic word that is a key to the "more" God has for each of us in 2021:
2021 is a year for a new approach.
---
"Pay attention! This is Me!"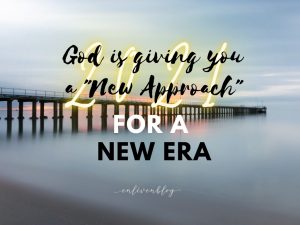 As I was walking along a pier recently, the words from a sign I passed by, seemed to stand out.
The phrase wouldn't let go of me.
It was like God was saying, "Pay attention! This is Me!"
I sensed the anointing of the Holy Spirit.
And it took me by surprise, for I had been praying for days about a prophetic word for 2021, to share with my readers.
Silence!
Yet in that very moment—when I least expected it—I knew God was speaking.
The sign—which was one of a set, describing the history of the pier—declared, "A new approach".
---
A Prophetic Word for 2021: Part 1 ~ Encounter
Approach: it can mean drawing closer. It can also refer to a strategy, a way of doing things!
And both are significant.
1. An Invitation to Draw Closer to God
Approach: "to come near or nearer to (someone or something) in distance or time." [1]
In the Song of Songs, the Shepherd-King is looking through a window, whilst the Shulamite maiden is behind a wall.
It is her place of refuge—but her Beloved beckons: "Come out from hiding! Come, join me! For I have more for you!" (SOS 2)
Likewise, at the turning of the year, Jesus calls to us to emerge.
To trust Him.
And to share with Him in the adventure He has for us in 2021 and beyond.
"Rise up, my love, my fair one, and come away.
For lo, the winter is past, the rain is over and gone…
The time of singing has come…" (Song of Songs 2:10-12, NKJV)
---
Courage to Step Out Again
Through the window, the Shulamite can see his look of love.
But it's going to take courage for her to step out again.
We learn earlier, she has been mistreated:
"Do not look upon me, because I am dark,
Because the sun has tanned me.
My mother's sons were angry with me;
They made me the keeper of the vineyards,
But my own vineyard I have not kept." (Song of Songs 1:6, NKJV)
Perhaps, she has been wearied through hard labor and is fearful about the future.
Or, having been wounded by those who should have protected her, she is guarding herself.
Maybe, having suffered from exposure to the weather, she is reluctant to leave the shelter.
But it's time to emerge.
If 2020 has been painful for you—if you have been tempted to trust less, expect little, and guard yourself more—listen…
Hear the sound of Jesus' voice, and see His look of love.
Be reminded again of His sacrifice, and the shed blood, that makes your bold approach to God possible.
And sets you free.
"And you will seek Me and find Me, when you search for Me with all your heart."
(Jer 29:13, NKJV)
---
2. A New Approach to Prayer
Approach: "to speak to (someone) for the first time about a proposal or request."
As 2021 unfolds, receive fresh inspiration from the Holy Spirit to help you pray.
There are new requests for a new season—prayers that have never been uttered before on earth!
For God is giving new instructions to His people.
You can obtain fresh insights about His Kingdom agenda.
It is also time to revisit some prayers of the past.
The Lord is saying, "Come again, for there is a fresh anointing for requests you have prayed in earlier times."
In 2021, you will see remarkable answers to bold, new prayers.
---
A Prophetic Word for 2021: "A New Approach" – Part 2 ~ Strategy
It wasn't until later, that I read the contents of the sign on the pier that had so struck me.
It described the "approach" that had been taken to restoring sections of the pier. We learned why certain choices were made in rebuilding materials, and why these were the best ones.
In a new season, God is restoring our hearts.
We must also allow Him access to our decision-making and actions—so that we flourish in the year ahead.
And this brings us to the next meaning of "new approach".
3. A New Approach to Solving Problems
Approach: "a way of dealing with a situation or problem."
As 2021 opens, conditions have changed.
Systems and methods that have worked up until 2020, are being superseded in 2021.
If you are in a state of change, or have problems to solve, hear the Lord saying, "I am releasing new ways and means, strategies and blueprints to you."
Receive ideas and inspiration.
For you will see the advancement, and know that it is not through your effort but through the anointing of His Spirit (see Zech 4:6).
---
4. A New Approach to Gaining Victory
In 2 Samuel 5, David received instructions from God for a new approach!
He did not take it for granted that God would give him victory over his enemies using the same strategy he had before.
And as 2021 begins, the story speaks to our situation:
"You shall not go up; circle around behind them, and come upon them in front of the mulberry trees. And it shall be, when you hear the sound of marching in the tops of the mulberry trees, then you shall advance quickly. For then the Lord will go out before you to strike the camp of the Philistines"
(2 Sam 5,23-24, NKJV)
God says, "I am giving you a new approach."
It will be a new angle!
And victory will be made possible, through a move of the Holy Spirit, and angelic intervention.
---
2021 is a Pivotal Moment
Now is a time for you to lean in.
Expect to receive Heavenly insights about a new approach.
The Holy Spirit has new instructions to give you!
And as you follow His lead, God's power will be unleashed.
Not only that, but the restoration you have had from drawing closer to God, will make your own sacrificial giving possible:
Perhaps to a degree you haven't had the energy for, lately.
For 2021 is a pivotal year.
One that is bigger than you and I—for it has to do with a great harvest.
And many are destined to enter the Kingdom of God, in 2021 and beyond.
---
Leave a Comment:
Which parts of this Prophetic Word for 2021 most speak to you? I'd love to hear from you, so share your thoughts and prayer requests in the comments box on the blog.
I would also love you to join me on Facebook, Twitter and Instagram for more prophetic insights and conversations.
New to Enliven Blog? Sign up to receive our posts here 🙂
---
Notes:
[1] The definitions of approach used in this article were sourced from Google search, "define approach", accessed 19th December 2020
---
Related Posts:
Prophetic Word: The Building Materials Have Changed
The Wounded are Rising and Leading Revival (More on the Shulamite's story)
---
Prayer School News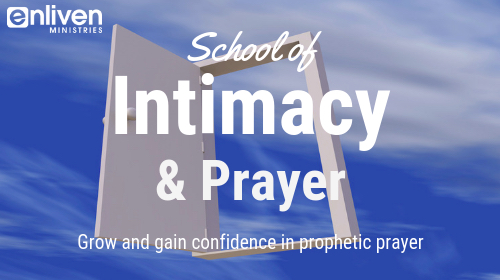 If you have felt dry or depleted in your prayer life lately, the news lessons in my Prophetic Prayer School news will be of benefit to you.
You will find these in the class, "How to Prevent and Recover from Dryness in Prayer"
Causes of Dryness and Depletion in the Intercessor (PDF)
Ten Keys to Being Replenished as an Intercessor (PDF)
Receiving Prayer: How to Stay Filled with the Holy Spirit Through Soaking Prayer (Video + PDF)
This has impacted me personally as I've come to the year's end, and I'm sure it will benefit many of my readers.
For a short period of time, while the Prayer School is under construction, I'm bringing the full price down to $19.95 USD.
Currently on the Enliven School of Prophetic Prayer are 40 self-paced video lessons (complete in your own time), along with PDF transcripts, exercises and bonus eBooks.
Alternatively, you can view all online courses, including the Prophetic School here.
---
A Blessed New Year
Today's "Prophetic Word for 2021" has impacted my husband Malcolm and me, as we contemplate the year ahead.
I pray that you receive your own fresh insights from the Holy Spirit.
I also pray that you receive a Heavenly empowerment—a fresh anointing—to release the past and the trials of 2020, and step, unhindered, into the future God has for you.
From our home in Melbourne, Australia to yours,
Helen
P.S. I'd love you to join me on Instagram on my Enliven Blog account here or personal account here.
Use the hashtag #EnlivenProphetic2021 to share your own New Years' journey and encouraging prophetic insights.
---
© 2020 Helen Calder, Enliven Blog
Enliven Ministries: In the David McCracken Ministries family