"These waters…flow into the sea, and the waters of the Dead Sea shall be healed and become fresh." (Ezek 47:8, AMP)
A few days ago, while worshipping, I had an impression of rain falling—a great deluge—in the north of Australia.
It was of the type where the floodwaters move southwards, through the dry heartland of our nation.
In my mind's eye, I saw the water flowing down the continent.
Until it arrived at the salty lake basin of Kati Thanda–Lake Eyre—the lowest geographical location in Australia. [1]
Most of the time, Lake Eyre is a barren, salt wasteland.
It is rarely filled to capacity—except for once in a generation when a major flood event takes place.
And then I heard the Lord say, "I am coming to the salty places!"
---
"I am Visiting you at your Lowest Point."
While this word does have special significance for Australia, I believe there are many who, at the mention of "salty places", your heart leaps.
It resonates in your spirit.
Why? This word is for you.
So, take it, meditate upon it. Speak it and declare it.
Declare it over your family; your group, your ministry, your locality, and your nation.
Perhaps you have been feeling as though you—or a situation you are involved with—have been at a low ebb
Be encouraged by this word today:
God says, "I am visiting you at your lowest point."
---
The Prophetic Meaning of "Salt" and "Salty Places"
Here are some insights that have emerged as I've been meditating on the prophetic meaning of salt, and what "salty places" may represent:
1. The Spiritually Thirsty
"On the last day, that great day of the feast, Jesus stood and cried out, saying, "If anyone thirsts, let him come to Me and drink. He who believes in Me, as the Scripture has said, out of his heart will flow rivers of living water." (John 7:37-38 NKJV)
Salt produces thirst. And so, "salty places" speak of people and regions where there is spiritual thirst.
Thirst is preparation for an outpouring!
At a salty place, there is a sound of prayer—it may be orchestrated, or simply the raw cry of thirsty souls.
Salt lake beds are the result of water lost through evaporation.
Only the residue of what has been there remains!
A "salty place" can represent a group or locality where there has been a move of God in the past, but now, there is dryness.
But there is salt in the ground, and thirst in the hearts of God's people
That thirst is pulling on the heart of God.
---
2. God's People Influencing the World
Salt is used for flavor.
It has also been used since ancient times, to preserve food.
Jesus said to His disciples, "You are the salt of the earth!" (Matt 5:13a)

"Salty places" speaks of the presence of Jesus' followers, and their influence in the world.
And this matters.
It matters to God.
I hear Him saying, "I have seen the saltiness of My people, where they have stayed faithful, and taken their place in the land—in government, in business, in education.
In cultural and regional hubs.
Rural lands.
Or, in unrecognized places of influence."
Today, you may be unknown to most people.
But the Lord says, "I know you. I see you. I am coming to the salty places!"
---
3. The Salt Covenant: It's Due Time for Promises
"You shall season every grain offering with salt so that the salt (preservation) of the covenant of your God will not be missing from your grain offering. You shall offer salt with all your offerings." (Lev 2:13, AMP)
Salt speaks to us of covenant.
It reminds us of the eternal and unchanging promises of God (see also Numbers 18:19, 2 Chron 13:5).
There are promises that are coming "due!"
For it is the due season.
And because these are covenantal promises, a "covenant of salt", they are unstoppable.
There are spaces where generations of God's people have stood, committed to His Word and promises.
The Lord says, "I have seen how you have longed and called out for My Kingdom. And how you have prayed for My Kingdom to come.
You have been as salt; both persevering in and preserving, the dry places.
"Now", your Father says. "You will know and see, that I am a Covenant Keeper.
---
4. Barrenness is Turning into Harvest
"Then he said to me, "These waters go out toward the eastern region and go down into the Arabah (the Jordan Valley); then they go toward the sea, being made to flow into the sea, and the waters of the Dead Sea shall be healed and become fresh." (Ezek 47:8, AMP)
The Dead Sea is characterized by a high salt and mineral content.
It cannot sustain life. [2]
Yet as the water of life strikes the salty places, that which was barren becomes fruitful.
Where once there was no life, now there is an abundant harvest!
Even so, in the midst of the promise, there is also a warning, for the Prophet Ezekiel sees stagnant places, that have not received from the River of Life.
They are collecting places, where there is no outflow
Being in the vicinity of the water, they have had the opportunity to be healed, and yet, they remain toxic
"But its swamps and marshes will not be healed; they will be given over to salt." (Ezek 47:11)
---
5. Healing of the Land
"Then the men of the city said to Elisha, "Please notice, the situation of this city is pleasant, as my lord sees; but the water is bad, and the ground barren." And he said, "Bring me a new bowl, and put salt in it." So they brought it to him.
Then he went out to the source of the water, and cast in the salt there, and said, "Thus says the Lord: 'I have healed this water; from it there shall be no more death or barrenness.' "
(2 Kings 2:19-21, NKJV)
As a prophetic act to release God's power to heal the city's waters, Elisha asks for salt in a "new bowl".
Elisha casts the salt into the waters—and that act—along with the prophetic declaration of healing, releases the power of God.
Salt! It speaks of healing coming to the land. "Healing the waters".
But there are new containers.
New people. And, new ways and means. New wineskins!
"I am Visiting the Land!"
God says, "I am coming to the salty places.
The height, the depth, the breadth of the land.
From the halls of power to the remotest outpost.
I am coming in power, and the greatest darkness shall not prevail against the force of My love and the impact of My Kingdom. 
Because this is My appointed time."
"Father!" we cry. We want to prepare a salty place for You!"
---
Leave a Comment
How is God speaking to you through this prophetic word and Bible study, and which meaning of "salty places" do you most relate to?
It's definitely number 3 for me—Holy Spirit has been speaking to me so much about covenant lately!
Let me know in the comments section below.
---
Notes:
[1] See __https://en.m.wikipedia.org/wiki/Lake_Eyre and __https://info.australia.gov.au/about-australia/our-country/the-australian-continent
[2] See __https://en.wikipedia.org/wiki/Dead_Sea
---
Related Posts:
---
The Enliven Prophetic School: Classes for Those Growing in Prophecy
Would you like clear and easy to understand, Biblical teaching on the prophetic gift and ministry?
Do you need some straightforward keys to get you on track as you learn and develop in prophecy?
My own experience of struggling to find good mentoring is why I am extremely passionate about helping others learn how to hear God's voice, and grow in their gifts of prophecy and discernment.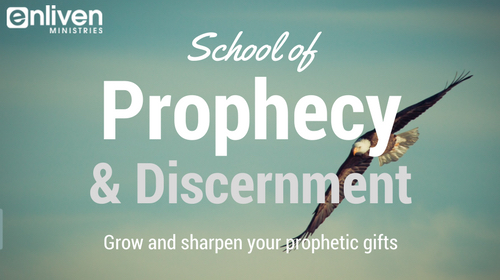 Now, the best mentoring and teaching I can give you is now rolled into this one place, on the Enliven School of Prophecy and Discernment.
Classes include: How to hear God's voice, How to Begin and Grow in Prophecy, The Character of the Prophet, The Seer Gift: How to Grow in Pictures and Visions, Prophetic Discernment, Discernment, Prophetic Warnings, and the Prophetic Guidance Master Class.
You can view and sign up to my self-paced video lecture series in the Enliven Prophetic School here. 
---
© 2020 Helen Calder, Enliven Blog
Enliven Ministries: In the David McCracken Ministries family