I believe God is stirring His people, in situations where they have felt vulnerable, or have experienced setbacks.
And He is releasing courage to pray, "Keep coming Holy Spirit!"
It's a prayer for this hour.
But what do we mean when we pray, "Keep coming Holy Spirit"?
It's an abbreviated prayer
It is a declaration of surrender
"Here I am, Lord; a vessel, yielded to You. Continue to flow through me, Holy Spirit!"
And it is also a prayer of celebration and invitation:
"Lord, we recognize that You are present and at work here;
that Your power and anointing are changing lives.
And we say, "You are welcome, Holy Spirit".
The cry of our hearts is to continue participating with You.
We honor You.
And so, we pray—"Keep coming Holy Spirit."
---
The Limitless Flow of the Holy Spirit
Jesus used the imagery of a river, to describe the relationship between the Holy Spirit and the Christian. (John 7:38)
A river never stops moving—it constantly flows.
"For He whom God has sent speaks the words of God, for God does not give the Spirit by measure." (John 3:34)
This describes the life of the Spirit: A limitless flow!
"Be filled with the Spirit", exhorts the Apostle Paul. (Eph 5:18)
He writes, in the original Greek, in the present continuous tense [1].
This continual, through-pouring, river of the Holy Spirit is available to each one of us.
It is yours, as a son or daughter of God!
Heaven is open.
Holy Spirit is here in fullness. [2]
And the only limit—the only inconstancy—can be on our side.
---
Why it Takes Courage to Pray, "Keep Coming Holy Spirit"
Someone is receiving the power to pray this simple prayer today.
"Keep coming Holy Spirit."
And we need it.
For there are times when "Keep coming Holy Spirit" is the most courageous prayer we can pray.
---
1. When We've had to Wait
"Then I said, "I will not make mention of Him, Nor speak anymore in His name."
But His word was in my heart like a burning fire shut up in my bones; I was weary of holding it back, And I could not."
(Jeremiah 20:9 NKJV)
It is the nature of a river to flow. It is the nature of a gift to be given.
But at times we say, "How?" "Where?"
When we have little opportunity to release the anointing of the Holy Spirit upon our lives, that very anointing can become a trial to us.
It takes courage to stay fresh in a time of waiting.
In the face of yet-unopened doors.
Or lockdowns.
God is speaking to someone today. "This is you. I'm breathing courage and tenacity upon you. I'm anointing you with fresh oil in the waiting."
---
2. When There is Spiritual Warfare
"Now when the Philistines heard that they had anointed David king over Israel, all the Philistines went up to search for David. And David heard of it and went down to the stronghold." (2 Sam 5:17, NKJV)
It takes courage to pray, "Keep Coming Holy Spirit" when His anointing on our lives attracts persecution.
Oppression.
Intimidation.
But—that anointing that is the very cause of spiritual warfare, is also the cure!
The Lord is releasing boldness to you, to break out and do the very thing the enemy is pressuring you not to do.
That may include staying humble under leadership!
For the Spirit who is upon you, is an overcoming Spirit.
"Today, I say 'yes!' to You, Lord.
I choose You, though this very anointing has caused me to be a target.
For You are My strength and refuge, and this situation will turn around!"
---
3. When His Anointing on our Gifts Increases
This is something those who have a gift of discernment or prophecy may relate to.
That ability you have, to see in the Spirit.
Or feel, encounter or dream.
Have you have ever been tempted to ask God for "time-out" from that which you know is a gift of the Holy Spirit—because it is getting intense?
You're not alone!
With a greater anointing, comes a season of adjustment.
You are on a learning curve.
It takes courage to pray, "Keep coming Holy Spirit" when your gift or mantle becomes uncomfortable.
Jesus says, "Beloved! You can trust your Heavenly Father to give you a good gift!" (Matt 7:11)
---
4. When He is Leading Us Outside Our Comfort Zone
Sometimes it takes courage to stay in the flow of the Spirit, because of where He is leading you.
Paul declared, "I am bound in the Spirit!" as he turned his face towards Jerusalem and the imprisonment that was to come (Acts 20:22).
His words declared, "I would rather die with Him than live without Him!"
The Holy Spirit is Comforter—but He is not always comfortable.
"Continue to have Your way with me."
The Holy Spirit is taking us from glory to glory, and in the process, His fire draws near and burns away that which is not compatible with Him.
A newer, lighter and brighter you is emerging, to run into the next season.
It takes courage in times of sacrifice, to say, "Keep coming Holy Spirit."
But the reward—the glory!—of His Presence, is enough to keep you pressing in.
---
5. When Others Resist or Detain Us
Sometimes, our decision to remain in the flow of the Holy Spirit will conflict with the view of others.
David's brothers mocked him when he was about to exercise the anointing on his life and take down Goliath.
It may be criticism. But resistance can also come, in the form of well-intended advice.
Clothed in the personal feelings of others.
When it was time for Rebekah to leave home, her family wanted to detain her.
"Just a few days longer!"
But Abraham's gift-laden servant was on a mission, and his urgency was now her own.
Her bridegroom was waiting.
And so she turned her face towards her destiny (Gen 24)
"Lord, want to be where You are. Where Your Presence and glory is.
Though it costs me!
Though others resist me, I will follow You."
---
"Keep Coming, Holy Spirit!"
In times like these, you realize it takes more strength than you are capable of, to stay dependent upon Him.
That even your ability to yield is reliant upon God.
Today, receive the courage to move with Him, for His grace is abundant towards you.
---
Leave a Comment
Which point do you relate to, in which you most need the courage to pray this prayer? I relate to number 3 (and that is the "back-story" of today's blog post)
Share your prayer request or a story in the comments section below. 
---
Notes:
[1] Jack Hayford notes: "The tense of the Greek for be filled makes clear that such a spiritual condition does not stop with a single experience, but is maintained by 'continually being filled' as commanded here." HAYFORD, J W, Ed. The Spirit-Filled Life Bible.  1991.  Nashville: Thomas Nelson.
[2] For insights on the Biblical paradox of truth, that we can already be "filled" with God and yet seek Him for more, see the post, "Pentecost and the Language of Hunger for God"
---
Related Posts:
---
The Enliven Prophetic School: Classes for Those Growing in Prophecy
Would you like clear and easy to understand, Biblical teaching on the prophetic gift and ministry?
Do you need some straightforward keys to get you on track as you learn and develop in prophecy?
My own experience of struggling to find good mentoring is why I am extremely passionate about helping others learn how to hear God's voice, and grow in their gifts of prophecy and discernment.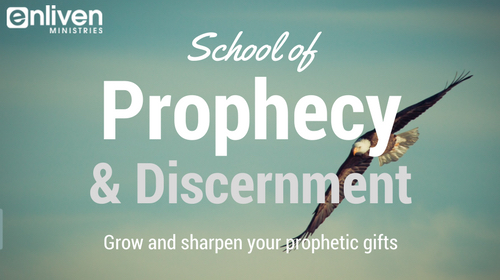 The best mentoring and teaching I can give you is now rolled into this one place, on the Enliven School of Prophecy and Discernment.
Classes include: How to hear God's voice, How to Begin and Grow in Prophecy, The Character of the Prophet, The Seer Gift: How to Grow in Pictures and Visions, Prophetic Discernment, Discernment, and Prophetic Warnings, and the Prophetic Guidance Master Class.
You can view and sign up for my self-paced video lecture series in the Enliven Prophetic School here. Choose between a small monthly subscription or a one-off payment with no expiry date.
---
© 2020 Helen Calder, Enliven Blog
Enliven Ministries: In the David McCracken Ministries family