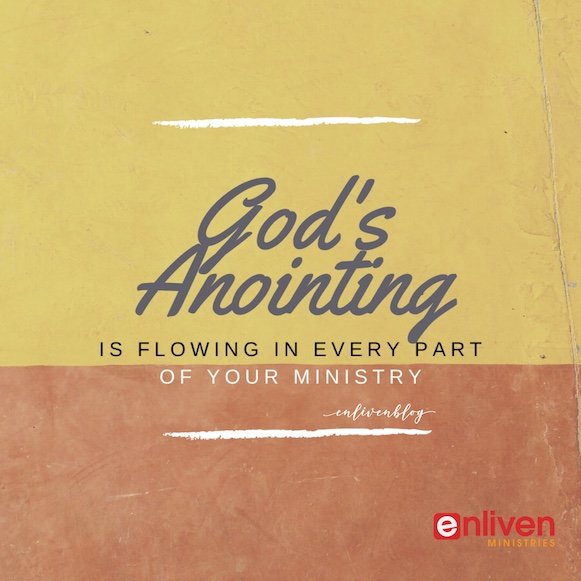 If you have felt hindered or slowed down in your ministry, a "relief package" from Heaven is on the way!
"GOD answer you on the day you crash, The name God-of-Jacob put you out of harm's reach, Send reinforcements from Holy Hill, Dispatch from Zion fresh supplies, Exclaim over your offerings, Celebrate your sacrifices, Give you what your heart desires, Accomplish your plans."
(Psalm 20:1-4, MSG)
---
Are Some Parts of Our Ministry "More Anointed" Than Others?
It was early one morning, and I was out walking before the heat of our Australian summer's day set in.
I had a lot of administrative tasks ahead of me—and to be honest, I was not looking forward to doing them!
As I walked, I felt the Holy Spirit speaking to me. "Why do you see the creative work you do as being anointed, but not the administration?"
I realized the Lord was prompting me to check my perspective. And the truth was, I did have a "hierarchical" viewpoint of anointing—I saw some things that I did, as being more anointed than others! [1]
By "anointed", I mean empowered by the Holy Spirit's ability, and infused with His Presence.
---
6 Keys to Being Anointed in Every Part of Your Ministry
Sometimes, when it comes to serving God in our ministries, aspects of it are hard work.
We are being stretched.
If you can relate to this, here are 6 insights to help you encounter God's anointing in every part of your ministry. [2]
1. Receive God's Anointing for Areas You are Weak In
In any job or ministry, there will always be parts we excel in, and tasks that we find difficult.
But if we view some aspects of a role, ministry, or responsibility as being frustrating or worthless, we will never bring those tasks into God's Presence!
And we will never receive the empowerment He wants to give to us.
Sometimes, we think that anointing is only associated with excellence.
But anointing is also associated with weakness.
* He anoints your excellence, when your gifts are surrendered to Him
* He anoints you in your weakness, as you lean upon Him
Both are a witness to others.
And both give glory to God.
"But he said to me, "My grace is sufficient for you, for my power is made perfect in weakness. " Therefore, I will boast all the more gladly about my weaknesses, so that Christ's power may rest on me." (2 Cor 12:9 NIV)
---
2. Recognize that the Anointing is a Person Who is Present With You
The Holy Spirit's anointing is not only for those parts of ministry we enjoy doing, or that involve the direct use of a spiritual gift!
Yes, there is a distinctive anointing that resides upon spiritual gifts and ministry offices (Eph 4, 1 Cor 12). But we can also be anointed in every moment—because anointing flows from a relationship.
Jesus said, "I am the vine, you are the branches. He who abides in Me, and I in him, bears much fruit; for without Me you can do nothing." (John 15:5 , NKJV)
When the Holy Spirit came upon God's people on the Day of Pentecost, He came to remain always; not to come and go!
The Anointing is a Person.
The Holy Spirit's continuous presence with you, makes it possible for you to do everything—including tasks you don't want to do—to the glory of God.
"Therefore, whether you eat or drink, or whatever you do, do all to the glory of God." (Rom 10:31, NKJV)
---
3. Let God Reveal and Heal What's in Your Heart
Irritation and resentment can be like a stumbling stone, that stops the wellspring of joy flowing in our lives.
Even though I had embraced the start of a brand-new ministry—one that was undoubtedly God's plan for me—for a time, I wrestled over the load of responsibility that came with it.
Sometimes, the most powerful action we can take, is to express gratitude for a role we have no choice in doing—when it is part of our (current) God-given assignment.
A couple of weeks later, at my board meeting, I took time to say "thanks" to my fellow directors and to God, for the ministry—with all its operation and administration.
It was a powerful moment.
Hidden resentment will keep you from peace and the "more" God has for you in your ministry.
So, release your frustrations, lift up your voice and say "thanks" to God, as well as to leaders and team members around you.
---
4. Activate the Spiritual Authority God has Given to You
"That clinches it—help's coming, an answer's on the way, everything's going to work out." (Psalm 20:6, MSG)
You are not lacking and disempowered. Your Father wants you to know there is anointing and authority for every assignment that you have.
Even when a responsibility you have is temporary, you can anticipate grace and empowerment for it.
You can step into a position of spiritual authority.
This includes those aspects of your role in which you are operating outside of your gifting.
Don't worry that others will suddenly (mistakenly) believe you are skilled and gifted in something you are not!
They will have cause to look at you and see something that makes them stop and wonder:
An anointed attitude, free of bitterness and resentment
Capacity that could only have been given by God
And joy in the midst of the trial
The event I've described took place more than a year ago.
Since I stopped and said "thank you" for all of the responsibilities that were included in my ministry, I've been able to pass some of them on to new team members.
God is expanding our family, little by little. It's a work in progress!
---
5. Be Set Free from Expectations That You Must be Perfect
There are certain areas in which you shine!
Yet for a time, you may be responsible for something that you are not gifted in
You know that you are not displaying your best in that area—and that is okay.
You can be secure in your disadvantages, knowing that God has created you with both strengths, and inbuilt limitations.
Your favor with God is not about your performance.
His delight is in who you are.
So, be set free from expectations (from yourself and others) that you must be perfect!
Your Father is not in the distance, judging your flaws, disapproving of your limitations.
He is with you, anointing you.
---
6. Remember Your Work is Valued by God
You are seen, known and loved by God.
Others may not understand, appreciate or value all you do, but your Father does.
"For God is not unjust to forget your work and labor of love which you have shown toward His name, in that you have ministered to the saints, and do minister." (Heb 6:10 NKJV)
If you have felt frustrated or weary, or you have lost motivation, receive the Holy Spirit's healing for your expectations.
Frustration is turning into joy, as you realize what He has available for you.
So, lift up your hands. Say, "Thank You Lord!" Every attack of frustration and weariness over your ministry is falling off you now, in Jesus' Name!
---
Notes:
[1] Some of you are gifted in administration, and I celebrate with you! It happens to be something I am weak in.
[2] Although I've addressed ministry in particular in this post, the principles also relate to work, parenting, relationships and every responsibility of life
My recommended posts:
---
Choose Your Story, Change Your Life
Have you ever felt as though your life is stuck in a pattern?
Would you like a clear, simple message to help yourself—and others—break free of limitations and live your God-appointed destiny?
God has a story for your life. It is the story of an abundant life—a life full of faith and purpose.
"The script" is any story-line that is at work in your life, that is not in accordance with God's Word—and what He says about you.
In "The Script: Choose Your Story Change Your Life" you will learn:
What a script is, and five ways it can come into operation
How to identify and defeat a counterfeit script
How to identify and break a generational storyline (curse)
How to replace the script with God's story for your life
I share my own testimony of breaking free from personal and generational scripts, and encourage you to live a life empowered by the Word of God.
View and purchase this book on our eStore here.
Note: prices are listed in Australian dollars: all payments are secure and we keep your details private.
---
Leave a Comment
Is there a situation this word is speaking into, or a testimony you'd like to share?
I'd love to hear from you. Share with us in the comments box to share with us, or follow and join the conversation on our Facebook page, Twitter, or the Enliven Blog Instagram account to share it with us.
---
© 2020 Helen Calder   Enliven Blog
Enliven Ministries: in the David McCracken Ministries family