Here in Melbourne, Australia, hot days can be interrupted by sudden storms.
Ominous clouds begin to gather.
Then, when it's just about upon us, the first sign of the storm arrives. [1]
Before the rain comes, there is a sudden rush of wind
---
The Wind of Fear
In Australia, there have been few cases of the Coronavirus (COVID-19)—up until now.
Yet, as the threat of global pandemic deepens, a wind of fear has rushed throughout our nation.
It's become of the subject of every second conversation, and the hot topic of news and media
It is evident in our supermarkets, where supplies of basic items have been stripped and aisles stand empty
What is this initial wind of fear?
It is the fear of lack—and specifically, lack of supply.
Fear of lack of supply, is the response of those who believe they are bereft of a supplier.
And a supply line. [2]
But your Father wants you to know that He owns every resource in heaven and on earth.
You can have security in Him—in the Fatherhood of God.
He has not, and will not, abandon you!
---
The Crazy Storm
There's a phrase I have been hearing a lot recently: "It's crazy."
It's a statement we use, when there is mayhem and people are responding erratically.
It reminds me of the time, in Matthew 14, when Jesus told His disciples to go to the other side of the lake.
But on the way, a storm blew up.
That boat was their source of income; it was their livelihood.
It was their transport—their means of getting to where they were going.
Now, violent winds were buffeting the boat.
Not only was their boat under threat, but their lives were in danger.
To put it in our Australian vernacular, it was crazy.
But it was about to get crazier.
For that's the very point, at which Jesus approached, walking on the water.
In that moment, their Rescuer was near.
And yet, they cried out in terror.
---
In the Middle of the Mystery
Right now, the experience of many of us, is similar to that of the disciples in the boat.
At the start of 2020, we had a dream, we had a vision. We were on our way somewhere. But a storm has blown up. And now, this year looks very different than it once did.
But wait, look—there, in the middle of the mystery and the mayhem.
Faith is alive.
Life is a Person.
You realize that God has not left you; Jesus is with you. He is for you. He is for your family, He is with your loved ones.
And Jesus knew that this storm would unexpectedly appear, all along.
---
4 Antidotes to Fear
You may be hearing a lot of the same news reports we are about the Coronavirus.
But in the midst of whatever storm you may be facing right now, be encouraged by these 4 "antidotes" to fear:
1. The Antidote of Jesus' Presence
"But immediately Jesus spoke to them, saying, "Be of good cheer! It is I; do not be afraid." (Matt 14:27)
When Jesus climbed into the boat, the wind died down.
It's an antidote to fear—this awareness of His Presence in our lives, our homes, our work, ministry and every part of our lives.
It stills our hearts and silences the storm.
Fear of lack, is a sign of an orphan mindset, but Jesus said, "I will not leave you as orphans; I will come to you." (John 14:18)
Pause, breathe, know right now He is with you.
The awareness of Jesus Presence in your "boat", is a powerful antidote to fear.
Declare today, "Jesus is with me in the midst of the storm!"
---
2. The Antidote of God's Word
"And Peter answered Him and said, "Lord, if it is You, command me to come to You on the water." So [Jesus] said, "Come." (Matt 14:28-29, NKJV)
God's primary antidote to fear, is the truth of His Word. [3]
When we make the Bible the source of our truth—our "news"—we will live in assurance of His supply.
"The Lord is my shepherd, I lack nothing." (Psalm 23:1 NIV)
"I always have more than enough." TPT
"I shall not want." NKJV
"The blameless spend their days under the Lord's care, and their inheritance will endure forever. In times of disaster they will not wither; in days of famine they will enjoy plenty." (Psalm 37:18-19 NIV)
---
3. The Antidote of Receiving Grace
Jesus said, "Come!" and Peter stepped out of the boat and walked on the water towards Him.
But after a few steps, Peter gave way to fear.
As Peter was falling, strong arms reached out to him. And instead of sinking, he found himself held up by grace.
Even when you forget—and for a time, your eyes, ears and heart are turned towards the storm.
Like Peter did, you momentarily fall into fear.
Hear Jesus say, "Right now, Beloved! This gift is for you."
"I leave the gift of peace with you—my peace. Not the kind of fragile peace given by the world, but my perfect peace. Don't yield to fear or be troubled in your hearts—instead, be courageous!" (John 14:27, TPT)
Peace gives us the courage we need to face this global storm, and to roar in the face of pain.
Peace frees us to love.
And when we are moved by love, we will no longer be motivated by fear.
This peace is not something we earn or deserve, or try to produce.
It's a gift we receive.
Declare, "I receive peace! I have courage and love on the inside of me. God's grace is sufficient and I will stand in this storm!"
---
4. The Antidote of Wonder
"And when they climbed into the boat, the wind died down. Then those who were in the boat worshiped him, saying, "Truly you are the Son of God." (Matt 14:32-33 NIV)
In our day, God is releasing another antidote to fear.
It's unexpected, but powerful.
It is wonder, that leads to worship.
So let's declare that we will not be entranced by news reports, held captive by media-fueled fear, or gripped with uncertainty.
Instead, we will be captivated by Jesus, by Who He is, and by the ways He moves
And amazed by Him, we will worship
And that worship, in the midst of the storm—will rise.
It will be a sign.
In the midst of empty churches and stadiums; amidst breaking hearts, there is another wind that is sweeping the globe.
A wind of faith and worship.
Jesus, the Master of storms is here.
And the Comforter has come.
"I will ask the Father, and he will give you another advocate to help you and be with you forever—the Spirit of truth… I will not leave you as orphans; I will come to you." (John 14:16,18)
---
Notes:
[1] This is the second post on this theme of "Storms" in 2020, the first one is here: There is a Miracle in Your Storm
[2] See "How to Access Your Heavenly Supply Line"
[3] More Bible verses for meditation:
We can declare,
"We will not fear the terror of night, nor the arrow that flies by day, nor the pestilence that stalks in the darkness, nor the plague that destroys at midday.(Psalms 91:5-6 NIV)
And, "God has not given us a spirit of fear, but of power and of love and of a sound mind" (2 Tim 1:7, NKJV)
The Bible tells us that Jesus is present with us, and beyond that, we are located in Christ (Eph 3:3).
Declare, "I am hidden in Christ! This is my GPS; this is my fixed location. He is my strong tower and my Hiding place." (Prov 18:10)
---
Leave a Comment
What other antidotes to fear have you experienced? How has the current situation been affecting your region?
I'd love to hear from you! Share with us in the comments box on the blog.
---
Signs, Stories and the Prophetic Environment: New Series in the Prophetic School:
In this new series, I am sharing what I've learned through the recent encounters we've had, in our prophetic journey with the Holy Spirit.
The topic will on signs, stories and the prophetic environment.
I pray that it encourages you also, to discover and enter the "new normal" God has for you.
The first videos in this series are now up! You can see it taking shape directly after the chapter "Master Class: the Seer gift, Grow in visions and Pictures".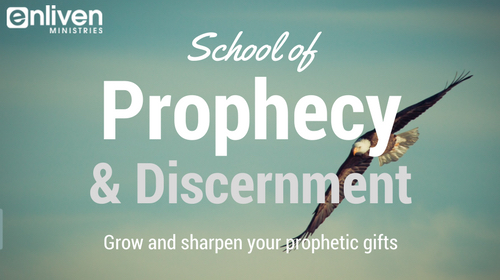 Classes include: How to hear God's voice , How to Begin and Grow in Prophecy, The Seer Gift: How to Grow in Pictures and Visions, Prophetic Discernment, Discernment and Prophetic Warnings and the Prophetic Guidance Master Class.
You can view and sign up to my self-paced video lecture series in the Enliven Prophetic School here. Choose between a small monthly subscription, or a one-off payment with no expiry date.
---
© 2020 Helen Calder, Enliven Blog
Enliven Ministries: In the David McCracken Ministries family