About this Prophetic Word for 2020:
Every year, I prayerfully release a prophetic "word of the year" for Enliven Blog readers.
I pray that wherever you are in your life's journey, this prophetic insight will be anointed and life-giving for you.
This is the first of a series of prophetic messages I will be sharing over the next few weeks [1].
---
A Word for Those with a Prophetic Heart
In 2020 and beyond—a shift is taking place.
We will no longer be defined by what we are waiting for—but the One we are walking with.
---
An Unusual Word
One year ago, I was standing on the shoreline on New Year's Day, watching the incoming waves.
Suddenly, the Holy Spirit reminded me of an unusual word He had given to me months before—"reformation".
In that moment, I felt prompted to look up the dictionary definition.
It was not the historic or political aspects of reformation that stood out to me, but the origin of the word itself.
Reformation is from two Latin words, meaning "shaped again." [2]
---
Shaped Again: The Message of the Waves
In that moment I saw it:
A second wave coming into the shoreline is made from the same water, from the same sea.
But that water is added to and reformed, in a seamless continuation of what has been before.
The seawater is being "shaped again".
---
Honor What God Has Done Before
As we contemplate past moves of the Holy Spirit, we know He is not going to move in the same way again.
We have a different generation, with different needs.
A unique climate.
Yet it is the same Spirit—the same unchanging Gospel of Jesus Christ.
* The same eternal Word of God.
God is saying, "Honor—place a weight of value on—what I have done before.
The ways I have moved before.
The leaders I have used before.
"Now, let me take and reshape that deposit I have already given to you. I am pouring out My Spirit in a new encounter."
"I Have a New Gift for You"
A wave brings seaweed into the shore, along with the water, and leaves it on the shoreline.
Time is too short to linger over the debris of past mistakes, in relation to former moves of God.
We can learn much from the past—however:
We cannot receive the "new", while we stand in judgment of the "old".
Neither can we receive God's new gift to us, while holding on to what lies behind us. [3]
"Forget the former things; do not dwell on the past. See, I am doing a new thing! Now it springs up; do you not perceive it?" (Isaiah 43:18-19 NIV)
In the motion of the waves, two actions are taking place: there is the pull of the outgoing, and the push of the incoming.
Our Father says, "Look up! I have a new gift for you!"
---
A Personal Reformation
Something in our prophetic hearts resonates with the cry:
"Deep calls to deep in the roar of your waterfalls; all your waves and breakers have swept over me." (Ps 42:7, NIV)
The Hebrew words translated "waves and breakers" speak to us of being "crushed", whilst being engulfed in God's Presence.
On a personal level, you may have felt that you, or something important to you, has been in a time of crushing.
As you contemplate the New Year, know that you are in your Father's loving hands.
You may have experienced a shaking, but now comes the reshaping.
He is saying, "Beloved! Will you embrace my reformation?
Let Me re-shape and re-form that gift, that experience and that move of the Spirit that has already been in your life.
In your family line.
In your work. Your region.
In your ministry."
God says, "I have something fresh for you."
---
This Wave is on the River
Waves of the sea have often been used as a prophetic metaphor for the move of God.
Jesus provides the bigger picture in His words,
"He who believes in Me, as the Scripture has said, out of his heart will flow rivers of living water." But this He spoke concerning the Spirit…" (John 7:38-39a, NKJV)
The "now" move of the Holy Spirit is not only a wave that breaks over us, it is a Heavenly river that pours through us.
The wave is on a river—and it is going somewhere.
The river Ezekiel saw, was sourced in God's Presence, and it flowed outwards, through the barren places, to bring healing and harvest to nations (Ezek 47).
So, if you are in a dry place, a painful place, a place of need—this river is for you.
---
You are the Move of God
A "wave" speaks of a soon-to-be immersion.
And God is calling us to be, not only filled with the Holy Spirit, but also immersed in Him.
As I was praying about this word again this week, I saw the image of the shoreline again.
People were gathering, lining up as far as the eye could see.
And I saw, not a wave of water, but a wave of people.
From the visible to far distant reaches, in a mighty surge—all lifted up their hands and cried, "Now!"
This is a year in which many of us who have been waiting for a move of God, are realizing we ARE the move of God.
As we step into 2020, it is not only a new year, and a new decade; it is a new era.
---
Notes:
[1] Interestingly, each of the words I will be sharing in January, I have held for up to 2 years, but haven't felt it was time to release them in writing—until now.
For tips on how to weigh up general, publicly given prophetic words such as this one, and apply them personally, see here.
[2] "Origin: Late Middle English: from Latin reformatio(n-), from reformare 'shape again' __https://en.oxforddictionaries.com/definition/reformation
[3] See the related post, "What is the Prophetic Meaning of New Wine?"
---
I'd love to hear from you. What are your anticipations for 2020 and beyond? Leave a comment in the comments box to share with us, or follow and join the conversation on our Facebook page, Twitter, or the Enliven Blog Instagram account to share it with us.

My husband and I are currently on vacation, so I will only occasionally be answering comments on this post (but will read them all!)
We wish you a Happy New Year.
---
Prophetic School: Grow in Your Gifts of Prophecy and Discernment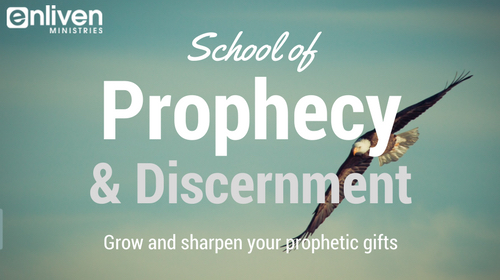 Could you benefit from teaching and practical steps to help you grow in prophecy?
The best mentoring and teaching I can give you is now rolled into this one place, on the Enliven School of Prophecy and Discernment.
Classes include: How to hear God's voice , How to Begin and Grow in Prophecy, The Seer Gift: How to Grow in Pictures and Visions, Prophetic Discernment, Discernment and Prophetic Warnings and the Prophetic Guidance Master Class.
You can view and sign up to my self-paced video lecture series in the Enliven Prophetic School here. Choose between a small monthly subscription, or a one-off payment with no expiry date.
---
© 2019 Helen Calder, Enliven Blog
Enliven Ministries: In the David McCracken Ministries family