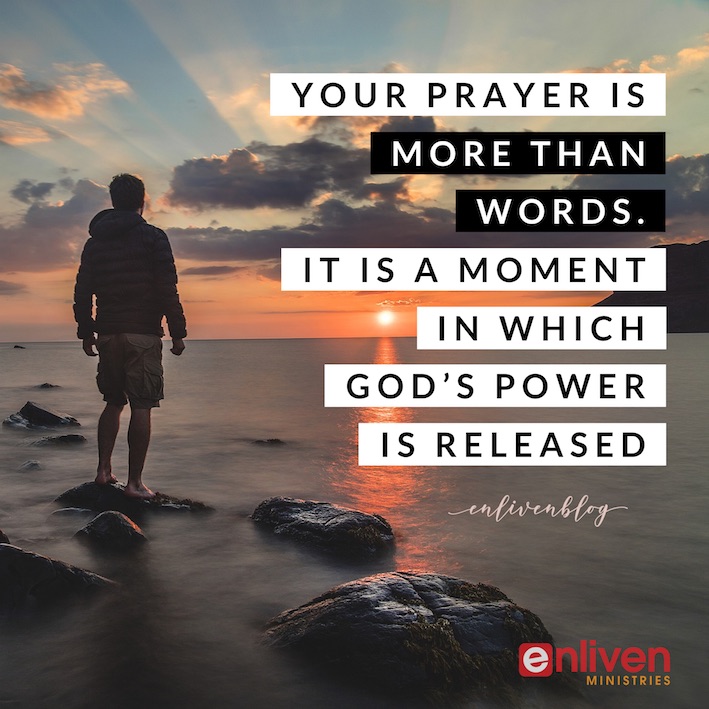 Be assured that your prayer does release God's power!
I believe there are many reading this, who feel as though you have come up against a wall.
And perhaps you can identify with this today:
Something has been hindering your progress, or that of an issue, person or group you care deeply about
Hear your Father say, "I am turning frustration into faith!"
I am empowering you to pray like never before.
---
How Your Prayer is Releasing God's Power
Angels are Waiting to be Employed
This reminds me of a prophetic dream in which I saw two angels, lounging against a wall.
Their arms were folded and they were leaning against the wall in such a way that suggested they were bored, and had nothing to do!
In that moment, I was asleep, but the Holy Spirit was using a dream to open my eyes.
The reason the angels were "unemployed" was that they were waiting for God to give them a command
And my Father was waiting for me to pray, before He would issue that command
---
Sees a Switch Taking Place!
"This, then, is how you should pray: "Our Father in Heaven, hallowed be your name" (Matt 6:9, NIV)
"Our Father!"
"My Father!"
Jesus teaches us to begin our prayer by addressing our Father.
And then—before we go into our personal needs or requests—to pray, "Your kingdom come. Your will be done on earth as it is in heaven." (Matt 6:9, NIV)
It is an expression of our heartfelt desire, but more than that: it is a proclamation.
A declaration.
See it right now— a switch is taking place!
That issue you are praying about, is no longer earth-bound.
God's Kingdom is located there.
Active there.
At work there.
---
Know that Prayer Precedes Power!
The manifestation of God's Kingdom is power!
The Apostle Paul said this:
"For the kingdom of God is not in word, but in power." (1 Cor 4:20, KJVS)
Your prayer is more than words—it is God's power being released, as you partner with Him.
See by faith, God's Kingdom at work in your situation as you pray.
And where God's Kingdom is at work, His power is being released.
---
That Wall is Coming Down
Jesus looked at them and said, "With man this is impossible, but with God all things are possible." (Matt 19:26)
And I believe that is His word to us today.
See the switch.
You are declaring God's Kingdom, His rulership, over that circumstance. Over your life. Over that person. That ministry. That location.
---
Have Faith that God's Power is Not out of Reach!
See Jesus, loaves and fishes in hand, looking up, simply giving thanks to His Father (Luke 9:6).
Power-releasing prayer is not out of your reach
The prayer Jesus demonstrates is u

ncomplicated
Before He raises Lazarus from the dead, Jesus looks up, and prays:
"Father, I thank you that you have heard me. I knew that you always hear me, but I said this for the benefit of the people standing here, that they may believe that you sent me." (John 11:41-42, NIV)
Then, Jesus calls in a loud voice, "Lazarus, come out!"
---
Know that Something has Shifted
This is for you! This is your inheritance and the legacy you pass on: Be assured that as you pray in Jesus' Name, something has shifted.
God's power is being released. The Holy Spirit is moving.
Angels are at work.
And that wall is about to come down.
Let's pray together now:
"Our Father, dwelling in the heavenly realms, may the glory of your name be the center on which our lives turn. Manifest your kingdom realm, and cause your every purpose to be fulfilled on earth, just as it is fulfilled in heaven." (Matt 6:9-10, TPT)
---
Related Posts:
Intimacy and Prayer Precedes God's Power – Learn about how praying and releasing God's power work together, with inspiring examples from Scripture.
Prophetic Dream: Angels are Waiting at Your Wall
---
© 2019 Helen Calder Enliven Blog – Prophetic Teaching
Enliven Ministries
In the David McCracken Ministries family