Many of us who are prophetic at heart have a common passion for revival. We share a longing to see the church fully awakened, surrendered to God, on fire for Jesus, empowered in the Spirit.
We desire to see miracles, signs and healing, and multitudes of people encountering God.
We know (and have often been taught) that prayer, hunger for God, and making room for the move of the Holy Spirit are powerful keys that can ignite revival.
There is another key for revival that you see many times in Scripture. It is also borne out in church history—but is less talked about. And that is, a revival of God's Word.
A Bible revival.
'Open my eyes that I may see wonderful things in your law.' (Psalm 119:18)
When you study the Kings God used to bring spiritual revival in the Old Testament, you see that they:
brought out the Scripture
adjusted the governing of the nation according to it
taught it to God's people.
Used it to restore worship
National revival flowed out of the renewed emphasis placed upon Scripture.
King Jehoshaphat is well known for the battle in which he sent a choir of praisers to sing ahead of the army. The enemies turned on each other and Judah won the battle simply by taking God at His prophetic word. (2 Chron 20)
Well before that event, Jehoshaphat led a revival of God's Word. King Jehoshaphat sent out officials, priests, and tutors throughout Judah to educate all of the people in the Scriptures.
As the people of God came under the sound of His Word, the fear of God fell upon all of Judah's enemies. Those who had once been enemies gave them tributes, wealth and gifts. (2 Chron 17)
It was a supernatural move of God.
Right now, the Holy Spirit is calling God's people back to His Word. And here is the precedent, the plumb line God is calling us back to:
It is Jesus' example.
After His resurrection, Jesus walked alongside some disciples on the road to Emmaus. And Luke writes: '…beginning with Moses and all the Prophets, he explained to them what was said in all the Scriptures concerning himself.' (Luke 24:27)
We also learn of His instruction to the disciples:

'He said to them, "This is what I told you while I was still with you: Everything must be fulfilled that is written about me in the Law of Moses, the Prophets and the Psalms." Then he opened their minds so they could understand the Scriptures.' (Luke 24:44-45)
God is calling us back to this post-resurrection view of God's Word; seeing Jesus revealed in every book of the Bible and in turn, making Jesus known through God's Word.
This is the Gospel. This is the power of transformation. And this is what Paul refers to when he says:
'And we all, who with unveiled faces contemplate the Lord's glory, are being transformed into his image with ever-increasing glory, which comes from the Lord, who is the Spirit.' (2 Cor 3:18)
Paul's context is beholding the glory of God in the mirror of God's Word—a New Covenant perspective—he has just referred to the books of Moses! We often miss it, but the Holy Spirit is highlighting it.
A revival is on its way—one that reveals the Saviour through God's Word.
A revival that doesn't minimize God's requirement for holiness, but along with it holds up for all to view, the full payment of Jesus' sacrifice on the cross for our sin.
A view of God's Word that reveals the heart of the Father who sent His Son

—a

God of love on a mission to restore relationship with His people from Genesis to Revelation.
Today, take time to immerse in the great treasure that is God's Word and be transformed by the glory of the One you see.
This is the Gospel, and this is where revival begins.
---
Spiritual Warfare Online Course
https://courses.enlivenministries.net/courses/spiritual-warfare-how-to-identify-and-overcome-spiritual-attackhttp://enliven.thinkific.com/courses/spiritual-warfare-how-to-identify-and-overcome-spiritual-attack/" target="_blank" rel="noopener">'Spiritual Warfare 101: How to Identify and Overcome Spiritual Attack' and I warmly invite you to join me!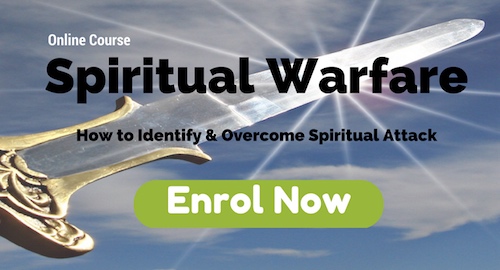 This course includes around 30 mini-lectures on video and is full of Biblical wisdom and strategies to help you overcome in time of battle. There is also a downloadable full transcript in PDF version.
And once you're in, there is no expiry date, so you can continue to journey with me through upgrades and increased course content in the future.
I have added two bonus eBooks to the course content. These are 'The Script: Choose Your Story, Change Your Life' and 'Unlocking the Gift of Discernment' (2nd Edition).
The Bible has great news. You do not have to be weighed down by spiritual oppression or put up with pressure and attack! Find out more about the course, 'Spiritual Warfare 101: How to Identify and Overcome Spiritual Attack' here.
---
© Helen Calder Enliven Blog – Prophetic Teaching
Enliven Ministries
In the David McCracken Ministries family