When it comes to prophetic guidance—especially when it concerns decisions that impact others around us—a lot can be at stake. It is vital that we hear God clearly and obey in a way that brings honor to Him.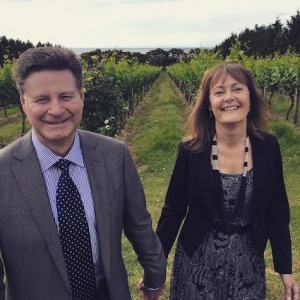 My husband Malcolm and I have developed a lifestyle of listening to God's voice and walking in obedience to Him. And amazing things have taken place as a result!
We haven't always got this right. I can remember one time many years ago when my husband and I stepped out of God's timing. We thought we had heard from God when we purchased a business—but instead of the blessing we envisaged, we ended up in a big trial. The vision from God was right. However, the timing and means we used to step into the vision God gave us were out of order. [1] We learned some important lessons as a result.
---
What is Prophetic Guidance?
'Prophetic' speaks of God's intention, being conveyed by the Holy Spirit. 'Guidance' speaks of direction.
Prophetic guidance occurs when we hear God's voice (or someone hears on our behalf) concerning an action or direction that we are to take.
There will be times when you are seeking God about a significant decision you have to make.
Perhaps this concerns your life, vocation, home, a relationship, or a financial decision
You may be a leader whose prophetic guidance about the direction of your business, department, ministry, or church impacts many people
In these cases, it is not just a matter of trying something out to see if you (or others) have heard correctly and God's blessing is on it. You are making a critical decision that will have great consequences for yourself and others. Perhaps this action, once taken, cannot be undone.
The more that is at risk, the more important it is to know we have heard God clearly—and not just concerning the vision or action we are to take. We must be mindful of the timing and manner in which we respond.
---
The Key to Getting Prophetic Guidance Right: Use both Faith and Wisdom
A.W. Tozer once said, 'Truth has two wings.' And that is so true. Very often Scripture presents what seems to be two contrasting viewpoints. When these are considered together, the balance brings about God's intended result. This is especially true of prophetic guidance, where a conflict may first appear to exist between faith and wisdom—and yet in order to make the most of prophetic guidance, we must use them both together.
The life of faith by definition requires us to step out and take risks.
God calls us to accomplish great things for Him, that we cannot do in our natural strength or own resources. He receives the glory in that faith zone.
There are many Bible heroes, such as Abraham, who lead the way. They have stepped out before us in obedience and seen miracles as a result. (Heb 11:8-12)
Trust in the Lord with all your heart and lean not on your own understanding; in all your ways submit to him, and he will make your paths straight. (Prov 3:5-6)
Prophetic guidance will not always make natural sense. So we do not lean on our personal understanding when God tells us to do something. However, we are certainly called to pursue God's understanding and wisdom on the issue. Later in the very same passage, Solomon says,
'Blessed are those who find wisdom, those who gain understanding,  for she is more profitable than silver and yields better returns than gold.' (Prov 3:13-14)
---
4 Things Wisdom Takes into Account Concerning Prophetic Guidance
Here are some things I have learned to consider in relation to prophetic guidance:
1. Weighing up the Prophetic Guidance
It is always important to weigh up a prophetic insight and test that it really is from the Holy Spirit—and especially so, when an action taken from it involves something large that is at stake for ourselves or others. We must never let presumption or pride get in the way when it comes to the gifts and ministry of the Holy Spirit.
I discuss how to weigh up prophetic insights from the Holy Spirit here.
2. Love and Unity
But the wisdom that comes from heaven is first of all pure; then peace-loving, considerate, submissive, full of mercy and good fruit, impartial and sincere. (James 3:17)
Wisdom asks, does the manner and timing that I am considering taking in response to this prophetic guidance express God's love to others? Does the way I intend to go about implementing this promote unity—especially with/amongst those who will be journeying with me in this?
This is especially true when prophetic guidance involves a spouse or family. (See my article 'Personal Guidance for the Important Decisions of Life' for more thoughts on this).
3. Timing
Wisdom understands that there is sometimes a gap between the time of God's prophetic call or instruction—and the date to pursue or step into that obedience. We need to be sensitive to His timing.
4. Confirmation
When it comes to prophetic guidance, the greater the impact of a decision will be, the more critical the process of confirmation becomes. Honoring and submitting to oversight is our safety net.
This does not only relate to those of us who are under leadership—it is also vital for those who are pastors and senior leaders. Prophet David McCracken talks of a 'ripple principle' that he uses in relation to prophetic guidance. Beginning with his wife Margaret, and rippling out sequentially to his senior team leaders, board, and ministry team, he gains confirmation and unity before acting on significant prophetic guidance regarding the ministry he leads. [2]
'If any of you lacks wisdom, you should ask God, who gives generously to all without finding fault, and it will be given to you.' (James 1:5)
---
Prophetic Guidance, God's Supply, and Wisdom
You will notice that I have not included logistics or resources in the above list of things to take into consideration. God is well able to provide when we step out in obedience to Him. However, there may be times when the Holy Spirit uses scarcity of resources, or a closed door, to adjust our timing.
Wisdom comprehends the difference.
Obedience to God's voice breaks open a life of miracles and God's destiny for our lives, families, vocations, and ministries.  The key to getting prophetic guidance right is this:
In order for us to soar on our journey of faith, we need to use both wings—faith and wisdom together.
---
Notes
[1] The existence of a trial after obeying God does not always mean you have got something wrong. See my recent article, 4 Reasons Why the Opposite of Your Prophetic Word is Happening
[2] See Prophetic People in a Changing Church, 2nd Edition. Further information on this topic and David McCracken's full discussion on this can be found in chapter 13 of Prophetic People in a Changing Church in our eStore here.
---
What lessons has God taught you in relation to prophetic guidance? Let us know us about it in the blog comments section, or on Facebook or Instagram. If the blog comments box is not visible, click on this link and scroll down.
---
Related Posts
Personal Guidance for the Important Decisions of Life
How to Check Your Prophetic Insight is from God
---
© 2016 Helen Calder Enliven Blog – Prophetic Teaching

Enliven Ministries: in the David McCracken Ministries family