Am I really hearing God's voice? Or is it just me thinking this?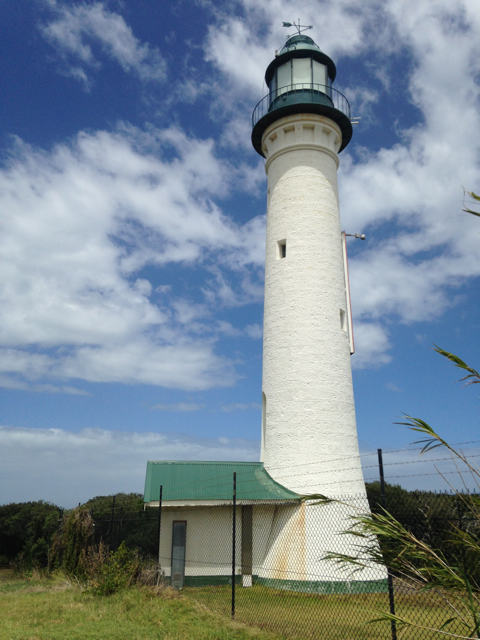 There were 9 in the front room of our holiday unit. And that was just the start. We found many more models and framed pictures of lighthouses in other rooms of the small home.
My inevitable thought was, 'are all these lighthouses prophetic? Father, are you saying something through this?'
And then I went through that internal 'eye-rolling' routine. 'Of course. I'm prophetic; I'm always seeing symbols and patterns. This could be just me.'
The next morning, as my husband Malcolm and I were beginning breakfast he said to me, 'Do you think the lighthouses are prophetic?' I was in the process of answering when I glanced down and a word jumped out from the headlines of the local newspaper's front page. It read, 'Lighthouse.'
During our holiday, we had fun exploring the possibility that God was indeed speaking to us through the 'lighthouse' metaphor. What could it mean? Was Father talking to us about significant guidance—for ourselves, or from us to others?
While holding onto that thought lightly, we explored the 3 lighthouses in the area and discovered the reason for their existence.
The local harbor entrance, through which many ships come and go, has a treacherous stretch of water known as 'The Rip', and a long history of shipwrecks. The lighthouses—one of which is still staffed 24/7—are needed to guide many boats and ships safely into our city of Melbourne, Australia. [1]
---
7 Filters to Help Check a Prophetic Insight
Have you received a prophetic dream, thought, or impression you believe is for yourself? Or have you received a prophetic insight for someone else?
Here are some common filters to help you assess and weigh up a prophetic insight you believe is from God:
Does this agree—is it compatible—with what the Bible says?
The Bible is not only the chief source of revelation from God but is also the standard by which we weigh up every prophetic insight we receive. (Ps 119:89, 2 Tim 3:16)
Do I have an inner witness from the Holy Spirit that this is from God? Have I prayed about it? (John 14:26, 1 John 2:27)
Does it line up with the nature of God? In particular, with the nature of the Father as expressed through Jesus? (Heb 1:2)
Am I willing to share this with my spiritual oversight—and would my leadership be comfortable with this?
If it goes beyond simple encouragement, especially if it relates to guidance, have I submitted it to oversight? If operating in prophetic in church life—do any protocols or guidelines apply? (1 Thess 5:19-21, 1 Cor 14:29, Heb 13:17)
**For significant personal guidance, see 'Personal Guidance for the Important Decisions of Life'
**For more specific checks relating to personal prophecy, see, 'Is Personal Prophecy Biblical?'
Does your insight (and the interpretation of what it means) fall into the category of encouragement, comfort and exhortation? (1 Cor 14:3)
If the prophetic insight concerns your destiny, does it line up with the way God has created and wired you? (Eph 2:10)
Will responding to this guidance bear good fruit? If it's for someone else, will it bear good fruit, have a positive outcome—if it goes beyond simple encouragement, have I thought through the possible outcomes? (1 Cor 14:3, John 15:16-17)
---
Your Prophetic Insights: Being Careful, Being Relaxed
Remember that over time, you will become more accustomed to hearing God's voice.
You don't have to publicly tag everything that you sense is from God with a 'God says…' If the matter is personal, give it time, process it in a journal or similar and when you see the fruit, give God the glory and share about it.
I've learned to be relaxed and to share personal revelation sparingly and sensitively.
If your insight is something to share with another person, be honest if you are not sure. Humility does not diminish God's power.
We've taken our 'lighthouse' encounter with God through each one of the above filters. And we haven't come to any conclusions. We are looking forward to the full meaning of what our Father is saying unfolding during the course of this year and beyond.
Prophetic revelation is not always about an event, sometimes it is about a journey of discovery, an adventure with God.
'This resurrection life you received from God is not a timid, grave-tending life. It's adventurously expectant, greeting God with a childlike "What's next, Papa?" God's Spirit touches our spirits and confirms who we really are. We know who he is, and we know who we are: Father and children.' (Rom 8: 15 MSG)
---
Notes:
[1] For those interested, we were holidaying on the Bellarine Peninsula, Victoria, Australia and the 3 lighthouses mentioned are at Queenscliff and Point Lonsdale.
---
Related Posts:
Is God Speaking to You Through the Environment?
---
© Helen Calder Enliven Blog – Prophetic Teaching
Enliven Ministries: Prophetic Ministry for a Revival Generation