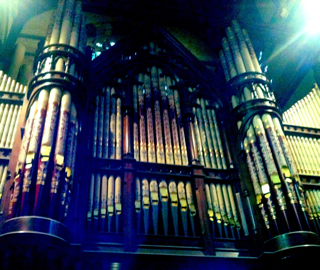 'The Lord… leads me beside quiet waters, he refreshes my soul.' (Psalm 23:2-3)
Recently during our team's regular time of worship and prayer, I had an unusual vision.
I saw a wide river, with smooth waters. Alongside, following the course of the water, tall pipes stood from the riverbank. I recognised them as being those of a pipe organ.
The Pipe Organ
The pipe organ is a magnificent instrument. Yesterday, my husband Malcolm and I saw and heard one in action at St Paul's Cathedral here in Melbourne, Australia.
The secret of the pipe organ lies hidden below the pipes—a reservoir filled with pressurised air.
As the hand of the organist selects a note, the corresponding pipe receives a burst of wind, producing a glorious sound.
Vibrations—waves of sound—pour out through the pipes, into the air. All who are within hearing distance can enjoy and respond to them. [1]
The Father's call to Intimacy
'A white-tailed deer drinks from the creek; I want to drink God, deep draughts of God. I'm thirsty for God-alive.' (Psalm 42:1, MSG)
The Father is calling us to spend time with Him—with no agenda except to know Him and to be known by Him.
In that place of intimacy He fashions and shapes our hearts, tuning them with His own desires. In that place of communion, He refills us with His Holy Spirit.
The New Sound
'He put a new song in my mouth, a hymn of praise to our God. Many will see and fear the Lord and put their trust in him.' (Psalm 40:3)
Just as the pipes of the organ are filled with a burst of air that has only one place to go—outwards—as we spend time in intimacy with God, His Spirit fills us to overflowing.
Then, 'we cannot help but speak of what we have seen and heard.' (Acts 4:20)
This new sound is, for some of us, a renewed testimony of God's goodness as we encounter Him.
For others, it is a fresh revelation of God—His love, His power, His mercy. As we pass it on, it brings life, healing and hope to those we encounter.
For those of us who are in prophetic ministry, it is God's message, crafted in us, then resonating through us. [2]
Returning to Intimacy
Sometimes, we do not take significant time apart with God because we are busy. We may even be spiritually dry.
And yet, we should prize God's intimate Presence and anointing above all else. (Ps 51:11)
Have you lost the freshness of your close relationship with God?
God is always present with us. (Matt 28:20) However, just as Jesus took time apart with the Father, so can we. (Mark 1:35, 6:46)
Time spent alone with God is life giving. You can start by rediscovering the unique ways that you connect with Him. [3]
The picture of intimacy with God beside still waters has particular significance to me, as I connect with God best through spending time outdoors—especially where I can walk alongside water, be it a lake, a reservoir, or the sea.
Today, I encourage you to take a moment to meditate on this—listen to God's personal call to you. Allow His Spirit to awaken the hunger for His Presence in your life.
God is calling us to take time apart in intimacy with Him—and as we do so, a new sound will resonate from our lives and ministries, reaching the hearts of many.
---
Notes:
[1] Information about the pipe organ can be found at: http://en.wikipedia.org/wiki/Pipe_organ
[2] In 1 Corinthians 14, Paul uses the following example:
'Now, brothers and sisters, if I come to you and speak in tongues, what good will I be to you, unless I bring you some revelation or knowledge or prophecy or word of instruction? Even in the case of lifeless things that make sounds, such as the pipe or harp, how will anyone know what tune is being played unless there is a distinction in the notes? Again, if the trumpet does not sound a clear call, who will get ready for battle? So it is with you.' (1 Cor 14:6-9a)
[3] See the following posts for thoughts about how you can uniquely connect with God:
How To Discover Your Spiritual Pathway
How Using Your Learning Style Can Revitalise Your Bible Study
---
Related Posts:
Hunger For God: 6 Ways You Can Stir It Up
How You Can Have An Intimate Relationship With The Holy Spirit
---
© Helen Calder Enliven Blog – Prophetic Teaching
On team with David McCracken Ministries: Prophetic Ministry That Empowers The Church