Prayer is, in essence, communicating with God. It is not merely communicating to God—for He also wants to share with us in return.
Neither is prayer merely talking to God. In fact, prayer is so much more than speaking words.
Prayer may be an attitude in our hearts before God; it may be the wordless communion of friends; it may be the ineloquent groans of a burdened heart.
And prayer can even consist of joyful shouts of praise.
Prayer comes in many forms and can be used for many purposes. Describing prayer is like describing a rainbow. You can speak of the rainbow as a whole, or you can describe the colors and spectrums that make up the rainbow.
In my article, 4 Ways To Pray: Exploring The Wonders Of Prayer, I share about relating prayer, requesting prayer, receiving prayer, and ruling prayer—and that is just a start!
3 Reasons why we Pray
Here are three important reasons why we pray—I believe that God will speak to you personally through at least one of these today:
1. We Pray Because of Relationship
Communication is the lifeblood of any relationship—and it is the same in our relationship with God.
Did you know that it is the great desire of God's heart to have a personal relationship with you?
In the beginning, Adam and Eve walked and talked with God in the garden. (Gen 3:8-9) When they lost that intimate relationship, God moved heaven and earth to restore it to us.
That is the primary reason that Jesus died on the cross—to restore our relationship with God. (John 1:12-13) He paid the penalty for our wrongdoing and sin, so that we could spend now and eternity with God.
Sometimes people see the Christian faith as a way of settling their eternal destiny—or as a type of spiritual insurance—something to have in place for when a need arises in their lives. Sadly, they have missed the purpose of the cross.
God created and saved us for an intimate relationship with Him, and communication—prayer—is vital to that relationship. (Rev 3:20)
---
2. We Pray Because it Makes a Difference
Imagine that someone in your family has an illness for which the doctor prescribes several types of medication. He or she receives the medicines—and then upon arriving home, only takes one of the medicines prescribed.
That would be crazy, wouldn't it?
God is our Master Physician, the all-knowing One, and our loving Father. And He has given us prayer in order to assist us in times of need.
The Bible tells us to pray in circumstances of:
Sickness (James 5:14-15)
Trial (Phil 1:19, James 5:13))
Danger (2 Cor 1:10-11)
Temptation (Matt 26:41)
Being mistreated (Luke 6:28)
Need of provision (Matt 6:11)
Spiritual warfare (Eph 6:10-18)
In times of weakness (Rom 8:26)
In every situation (Phil 4:6)
So, if prayer is prescribed to us by God—and is a means of releasing His grace and power into situations—why would we not participate in it? Why would we hold back the benefits of prayer from others and ourselves?
Today you can make a difference in your life and the lives of people around you—by praying.
---
3. We Pray Because it Fulfils our Destiny
'Your kingdom come, Your will be done, on earth as it is in heaven.' (Matt 6:10)
Prayer is not just for times of need. Jesus instructed us to pray in order for God's will and purposes to be accomplished.
Watchman Nee once described prayer as being to the will of God what railway tracks are to a train. The train engine may be powerful, it may be able to go thousands of miles—but unless the tracks are laid down, it will not go anywhere. [1]
So, God has set a law into place whereby His purposes can only be accomplished in conjunction with the prayers of His people.
When God created Adam and Eve, He gave them dominion over the earth. Psalm 115:16 tells us that, 'The highest heavens belong to the Lord, but the earth he has given [assigned] to mankind.'
And God's purposes have never changed.  When we pray, we are exercising God's rule—and our God-given Dominion on the earth—in partnership with him. [2]
Something deep within us yearns for significance. And this is why: we are created and destined to be royal sons and daughters of God—born to rule. (John 1:12-13) For in eternity to come, we are destined to reign with Him. (Dan 7:27)
Only in eternity will we fully understand the purpose of prayer, and see the results that our prayers have accomplished.
---
Notes:
[1] Watchman Nee, in his book 'Let Us Pray', 1977.
[2] I highly recommend the book, 'Intercessory Prayer' by Dutch Sheets for excellent teaching on this topic. (Regal Books, California, 1996)
---
Related Posts:
Release the Resources of Heaven Through Prayer
4 Ways To Pray: Exploring The Wonders Of Prayer
---
Help for Prayer Warriors: Overcome Spiritual Dryness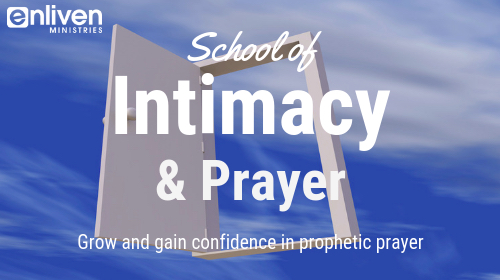 If you have felt dry or depleted in your prayer life lately, the lessons in my Prophetic Prayer School will be of benefit to you.
You will find these in the class, "How to Prevent and Recover from Dryness in Prayer":
Causes of Dryness and Depletion in the Intercessor
Ten Keys to Being Replenished as an Intercessor
Receiving Prayer: How to Stay Filled with the Holy Spirit Through Soaking Prayer
This impacted me personally, and I'm sure it will benefit many of you! I warmly invite you to join me in the Enliven School of Prophetic Prayer
For a short period of time, while the Prayer School is under construction, I'm bringing the full price down to $19.95 USD.
Currently on the Enliven School of Prophetic Prayer are 41 video lessons (complete in your own time), along with PDF transcripts, exercises, and bonus eBooks.
Alternatively, you can view all online courses, including the Prophetic School here.
---
© Helen Calder Enliven Blog – Prophetic Teaching
Enliven Ministries: in the David McCracken Ministries family
---