I have a dream that every Christian will have the confidence and freedom to pray for other people, in any situation.
We serve a loving and supernatural God, Who longs to express His grace and power through us in our everyday lives.
Last week I shared some reasons why we can pray for physical healing, and today I want to share 3 simple ways that you can put it into practice.
It Isn't about a Formula
When we start out, it can be helpful to become familiar with a few different methods of praying. It is a bit like having access to a toolkit. We can then use whichever method suits the situation—or pray as the Holy Spirit leads us.
When you look at how Jesus healed people in the Gospels, you see many different ways that it took place.
So when we pray, it is not about a formula, although you might find one way of praying for healing that suits you.
Contrary to what some people may try and tell you, there is no one best method to pray for healing.
If there was one superior method, then those healing ministries in the world today that are getting the most results would all be using one method. But they are not—they all have different expressions of ministry!
3 Easy Ways to Pray for Physical Healing
Here are three different ways that you can pray for healing. I call them Petition (Asking) Prayer, Power Prayer, and Pastoral (Caring) Prayer.
1. Petition (Asking) Prayer
We petition God when we simply ask Him to do something—in this case, to bring healing—in Jesus' Name.
Petition is not inferior to other types of prayer—asking is powerful, and is the privilege of sons and daughters. (Matt 7:7-11, John 14:13-14)
Making requests of God should be done with thanksgiving—we pray with the confidence that He hears us, and has already provided the answer to our prayer. (Phil 4:6)
We see petition happening in the Bible when people came to Jesus asking for healing on behalf of themselves and others.
Petition prayer is a powerful witness to non-Christians because it demonstrates our relationship with God.
2. Power Prayer
Power Prayer is short, brief, and to the point, rather like a 'laser beam' of focused prayer or command, using the Name of Jesus.
In Power Prayer, we exercise the authority God has given to us over sickness. This includes:
A. Praying using the authority of Jesus' Name (Acts 4:10,30; John 14:12-14)
B. Praying or declaring scripture
God's word has authority. Some scriptures we can pray include 1 Peter 2:24, Ex 15:26, Ps 107:20
C. Speaking a word of command to the sickness (Ps 107:20)
Jesus frequently used a word of command or pronouncement of healing. (Luke 8:54, John 5:8, Matt 12:13)
Peter primarily used the spoken word to bring healing in his ministry. (Acts 3:6, 9:34, 9:40)
3. Pastoral (Caring) Prayer
In pastoral care prayer, we aim specific prayer at caring for the person, not only for healing but also for issues related to the illness.
The power of Pastoral Prayer is that we are praying specifically. It lets the person know that God cares and we care about their whole life related to that issue. (Gal 6:2, Rom 12:12)
Some things we can pray for include:
Healing and Divine intervention
Pray concerning specific symptoms as well as the underlying cause of the sickness
Other family members affected by the need expressed
Key events such as medical appointments, operations, and so on
The medical skill of doctors and other professionals
Other logistics relating to the illness—such as finance, help, and transport
Any emotional responses to the situation—e.g. fear, trauma, or anxiety
I like to pray for a fresh infilling of the Holy Spirit for Christians who are in difficult times or require healing. They may have had a lot of emotion, or pain to deal with and can feel depleted emotionally, mentally, physically, and spiritually.
Other Prayer Tools
Here are some further thoughts about prayer for healing:
Repeated Prayer
Repeated prayers show the people that we care enough to journey the distance with them. And God may use the power of recurring prayer in the process of healing. Jesus prayed more than once for a blind man, who was healed gradually. (Mark 8:22-26)
Two Points of Connection
a. Laying on hands
Laying on of hands was one of many methods that Jesus used to minister healing to people. (Luke 4:40)
Paul mostly used the laying on of hands and physical impartation to heal. (Acts 20:10, 19:11-12, 28:8)
The benefits of having a physical point of connection include:
A physical connection can help build faith
It reminds others and us that we are an agent or representative of Jesus.
It is a Biblical means of impartation (releasing the healing power of God through one person to another)
We should always ask people first to ensure they are comfortable with us touching them as we pray.
b. Anointing with oil
Anointing with oil is symbolic. It is recommended for use by leaders in the NT. (James 5:14) Jesus' disciples also used anointing oil on one occasion in Mark 6:13.
We need to keep in mind that unchurched people do not understand the symbolism of anointing with oil, therefore it is may not always be appropriate.
Important Things to Remember
Finally, important things to remember whilst praying for healing are:
The basis for our prayer is not our ability, but what Jesus has accomplished on the cross. (1 Peter 2:24)
Jesus healed people out of compassion. (Matt 14:14) Love is vital to praying for healing as it is in any ministry situation. (1 Cor 13:2-3)
Never advise people to cease prescribed medications. If they believe they are healed, refer them to their physician for confirmation first.
Acknowledge the mystery of prolonged or unanswered prayer and never place blame for this on anyone's 'lack of faith'.
In 2 Tim 4:20, we learn of a close associate of the Apostle Paul who remained ill. No answers were given. We are called to pray in faith, leaving the outcome up to God.
---
Other articles in the Healing Series:
7 Reasons Why You Can Pray For Healing
Discover Your Unique Healing Gift
---
Help for Prayer Warriors: Overcome Spiritual Dryness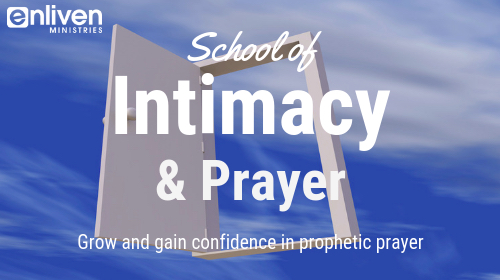 If you have felt dry or depleted in your prayer life lately, the lessons in my Prophetic Prayer School will be of benefit to you.
You will find these in the class, "How to Prevent and Recover from Dryness in Prayer":
Causes of Dryness and Depletion in the Intercessor
Ten Keys to Being Replenished as an Intercessor
Receiving Prayer: How to Stay Filled with the Holy Spirit Through Soaking Prayer
This impacted me personally, and I'm sure it will benefit many of you! I warmly invite you to join me in the Enliven School of Prophetic Prayer
Currently on the Enliven School of Prophetic Prayer are 41 video lessons (complete in your own time), along with PDF transcripts, exercises, and bonus eBooks.
Alternatively, you can view all online courses, including the Prophetic School here.
---
© Helen Calder 2011
Enliven Ministries: in the David McCracken Ministries family