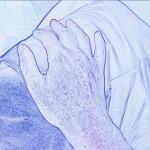 Today I want to share with those of you who, like me, have a strong desire to see people healed as you pray for them—but are uncertain as to whether or not you have a spiritual gift of healing. (I will share some signs of the spiritual gift of healing later in this post)
Here are 7 simple reasons why you can pray for physical healing for people, not just in the context of church life, but also in your everyday life:
1. God is Healer by Name and Nature
We pray for healing because it is on the heart of God.
God is revealed as the healer of disease throughout the Bible. One of His Names is Jehovah Ropheka—'The Lord Who Heals You' (Ex 15:26)
He is healer not only by Name but also by nature—Jesus revealed the Father's heart as He went about ministering healing and freedom to people. (John 14:9-11, Acts 10:38)
Prayer for healing is centred not only upon God's willingness; it is also based Jesus' finished work upon the cross. Jesus paid the price for our sin and sickness, and when He rose from the dead He held in His hands the keys of death and hell. (Matt 8:17; 1 Peter 2:24, Rev 1:18) [1]
2. Jesus set us an Example to Follow
Jesus demonstrated a lifestyle of ministering healing to people and trained and instructed His disciples to do the same. This included His wider group of followers, not just the 12. (Luke 10:1-9)
The instructions Jesus gave to His first disciples were to be passed on to future generations of Christian believers. (Matt 28:20)
The practice of healing did not stop there: the ministry of healing was an integral part of early church life. (James 5:13-16)
3. Prayer for Healing is vital to Pastoral Care
We pray for healing because it expresses God's compassion and care for people.
In church life, prayer for physical healing is essential to pastoral care. It provides comfort and encouragement to individuals and families who are struggling with illness. (James 5:13-16)
And when healing occurs, it provides opportunity for the church to rejoice in the testimony of what God has done. (1 Cor 12:26)
4. It Encourages People to Connect with God
Offering to pray for people who are sick encourages them to look to God in their time of need. (Matt 14:34-36)
Even in our day of advanced science in medicine, there are illnesses for which there are no medical answers. We can look to our Creator Who intimately knows the function of our physical bodies.
5. Prayer makes a Difference.
God's power is released when we pray. (Matt 18:18-20)
And even in the times God's power it does not manifest in the time or manner that we expect, He is still at work in ways that we do not understand.
Your prayers are powerful and do make a difference. James instructs us, '…pray for each other so that you may be healed. The prayer of a righteous person is powerful and effective. (James 5:16)
The mystery of continued illness did not stop the early apostles praying for healing and it should not hinder us. (2 Tim 4:20)
6. It Impacts the lives of People who do not yet know God.
(Matt 8:8-18, Luke 10:8-9)
When there is a felt need, people are often more responsive to prayer than any other time.
It is amazing how open people are to prayer as a concept, even before they are aware that prayer is actually about a relationship with an awesome God! And we have the opportunity to demonstrate that relationship when we offer to pray for them.
Our faith in a supernatural God Who answers prayer today should permeate throughout our whole life. People around us need to see the expression of our faith in action.
7. We pray for Healing because we can!
Who can pray for physical healing?
A. Leaders in the church
'Is any one of you sick? He should call the elders of the church to pray over him and anoint him with oil in the name of the Lord. And the prayer offered in faith will make the sick person well.' James 5:14-15
There is a special authority and Biblical mandate for leaders to pray for physical healing.
B. Those with a Spiritual gift of Healing
'Now you are the body of Christ, and each one of you is a part of it. And in the church God has appointed first of all apostles, second prophets, third teachers, then workers of miracles, also those having gifts of healing.' 1 Cor 12:27-28
Here are some signs that you may have a healing gift:
You have a strong desire to see people healed by God's power
You are passionate about praying for the sick and regularly encourage others to receive prayer
You have had prophecies or a long-term sense of God's call to minister in healing
You gravitate towards ministry that includes praying for the sick
You usually offer to pray for healing when people are sick
You may have experienced healing yourself
You may have had particular trials in the area of your health, either yourself or someone close to you (trials indicate triumph… look at some of the leading Biblical characters)
People have been healed when you have prayed for them,  experiencing a genuine touch from God emotionally or physically.
C. All followers of Jesus
'Very truly I tell you, all who have faith in me will do the works I have been doing, and they will do even greater things than these, because I am going to the Father.' (John 14:12)
Our authority is exercised in the Name of Jesus. (Acts 4:10, See also point 2., above)
Whether or not you have a spiritual gift of prayer, or healing, you can still pray on the basis of your relationship with God and the authority that you have as His son or daughter.
---
Notes
[1] There are many differing viewpoints regarding the Biblical doctrine of and basis for physical healing. I find it interesting that Jesus did not teach on healing. Rather, He taught about the Kingdom of God—and healed people.
---
Related Posts:
3 Simple Way to Pray For Healing
Discover Your Unique Healing Gift
---
© Helen Calder 2011  – Enliven Blog – Prophetic Teaching
Enliven Ministries: In the David McCracken Ministries family