Our office at David McCracken Ministries is situated in a lovely, semi-rural area here in Melbourne, Australia. A few days ago, I went on my regular walk past a vineyard during my lunch break. I was amazed to see fresh green shoots springing from the harshly pruned vines.
What seemed so barren and dead for months is now a picture of resurrection life.
---
I am the true vine, and my Father is the gardener. He cuts off every branch in me that bears no fruit, while every branch that does bear fruit he prunes so that it will be even more fruitful. (John 15:1-2)
In the same way that a plant is pruned in order to blossom and bear more fruit, seasons of testing are crucial to the development of our spiritual gifts.
During these times, the best that we have produced seems to have been stripped away from us. God is allowing fruitful areas of our lives and ministries to be cut back, in order that we can focus in a significant way and be even more fruitful for His Kingdom.
11 Signs that you are in a Testing Season
Some signs that you may be experiencing a testing season in relation to your spiritual gifts include:
Feeling that you have been shut down in your God-given abilities
You might have voluntarily or involuntarily released ministry responsibility and feel displaced as a result
You long for the honeymoon period when you first discovered your spiritual gift
You might have made mistakes and wonder whether you will ever recover
You experience doubts about your ability and wonder if God really called you
You find yourself going through character-testing circumstances and coming up short on the character side
You wonder whether the prophecies once made about you will ever be fulfilled
You feel as though you are being criticised, blocked or resisted
You feel battle-worn and weary
You feel displaced, separated or hidden in relation to your gift and ministry
The opposite of God's call and the destiny you believed for seems to be happening to you.
A testing season can be specific to a single gift. I have often heard prophetic people relate, mystified, that their prophetic ministry feels as though it has been blocked and yet they are experiencing fruitfulness in other areas of service.
The Season of Trial: What is God Doing?
1. Developing Skills you will need in the Future
Joseph knew that his destiny was one of rulership, but it seemed that his life was taking the opposite course. However, during the time of slavery and unjust imprisonment he developed skills that would be invaluable to his future. He learned the Egyptian language and customs, along with principles of stewardship, leadership and resource management.
During the season of trial, God may be working gifts and skills into your life that you need to fulfil His destiny in the long run.
2. Refining Your Character
During wilderness times, the people and circumstances that try us are instruments that God uses to develop our character and point us towards our destiny. Joseph understood this. He later said to his brothers, "You intended to harm me, but God intended it for good to accomplish what is now being done, the saving of many lives" (Gen 50:20).
3. Repositioning You
During a testing time, God may actually be repositioning us for a new season of fruitfulness.
Elijah went on the run from Jezebel, overnight going from success to mess. (1 Kings 19) He sat under a tree in the desert and actually prayed that he would die. The Lord visited Him and gave him directions for a new season of his ministry. He was to call Elisha as his successor and anoint a new king who would bring Jezebel's reign to an end.
Elijah had an appointment with God in the wilderness and so do we. During the times of difficulty or separation, allow Him to speak to you about the next season He has for your life.
4. Calling You to Intimacy with Him
Testing times are seasons when we have the opportunity to get closer to God than any other time. Perhaps there are fewer distractions. Perhaps need or barrenness causes us to draw nearer to Him. It is on God's heart to reveal His love to you in fresh ways during a desert time.
5. Awaiting the Right Timing
While we feel as though we are fighting to survive, God is moving to change the scenery on the stage of our lives—positioning circumstances, others and us for what is to come. [1]
David went on the run from Saul in the wilderness. He was destined to become a king, but he became an outlaw first. He stayed in the desert while God worked things out on his behalf. Saul died and eventually the people called for David to be their new king.
6. Strengthening Your Faith
Abraham is known as the 'father of faith.'  It was twenty-five barren years before Isaac was born in fulfilment of God's promise to make him a great nation; God waited until it was physically impossible. Paul later said of Abraham:
Without weakening in his faith, he faced the fact that his body was as good as dead—since he was about a hundred years old—and that Sarah's womb was also dead. Yet he did not waver through unbelief regarding the promise of God, but was strengthened in his faith and gave glory to God. (Rom 4:19-20)
In the Father's Hands
It is important to recognize that God is at work during the testing season. He is refining both your character and your gift.
How you respond in this season is very important. No matter what you have done, no matter what people have done to you, and no matter what the enemy has done against you, God is sovereignly working 'all things together for good.'
If you can relate to this today, I pray that you will perceive the hand of God on your life. During pruning, the vine-grower's hands are closer to the vine than at any other time.
May you sense the Father's loving touch on your life and receive a revelation of His goodness that will empower you and cause your heart to flow with gratitude and praise.
---
This post contains an excerpt from my e-book, 'Grow Your Prophetic And Prayer Gifts.'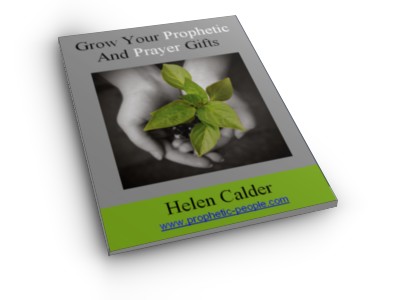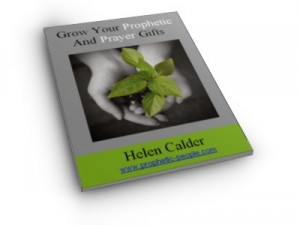 The six phases of spiritual gift development are beginning, desiring, emerging, developing, testing and maturing.
'Grow Your Prophetic And Prayer Gifts' is a high-value e-book specifically written to help you grow in your gifts of prophecy, intercession, healing, discernment and more – at whatever stage or season you are on the journey.
Check out my e-books page for more e-books related to prophetic and prayer ministry.
---
Related Posts:
4 Signs You are in Transition in Your Gift or Ministry
---
© Helen Calder – Enliven Blog
On team with David McCracken Ministries: Prophetic Ministry That Empowers The Church