Understanding the difference between Old Testament (OT) and New Testament (NT) prophetic ministry is a vital key to flourishing in our gifts of prophecy.
A clearer perception of this in my earlier days would have saved me personally a great deal of heartache and error in church life. [1]
---
4 Differences Between Old and New Testament Prophetic Ministry
Here are four key points of difference between Old and New Testament prophetic ministry, along with some dangers that can occur when a prophetic person maintains an OT viewpoint in the context of church life.
1. In the OT, a prophet was the mouthpiece of God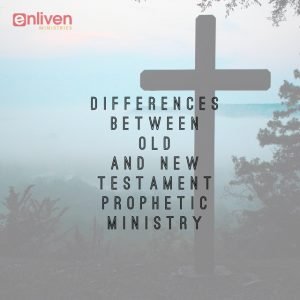 Old Testament prophets had the singular role of bringing God's word—instruction, warnings, prophecies, and so on—directly to His people.
By contrast, in the New Testament all believers have a relationship with God and can hear Him speaking to them personally. Therefore, prophecy is confirmation of what is already heard through relationship.
This also relates to leaders in the church today, who hear from God in their leadership capacity.
Prophetic ministry is designed to bring confirmation, clarity and empowerment to the vision of a church.
Signs of maintaining an Old Testament viewpoint in church life:
Maintaining they have correctly heard from God (and the leaders are wrong) when there is a point of difference
Believing that their prophetic insights carry greater weight than the vision or direction of others who may not have a prophetic gift.
2.
The OT was an era of law and judgment
In the Old Testament, prophets pronounced warnings and judgements upon people and nations who were in disobedience to God.
The New Testament, however, is an era of God's grace. [2] New Testament prophecy is for 'strengthening, encouragement, and comfort.' (1 Cor 14:3) Here is an example from Acts 15:32:
'Judas and Silas, who themselves were prophets, said much to encourage and strengthen the believers.'
New Testament prophecy is consistent with the ministry of Jesus and His revelation of the Father's nature.
Even if a prophetic word is addressing error, the prophetic motive is redemption—to bring God's purpose and to transform the situation and its outcome—and the word will be framed that way, presented in love and humility.
Signs of maintaining an OT viewpoint in church life:
Using prophecy to point out wrongs, being quick to condemn or warn church leaders or other Christian believers
Using prophecy to call for repentance with an underlying attitude of criticism or judgment [3]
3. In the OT, a prophet could 'stand alone' before God (1 Kings 17:1)
In the New Testament, Paul says in 1 Cor 12 that we are many members, with different gifts, in one body.
As with other spiritual gifts, prophecy is not meant to be a stand-alone ministry in the church, rather, it is incomplete without the added value of other gifts in the church body. (1 Cor 12:12)
No one 'prophetic person' has all the revelation. He or she also depends upon others with prophetic gifts to supply more 'pieces of the puzzle' of God's revelation (1 Cor 14:29-33).
The person prophesying also needs those who have gifts of discernment, leadership and wisdom to complete their contribution to the church.

Also, in the New Testament you see less of the individual prophet and more of prophetic teams – e.g. Acts 15:32, Acts 13:1, Acts 11:27, 1 Cor 14:29, 31-32.
Signs of maintaining an OT viewpoint in church life:
Isolation, separation from community
Believing that they report directly to God only, and are commissioned and trained only by God
Lack of accountability, i.e. not coming under leadership
4. OT prophets were expected to speak the PERFECT, inspired word of God
If they did not speak a word that proved true, they were condemned as 'false prophets' (Jer 14:14-16).
Some prophets were entrusted with the writing of scripture.  They also were used of God to convey His specific instruction to Kings, nations and others. Thus, accuracy and purity of their words was essential.
In the New Testament church, prophetic words are subject to being weighed up. (1 Cor 14:29, 1 Thess 5:20-22)
New Testament Prophetic ministry needs an environment of humility, cooperation and grace to operate as Jesus intended it to.
Signs of maintaining an OT viewpoint in church life:
Believing they have a 'hotline to God' that bypasses the input of leadership.
Resisting having their prophetic words weighed up
Reacting negatively when prophetic words are not acted upon, or feedback is given that disagrees with their viewpoint
The Fruit of New Testament Prophetic Ministry
'So Christ himself gave the apostles, the prophets, the evangelists, the pastors and teachers, to equip his people for works of service, so that the body of Christ may be built up.' (Eph 4:11-12)
In the New Testament, prophetic ministry is a servant ministry in the church. This is also true of the prophetic office.
As Paul outlines in Ephesians, the role of a leading prophetic ministry is to equip the church. This includes encouraging and empowering Christians to hear from God, as well as releasing others who have prophetic gifts.
One danger of maintaining an Old Testament paradigm of prophetic ministry is that it sends a message of exclusivity (see points 1 and 3 above). It tends to have the opposite effect—intimidating others who have prophetic gifts and creating an unhealthy reliance upon the prophetic minister.
And finally, the fruit of New Testament prophetic ministry is unity. The picture that Paul gives is of a healthy body, each part unique but working and growing together into Christ-likeness.
---
Notes:
[1] For more on my journey check the 'About Enliven Blog' page.
[2] For more detail on this topic, see the post 'How To Weigh Up What The Prophets Are Saying Pt 2
[3] This is not to say that someone with a prophetic ministry cannot call for repentance. See 'How To Weigh Up What The Prophets Are Saying Pt 1′
[4] I am aware that many prophetic people have experienced unhealthy or even abusive leadership, at some stage of their journey. Past hurts and difficulties should not stop us honouring and having a Biblical response to our leaders in our current situation where God has placed us. For more information on this, read my e-book Prophetic People In A Changing Church.
---
Related Post:
Prophetic Ministry In Church Life: 3 Non-Negotiables
---
© Helen Calder 2011 Enliven Blog
Enliven Ministries: In the David McCracken Ministries family
---