Would you like to find out what your spiritual pathway is? I have included a simple assessment questionnaire at the end of this post.
How do YOU best Connect with God?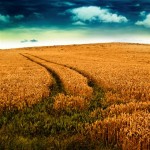 A spiritual pathway is a way that you commune with God most effectively and naturally. Utilising your spiritual pathway is a great tool for spiritual renewal.
I first learned about the concept of spiritual pathways reading Bill Hybel's book, Courageous Leadership.
In the chapter, 'The Leader's Pathway', Bill concisely outlines 7 pathways. [1]
I immediately recognised myself in three of these:
1. Worship Pathway
Fresh new worship gives voice to what is on my heart and helps me experience intimacy with Jesus. It is a means of being personally refilled with the Holy Spirit.
A new worship CD, discovery of an anointed song on YouTube or iTunes, especially if it is 'Live' worship, refreshes and uplifts me spiritually.
2. Contemplative Pathway
Introverted by nature I love my 'cave times' with God. I enjoy spending time alone, praying and reflecting with my Bible and journal—accompanied, of course, by my current favourite worship music.
3. Creation Pathway
Give me wide, open spaces where I can appreciate the beauty of creation, and I am refuelled beyond measure.
My favourite pictures consist of scenic photography and on my computer's Desktop are inspiring pictures of nature's beauty.
The Hunk, not surprisingly, is completely different from me in the way he connects best with God. His pathways are:
4. The Activist
My hubby has to be on a mission, fired up for a cause and spreading the fire. One of his favourite sayings used to be, 'Two thirds of God's Name is 'Go.' Of course, that phrase used to rile this Contemplative up!
5. Relational Pathway
No lone silent retreats for him—The Hunk takes his big strides forward when sharing and praying with other people.
Creation Pathway.
Yes, we do both share this pathway—and are blessed by times spent alone and together in the Great Outdoors!
There are two pathways I haven't shared here. These are:
6. Serving (Caregiving) Pathway
I have a friend who has a serving pathway—feeling fulfilled and connected to God best when she is busy serving.
7. Intellectual Pathway
Identifying this as a pathway helped me understand a friend who loves hanging out with huge texts and books from 'Thinkers' in church history.
Others are Different
Discovering the concept of spiritual pathways has helped me to get closer to God. It has also helped me to appreciate that others do not connect to God the same way that I do.
I have learned not to place expectations on my husband, for example.
I have also learned that my spiritual pathway (or that of others) is NOT a sign of spirituality or Christian maturity.
Not Being Limited by Spiritual Pathways
As with other tools, such as personality and spiritual gift identification, spiritual pathways has been criticised by some as 'putting people in a box.'
Personally, I think we should see the concept of spiritual pathways as a starting point, not a limitation, to perceive and discover the way God has wired each of us to uniquely commune with him.
How to use Your Spiritual Pathway to be Refilled with the Holy Spirit
Identifying my spiritual pathways helped me experience renewal when I was suffering from ministry burnout. Like other efforts related to my Christian life, devotional times had become a labour and a duty. I simply had nothing left to give to any task.
When I realised I needed to take deliberate action to be refuelled, I reviewed my spiritual pathways.
Recognising the value of my creation pathway, I began to schedule whole days to go out in the wilds, where I would pray and worship. I would return from these days feeling revitalised and refilled. This simple exercise contributed to my recovery.
Spiritual Pathways Resources:
Bill Hybels' helpful summary of spiritual pathways draws from Gary Thomas' book, Sacred Pathways. [2] Gary Thomas adds several other pathways to the mix. These include:
Traditionalists—loving God through ritual and symbol
Ascetics
Enthusiasts
John Ortberg has picked up the concept of spiritual pathways in his book, "God Is Closer Than You Think."
John Ortberg & Ruth Barton include an assessment based on the above 7 common pathways in their resource, 'An Ordinary Day With Jesus'
This questionnaire, which I don't have personally, but was utilised in my church, was helpful. However, I did find their emphasis on the corporate (church) context rather than personal devotional life—especially in the worship pathway—a little disappointing.
A Questionnaire To Help You Discover Your Spiritual Pathway
Following is a simple checklist that can help identify your spiritual pathway, using the 7 pathways described in Bill Hybel's book, Courageous Leadership [1].
On a scale of 1 to 5, with one being 'least describes me' and 5 being 'most describes me', label the following points in each group.
Add up your scores and see which pathways you score highest in. These may be your preferred spiritual pathways. Note that like me, you may have more than one.
For a more comprehensive questionnaire, especially if you are leading a group, check out John Ortberg and Ruth Barton's resource 'An Ordinary Day With Jesus.'
Relational
I love to pray with others and feel God's presence more when I'm praying with others than when I'm doing it alone.
I would rather do Bible study & journal with others than alone. I thrive on the discussion that comes out of these times together.
I love worshipping alongside others
It is hard for me to have solitary devotional times; I'd much rather be seeking God with others around me, spurring me on (& vice versa!)
Intellectual
I feel closest to God when my mind is fully engaged
Give me an intellectually stimulating book any time!
My best devotional times with God have me poring over commentaries and studying the Bible
I love research & study; it brings me closer to God
Service / Caregiving
I feel closest to God when I'm serving
I feel fulfilled when I'm doing voluntary work
I am most aware of God's presence when I'm doing something for Him
I am happiest when worshipping God by helping others
Contemplative
I love to spend time in solitude, and busyness drains me
I have a large capacity for prayer and for private worship
I am a deep thinker; there's usually a lot going on inside me!
I would like to put boundaries around my schedule so that I can spend more time alone with God
Creation
I feel close to God when I'm surrounded by the beauty of nature
My best devotion times have been moments when I've been on a walk, or looking at a view, or staring out to sea…
The wonders of creation leave me in awe of God
I love to spend time in the Great Outdoors; that's where I feel most connected to God
Worship
I feel closest to God when I'm worshipping Him
Putting on worship tapes or CD's add life to my devotional times with God
I love worship times in the church services; that's when I feel I touch God
If I lack opportunities to spend time in worship, I start to feel dry.
Activist
I feel close to God when I am engaged in ministry at a fast pace
I am a person of action!
I thrive spiritually in a highly challenging environment
I connect with God best when I'm using every ounce of energy to serve Him!
[1] Bill Hybels, Courageous Leadership, 2002, Zondervan, Grand rapids, Michigan
[2] Gary Thomas, Sacred Pathways, 1996, Zondervan, Grand rapids, Michigan
---
Related posts:

7 Signs Of Spiritual Dryness
How Using Your Learning Style Can Revitalise Your Bible Study
Spiritual Renewal: How to Receive an Impartation of The Holy Spirit
When Your Devotional Life Is Dry: How to Fall in Love With the Bible Again
---
© Helen Calder Enliven Blog
Enliven Ministries: In the David McCracken Ministries family