A prophetic act can be powerful when it is inspired by the Holy Spirit and expressed with wisdom. In this post I share a personal story and some Biblical insights about the significance of prophetic acts.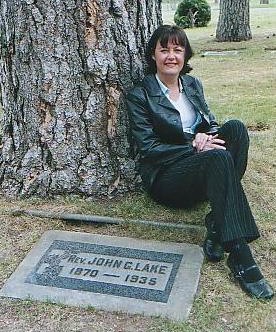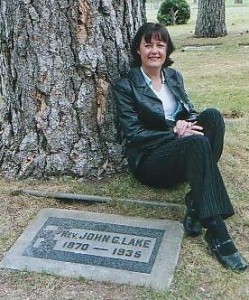 In early 2006, I booked flights for my daughter Amy and I to visit my parents in Clarkston, Washington, USA. Our itinerary would take us through Spokane, Washington.
My husband Malcolm and I, being revivalists at heart, have always loved hearing about the healing evangelist John G Lake, who had lived there during his latter years. During his ministry, Spokane was pronounced "the healthiest city in the United States", with over 100,000 healings reported in 5 years from 1915 to 1920. [1]
I researched the subject, deciding to visit both the reopened Healing Rooms and John G Lake's grave while I was there.
At the time my trip took place, staff members of our church who were travelling overseas would take other team member's "desk buddies" (mascots) with them. It was a standing joke that our church's staff visited places all around the world by proxy. I feigned non-intention of transporting the growing number of assorted desk buddies, but kidnapped them shortly before takeoff.
My daughter and I spent amusing hours taking photos of them in many places, such as Hollywood Boulevard.
Before leaving Washington, I visited the Spokane Healing Rooms, where I asked for healing prayer on behalf of one of our pastors. I also visited John G Lake's gravesite, and took a photo of my senior pastors' desk buddies there. [2]
Little did I know that my trip would hold prophetic significance for the future of our church—or that it would set in motion a chain of events that would help bring Jesus' healing power to our city.
---
The Power of Prophetic Acts
Prophetic people love symbolic acts. Symbolism is a language that we relate to; it is the way we are 'wired,' in our spiritual DNA. I recently described a prophetic act that helped take me through a difficult time.
Prophetic acts are prolific in the Bible. Some Old Testament prophets are renowned for their strange prophetic acts! Isaiah went naked (Is 20), Hosea married a prostitute (Hosea 1:2), Ezekiel lay on one side for 390 days (Ezek 4:5).
Prophetic acts can be seen in the New Testament, too. Agabus tied his own hands and feet with the Apostle Paul's belt as the Spirit warned him of his upcoming arrest and imprisonment (Acts 21:10-12).
A prophetic act has significance in a number of Biblical contexts. These include:
–         Intercession (1 Kings 18:42-44)
–         Healing (2 Kings 5:9-14)
–         Warfare (Ex 17:10-13)
–         Warning (Ezek 4-5)
–         Foretelling (Acts 21:10-12)
–         Calling to ministry (1 Kings 19:19)
A prophetic act can hold spiritual power for fulfilment or breakthrough when the Holy Spirit directs it. (2 Kings 13: 14-20).
Jesus used symbolic action when He put clay on a blind man's eyes and told him to wash in the pool of Siloam (John 9:6-7). He also taught His disciples the practice of anointing with oil for healing (Mark 6:13), symbolic of the ministry of the Holy Spirit.
A prophetic action can be intentional at the time, or we can be led of the Holy Spirit and only realize the significance later, as with my visit to Spokane.
---
Using Prophetic Acts and Symbolism Wisely
"You did what? Why would you want to take photos by a dead guy's grave? That's weird!"
Not everyone understood the significance of my visit to John G Lake's gravesite, so for a long time I kept the event, and the desire it represented, hidden in my heart.
Not every church has a culture that encourages prophetic symbolism. Some prophetic or revival churches favor it. Others are more conservative in their approach to prophetic ministry and prefer "plain speech" to the mystery of symbolism.
At times, we need to use wisdom and submit our own preferred styles, terminology and methods for the greater good of our church. Unless a prophetic culture is overtly embraced, I recommend using translation when it comes to prophetic ministry! This means speaking and acting in the language our leaders and church family are familiar with.
This does not mean that we are quenching the Holy Spirit; it simply means that we are expressing love—His highest law—and honoring those we serve.
---
The Chain Reaction
Some 3 years after my visit to Spokane, a ministry mentor—unaware of my journey—hesitantly showed me an application to Healing Rooms training which was taking place in Frankston, some 45 mins drive from where we live.
It was not something I would normally be interested in. However, because of my trip to Spokane, I my interest was piqued. I took the brochure and asked one of my trusted leaders if she would like to attend with me and check out the training. We could then decide whether it would be suitable for our whole team to undergo the training at a later date.
During the first morning session, my excitement grew as our presenter showed slides that included the very Healing Rooms I had visited in Spokane, and discussed John G Lake's ministry.
After the final session of the day, my friend Sandi and I were anointed and prayed for by the Healing Rooms team. A heavy burden of intercession fell upon me—and the power of God hit me.[3]
Sandi Bonavita, who accompanied me that day, caught the vision of the Healing Rooms. Sandi and another team member, gifted in healing, began ministering regularly at the Frankston Healing Rooms.
Sandi's vision and my four-year prophetic journey are bearing fruit. Our Senior Pastor is launching the first Healing Rooms ministry in the City of Casey, in Melbourne, Australia. This will be based out of our own church premises.
In August our church will be hosting the first Healing Rooms training in our area. Sandi has a burning vision to see more Healing Rooms set up in our City and locality. As a result, many Christians will be trained and released to pray for healing. Countless people will receive prayer and learn of Jesus' love and healing power.
The birth of our own Healing Rooms has another, more personal significance for me. I was just beginning my term as Prayer Leader for our church in 2006 when I visited Spokane. Now, I have passed on the leadership baton to Sandi just as the Healing Rooms is becoming a reality.
The two events have served as 'bookends' marking the beginning and end of a significant term of service for me in the prayer ministry of my church.
---
Notes:
1. For further information about John G Lake, see the Wikipedia article here.
2. For anyone interested in the location of John G Lake's gravesite in Spokane, I have included the information in my comments below. If the comments are not visible, click on this link and scroll down.
Post note: While a prophetic act can be significant, I do not believe there is any special anointing or "mantle" available at a gravesite. For my insights about mantles and how to receive them, see here and here.
3. I tell the story in my post, 'When God Shows Up, How Will You Respond?'
---
For further information about Healing Rooms:
In Australia:  http://www.healingrooms.com.au/
USA & International: http://healingrooms.com/
---
Related Posts:
Discover Your Unique Healing Gift
How Your Prophetic Song Can Release The Power of God
10 Signs You May Have the Spiritual Gift of Healing
---
©  2010    Helen Calder   Enliven Blog
Enliven Ministries: in the David McCracken Ministries family