Have you ever had the opposite of Your prophetic word happen to you?
You have received your prophetic word and you are excited about it. You feel close to God. You are highly motivated to live out the word and hold onto it throughout the coming year.
But then, it happens.
Out of nowhere, you are sideswiped; a problem, a negative word, a criticism, or a disappointment comes your way. Perhaps the very opposite of the promise God has given to you begins to happen. You find yourself swamped in spiritual warfare and oppression.
You have entered the next stage of fulfilling God's word for your life: it's time to contend for your prophetic word.
Where is God When we are in the Trial?
One day, Jesus said to His disciples, 'Let's go over to the other side of the lake.' They joined Him in the boat and began their journey.
Suddenly, a terrifying storm blew across the lake, and the boat began to be swamped with water. Finding themselves in peril for their lives, the disciples looked for Jesus. He was asleep in the stern.
Jesus had given the disciples a word, 'Let's go over to the other side.' But halfway across the lake, it looked as though they weren't going to make it. They woke Jesus up and said, 'Teacher, don't you care if we drown?' (Mark 4:38)
The disciple's response is familiar to our own. When difficulties overwhelm us, we find ourselves wondering, 'Where is God? Does He even care at all?' It seems as if Jesus is asleep in the boat of our lives.
We have His word, but like the disciples, we find ourselves in trouble at the place in-between. The distant shore of our word's fulfillment is impossibly out of reach.
What hurts the most is, that we so willingly followed Jesus and believed His word in the first place. We have been doing our best, and now, all hell is breaking loose against us.
If this sounds familiar, take heart! Jesus is the Lord and master of your situation. God's word for your life will be fulfilled.
The disciples cried out, 'Master, master, we are going to drown!' (Luke 8:24). Their statement of negative prophecy was the very opposite of what Jesus had told them would take place. However, their words and their fear were no obstacle to the grace and power of God.
How wonderful God's grace is. Even when we slip into being negative and afraid, God brings us through hardship. Like Jesus' disciples did, we need to keep our confession of Jesus' Lordship in the midst of the trial.
Having been called upon to save them, Jesus rebuked the wind and the waves and as suddenly as the storm had swept up, calm reigned.
Jesus turned to His disciples and said, "Why are you so afraid? Do you still have no faith?" (Mark 4:40)
Jesus' response to the tempest seems to indicate that spiritual warfare was taking place.
The disciples had the two ingredients necessary for faith. They had Jesus' word, and they had Jesus presence with them. And yet they still doubted in the storm.
How Should We Respond in the Trial?
The disciples' acted in a way that we often do in times of testing:
They forgot, or doubted Jesus' word
They looked at the circumstances versus their own ability and believed the situation hopeless
They believed the word would not be fulfilled and spoke out of that unbelief
They were afraid
They felt that Jesus didn't care for them because He did not appear to be acting on their behalf at that time.
I read this story and wonder, how should the disciples have responded?
What would they have done that would have resulted in Jesus praising them for their faith, rather than rebuking them for their fear?
They could have:
Used the authority Jesus had given them and rebuked the storm themselves
Immediately gone to Jesus, instead of trying to save the boat in their own strength, and given control of the situation over to Him
Not given way to fear, but responded in faith
Not giving voice to doubt, but spoken in confidence and trust.
This coming year, times of trouble and spiritual warfare will come.
Let's live out of the Spirit's enabling power, and respond in faith, not fear, when opposition comes to God's prophetic word over our lives.
There will inevitably also be moments when we respond wrongly during the trial. We might believe we have it all together, but God will allow situations to come along that reveal just how weak we are and how in need of His grace we are.
We won't always get it right, and that's OK. At the end of the day, it is not our performance that counts, but that we stay in relationship with Jesus, the Giver of the word.
In those moments, the words, 'Master, save us!' are the only ones we need.
For more of the story, check out Matt 8:23-27, Mark 4: 35-41, Luke 8:22-25
Related posts:
Prophetic People & Spiritual Warfare
Prophetic People in Testing Times: The Reason for the Season
Dealing With Prophetic Disappointment
---
Spiritual Warfare Online Course
I have just launched first new online course, 'Spiritual Warfare 101: How to Identify and Overcome Spiritual Attack' and I warmly invite you to join me!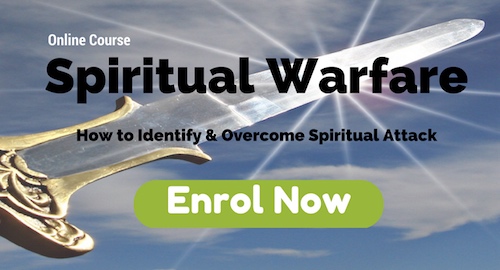 This course includes around 30 mini-lectures on video and is full of Biblical wisdom and strategies to help you overcome in time of battle. There is also a downloadable full transcript in PDF version.
And once you're in, there is no expiry date, so you can continue to journey with me through upgrades and increased course content in the future.
The Bible has great news. If you have discerned signs of spiritual warfare, you do not have to be weighed down by spiritual oppression or put up with pressure and attack! Find out more about the course, 'Spiritual Warfare 101: How to Identify and Overcome Spiritual Attack' here.
---
© Helen Calder   Enliven Publishing