Are you interested in having an encouraging prophetic word for this year?
You can have your own prophecy to remind you of God's faithfulness throughout the year.
Years ago, friends of ours shared with us how they usually prayed and asked the Lord for His word for the coming year.  For example, if the Lord told them it was going to be a year of fruitfulness, they then named the year, 'Year of Fruitfulness.'
'You should do that too,' they told us. Receiving the word of the Lord for the coming year became an annual quest and has produced a great deal of encouragement over the years.
One year, I sensed the Holy Spirit nudge me with the word, 'transformation.' We were on a New Year's break at a friend's house and I was musing over what the word 'transformation' might mean for us personally. I looked it up in a dictionary, which produced a list of descriptions. One leapt out of the page and struck me hard. It was, 'A sudden change of scene on stage.'
The Hunk agreed this word was from the Lord, and we felt both excitement and trepidation as to what it might mean. That year, key staff members unexpectedly exited from our ministry. A number of other changes occurred that created difficulties for us.
Even though 'The Year Of Transformation' was a tough period, we knew that God was orchestrating what was happening in our lives and ministry, arranging the next scene of His plan for us. The Lord had prepared us with His word.
One word from God can hold tremendous power.
A prophetic word from God for your year can:
Bring encouragement throughout the year
Help you stay focused on His plan or promise
Provide motivation to stay on track
Give you the strength to persevere through tough times
Help you see God's bigger picture—His redemptive purpose in what is taking place
As the angel said to Mary, 'For no word from God shall be void of power' (Luke 1:37, ASV). God's word brings power with it, to fulfil God's purposes for our lives.
Here are some ways you can receive a prophetic word:
1. Pray and ask the Lord to give a word concerning His promise and plans for the coming year.
There are many ways in which you might receive a revelation. The Holy Spirit might speak through a through, scripture, a picture, an idea or some other way.
One year, I was opening up a program on our computer when the word 'Discover' came up on the screen, and that one word impacted me so much I knew the Holy Spirit was bringing it to my attention. We were about to enter 'The Year of Discovery.'
2. Pray and ask the Lord for any further insights about the word.
I like to look the word up in a dictionary or thesaurus to clarify the meaning, as well as pray and seek out scriptures that reinforce what God is saying.
3. If the word goes beyond simple encouragement and compels you towards action or change, remember that the principles of interpretation and accountability apply to the word.
What you can do with your prophetic word:
1. Write down or journal about how you received the word and what it means to you.
2. Share it with those around your life who can rejoice with you when it is fulfilled and encourage you on when times get tough
3. Keep it in front of you throughout the year. Some ideas for doing this are:
Use it as a password for programs or websites you commonly use (not if you've shared the word widely, of course!)
Link the word to an accompanying scripture, and put both on a poster where you can see it daily
Write it on card and use it as a bookmark in your Bible or other book
Have it as a greeting on your mobile phone
4. Review the word and its outcome at the year's end. Reflect upon what God has done throughout the year and how the prophetic word has been fulfilled.
---
Would you like to develop your prophetic gift?
Here are 3 things that can help you:
1. Prophetic Teaching:
Enter your email address in the subscribe box at the top right hand side of this page to receive:
regular blog posts containing teaching that will help you grow in your gift of prophecy, as well as articles on related spiritual gifts and spiritual renewal
news of resources to help develop your prophetic gift
2. Prophetic Training:
Check here for prophetic training opportunities
3. E-books to Help you Develop Your Gifts: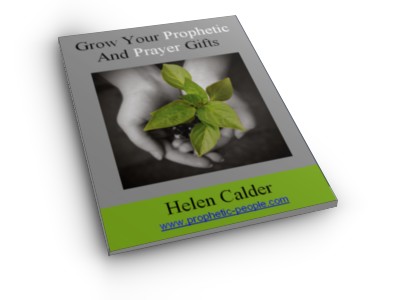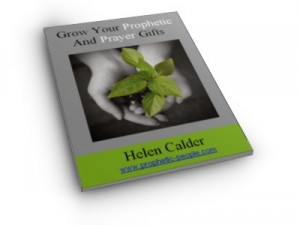 'Grow Your Prophetic And Prayer Gifts' is a high-value e-book specifically written to help you grow in your prophetic gifts – at whatever stage or season you are on the journey.
Check out our e-books page for more e-books related to prophetic and prayer ministry.
---
Related posts:
How To Develop Your Prophetic Gift Pt 1: Where To Begin
How To Exercise Your Prophetic Gift Pt 1: Understand the Process of Prophecy
© Helen Calder   2010  Enliven Blog