I believe God is drawing many of us right now, to worship in an attitude of humility before Him. And to listen for what He is saying.
For first comes humility, and then comes power.
The Apostle James explained it this way: "Humble yourselves before the Lord, and he will lift you up in honor." (James 4:10, NLT)
---
God's Unusual Command to Joshua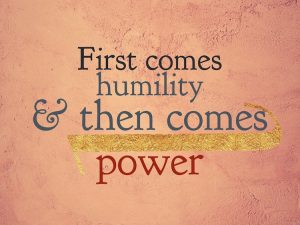 Recently, I read the story of how Joshua met the "Commander of the Lord's army" before the battle at Jericho.
And it struck me that God's first instruction to Joshua was not to do with the preparations for taking the city!
Instead, the first command God gave to Joshua, was to take off his shoes.
Why? Because he was standing on holy ground—Joshua was in the presence of Almighty God.
---
We read about it in Joshua chapter 5:
And it came to pass, when Joshua was by Jericho, that he lifted his eyes and looked, and behold, a Man stood opposite him with His sword drawn in His hand. And Joshua went to Him and said to Him, "Are You for us or for our adversaries?"
So He said, "No, but as Commander of the army of the Lord I have now come."
And Joshua fell on his face to the earth and worshiped, and said to Him, "What does my Lord say to His servant?"
Then the Commander of the Lord's army said to Joshua, "Take your sandal off your foot, for the place where you stand is holy." And Joshua did so. (Josh 5:13-15, NKJV)
---
Humility, Honor, and Respect
When you are barefoot, you are physically vulnerable.
And you can't walk in rough, stony terrain without shoes—let alone march around a city and fight an enemy army!
Yet, this is the first act God requires of Joshua.
Because removing his shoes before God, was an act of humility that honored God's holy presence.
Just as in the days of Joshua, great exploits are up ahead of us.
And we stand on the threshold of the promises of God, with an opportunity to pause and acknowledge God in His holiness.
---
"I am Giving You New Shoes"
This reminds me of a prophetic word I received years ago, at the close of a church service.
At the time, I was weary.
And so, my husband and I were standing in a prayer line, where the one praying gave me a simple message:
"God says, 'I am re-soling your feet. I am giving you new shoes."
Earlier that morning, as I was about to leave home, I made a hasty decision.
I suddenly remembered that two weeks prior, I had purchased some new sandals. So, I grabbed at the shoe box and pulled out all the tissue paper—sending it flying everywhere.
Now here I was, standing in my brand-new shoes, hearing these words.
And I began to cry.
---
Humility and Surrender
That prophetic sign heralded a new season for us. And it began with a moment of humility and surrender before God.
We know the time and the place He met with us!
Today, I believe there are some reading this who also need to hear this word:
"God says, 'I am re-soling your feet. I am giving you new shoes."
---
The Sign of Your Victory
Right now, God is drawing His people aside, into an encounter with Him such as Joshua had—a place of new commissioning!
Perhaps, you have felt weary or vulnerable recently. Or it seems as though past supports have been removed, and you realize the old, familiar ways do not work for you anymore.
This is your place of worship, and just as it was for Joshua, so it is for you
For the sign of your victory is not a circumstance.
The sign of your victory is a person—Jesus, who is with you and has promised never to leave you.
---
A New Generation
Joshua's encounter with God had something in common with that of his former leader, Moses, some forty years earlier.
A bush was on fire, but it was not being consumed!
Then as Moses approached, God spoke to him from the bush, saying,
"Do not draw near this place. Take your sandals off your feet, for the place where you stand is holy ground." (Exodus 3:5)
Just as in Joshua's time, a new era is here. It's a new generation, with new leadership.
And God shows up—not in a burning bush but in person—with the same command. Now, it echoes down the generations: "Take your sandal off your foot, for the place where you stand is holy."
---
Humility is Preparing You
When Joshua put on his shoes again after that encounter with God—he was ready to go!
He was stepping into victory.
So, if this resonates with you today, be assured that the time of your tipping point is here. See Jesus with you, going before you, for humility is preparing you for a coming season of power.
And you will stride forth in the simple confidence that you are under Divine command—walking in the footsteps of God.
---
Leave a Comment
Can you relate to this snapshot from the story of Joshua? It feels very present for us right now! I'd love to hear from you, so leave a comment or your prayer requests in the comments box below.
---
Related Posts
---
Spiritual Warfare Course: Angels are sent to protect and refresh You!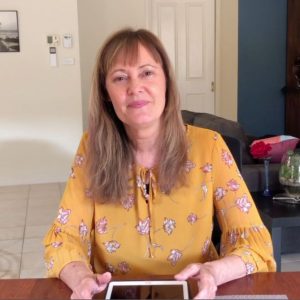 Recently, this insight from the course stood out to me—
Angels not only protect us during spiritual warfare
God also sends them to us to minister refreshing after the spiritual attack
In Matt 4, we read, "Jesus said to the devil, "Away from me, Satan! For it is written: 'Worship the Lord your God, and serve him only." Then the devil left him, and angels came and attended him.'" (Matt 4:11)
Similarly, in 1 Kings 19, after Elijah went on the run from Jezebel, an angel came and ministered to him, providing supernatural, nourishing food and restful sleep.
---
A Worship and Faith-Based Course
So, "Yes! it is worth pressing against that warfare that has come against you!"
And if you'd like a worship and faith-based approach to spiritual warfare—one that is focused more on God's supremacy than on the demonic realm—this course is for you!
I welcome you to join me in: "Spiritual Warfare: How to Identify and Overcome Spiritual Attack". It includes around 30 mini-lectures on video and is full of Biblical wisdom and strategies. And yes, it also has the complete transcript of the course in PDF format.
I've set up a special price of $19.95 USD (it's usually $29.95) until mid-March, and you can find out more here.
Alternatively, you can view all online courses, including the Prophetic School here.
---
© 2023 Helen Calder, Enliven Blog
Enliven Ministries: Prophetic ministry for a revival generation