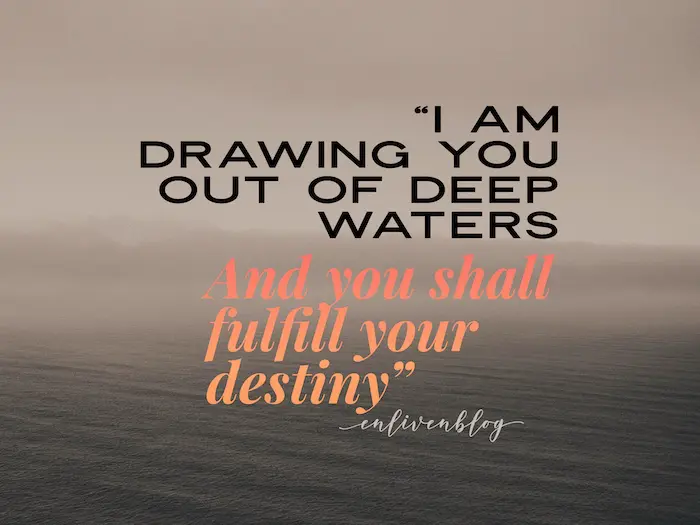 This is a timely word for many of us right now: "He reached down from heaven and rescued me; he drew me out of deep waters." (Psalm 18:16, NLT)
Being in "deep waters" speaks of being out of our depth, or in danger
It can also be symbolic of experiencing opposition
David wrote the 18th psalm "on the day the Lord rescued him from all his enemies and from Saul". [1]
He was testifying of deliverance, while the dangers he faced were still vivid in his mind.
If you can relate to this today, hear God say,
"Beloved, I am drawing you out of the waters that have surrounded you! And you shall fulfill your destiny."
---
A Vision of Eden Park Stadium
On Sunday 29th January, I had a vision, noting that it "was unusual in that throughout it I was purely observing."
My starting point for this vision was Eden Park, which is a stadium in my hometown of Auckland, New Zealand. That weekend, rain caused devastating floods throughout the city. It was a disaster, and even Eden Park was inundated.
So, I had already seen photos of the stadium, filled with water, which is where the vision began. [2]
---
The People Were Praising
I was looking down—from a helicopter viewpoint—at the stadium, and the central ground area was filled with floodwater, just as I'd seen it on the news.
Except that the stadium seats were not empty, but packed with a crowd! And every person was on their feet, praising God, and cheering.
Then as I watched, the water level began to lower. As this happened, to my amazement, more lines of people were being revealed.
They were emerging out of the floodwaters!
And these new rows of people coming into view were cheering and praising, just as those in the highest stands were. The water level kept dropping, and more lines of people were visible.
Then, I realized that it wasn't that the water was draining out, but that the stadium was being pulled up, by the unseen hand of God, out of the water. And now, there were great crowds of previously hidden people, being revealed.
At this moment, I heard the Lord say, "I have reserves that you do not know about." And I understood that He referred to people and resources. [3]
---
Part 2 of the Vision
The vision changed, and now, it was as though I was far above the earth.
Below me, surrounding the earth, was an atmosphere like a combination of fog and smoke.
This was a dirty brown in color, and it swirled around. But on the surface of this, facing the clear atmosphere of the heavens, there were large dishes—reminiscent of satellite dishes.
These were pointing heavenward, and I knew the people praising below had set them in place.
---
Communication Between Heaven and Earth
Finally, I saw long-stemmed trumpets, of gold and silver. The bell parts of these were being thrust from the earth and appearing through the mists. Each was alternatively sounding notes, in triumphant bursts.
I could not see where these trumpets originated as they emerged from the murky atmosphere, from in-between the receiving dishes.
These seemed to be voices of proclamation, jubilation, and praise—prophetic in nature!
But something of the mystery of their whereabouts felt like an invitation; a call to desire this ministry.
---
My Reflections on the Vision
Eden Park is an actual location in Auckland, but it also has a symbolic meaning. Eden is the location of Genesis, and it is a Hebrew place name meaning, "Delight" or "pleasure" (Strong's H5731).
Right now, I believe the Father is inviting us back to the beginning, to the garden, the "park"—which is the place of rest, and of a close relationship with Him.
The difficulties of today will lead us to testify of deliverance, and many will find their delight in Jesus.
---
The Deliverer Generation
In the opening chapters of Exodus, we read of Moses, whose name means "pulled out". Pharaoh's daughter explained that she named him Moses because she "…drew him out of the water." (Exodus 2:10, Strong's H4872)
Likewise, those God has drawn from the depths will become the deliverers of our day—for He knows them, and has kept them for this time.
And many will be swept into the Kingdom of God.
---
A People of Praise
Today, in the face of your own "deep waters", know that you are not a helpless bystander, but a participant in God's plans.
Just as the people I saw in this stadium were not there to view an event—instead, they were the main event.
For God is raising up a people of praise in this generation.
And the world will watch and wonder.
"But you are a chosen generation, a royal priesthood, a holy nation, His own special people, that you may proclaim the praises of Him who called you out of darkness into His marvelous light.." (I Peter 2:9 NKJV)
---
The Holy Spirit is Moving in Praise
In Psalm 40, David writes, "He lifted me out of the pit of despair, out of the mud and the mire." (Ps 40:2a, NLT)
So today, if it seems that you have been swamped or pulled down—if all around, there is trouble, or disaster threatens—look up, for God is moving Heaven and earth on your behalf.
Lift up your arms and receive a gift from God. It is your glory garment of praise!
For He has given you a new song to sing,
a hymn of praise to our God.
Many will see what he has done and be amazed.
They will put their trust in the Lord. (Based on Psalm 40:3, NLT)
---
Notes
[1] Quoted from the introduction of Psalm 18, NKJV
[2] When I describe a vision, it's usually a vivid impression in my mind's eye accompanied by a strong sense of God's Presence—and not an "open" (physical) vision. I believe all prophetic words, encounters, and visions should be compatible with Scripture and need to be weighed up—if you'd like to know more see 8 Ways to Grow In Prophetic Visions and Pictures.
[3] I shared this snippet from the vision in my previous post on Stewardship here
---
Related Posts
Why Does the Holy Spirit Speak in Mysteries?
See my related vision about Mt. Eden, "A Prophetic Vision: This is Where I Create My Garden"
---
Prophetic Journaling: Create Your Treasury of Insights from God
Now available in the eStore and inside the Prophetic Worship + Creative Course
I've now compiled all my best tips and insights on journaling in the book, "Prophetic Journaling: Create Your Treasury of Insights from God".
Discover creative ways to journal your prophetic insights from the Holy Spirit
Learn practical tools and ideas you can immediately put into practice
Grow in your personal relationship with God, hear his voice, and gain wisdom
Learn how to weigh up what you receive and take it to the next level—while keeping your Bible at hand—for it is your number one source!
In this PDF book, I share examples from my own prophetic journals, of dreams and visions.
I pray these, along with my story will inspire you even more, to pursue your own encounters with God.
---
Chapter titles:
1: Gather the Manna! God has an Abundance for You
2:  How Journaling can Sharpen Your Prophetic Gift
3: My Best Tip for Prophetic Journaling
4: Ideas for Journaling Tools and Media
5: Ask Questions in Prophetic Journaling
6: The Surprising Strength of "Prayer Journaling"
7: How to Receive a Prophetic Word for a New Chapter
8: Your Key to the Greatest Treasure in Journaling
9: Let the Holy Spirit be Your Writing Tutor
10: How Prophetic Journaling Can Break Open Your Destiny
Find "Prophetic Journaling: Create Your Treasury of Insights from God" as a downloadable eBook on the eStore here
---
Leave a Comment
If you are reading this, please join us as we pray for New Zealand, which is recovering after the disaster of Cyclone Gabrielle. Also, pray for South Africa, with its floods
Let's agree for protection and deliverance and that the message of this Scripture (Psalm 18:6) will be their reality, in Jesus' Name.
I know many other people and places are experiencing danger and tragedy at this time (and also the consequences of it), please share in the comments below, so we can agree together in prayer.
---
© 2023 Helen Calder, Enliven Blog
Enliven Ministries: Prophetic ministry for a revival generation