Here are five faith-building, Biblical truths about angelic assistance during times of spiritual warfare.
Today, be assured, you are not without help! No matter what darkness or battle you are facing, you can draw comfort from this truth:
God, the Lord of Hosts is with you. He is working on your behalf and has sent His angels to protect you.
---
5 Ways Angels Help You in Spiritual Warfare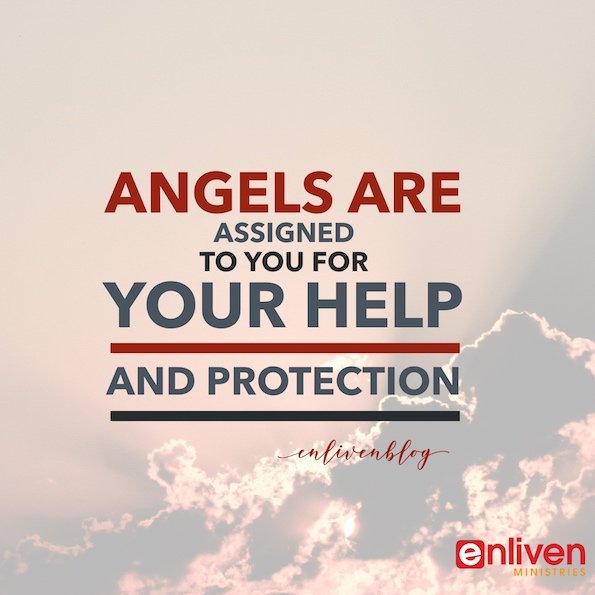 In 2 Kings 6 we read the King of Aram is at war with Israel, and he decides to go after the prophet Elisha. Why? Because the prophet is giving the King of Israel insights that are literally sabotaging his strategies!
"Therefore, he sent horses and chariots and a great army there [to Dothan where Elisha was based], and they came by night and surrounded the city. And when the servant of the man of God arose early and went out, there was an army, surrounding the city with horses and chariots. And his servant said to him, "Alas, my master! What shall we do?" So, he answered, "Do not fear, for those who are with us are more than those who are with them." And Elisha prayed, and said, "Lord, I pray, open his eyes that he may see." Then the Lord opened the eyes of the young man, and he saw. And behold, the mountain was full of horses and chariots of fire all around Elisha." (2 Kings 6:14-17, NKJV)
---
1. Angels are Assigned to Protect You During Times of Spiritual Warfare
Today, just as Elisha had angels assigned to protect him, so do we. In Hebrews we read, "In speaking of the angels he says, 'He makes his angels spirits, and his servants flames of fire." (Heb 1:7, NIV) The writer goes on to say, "Are not all angels ministering spirits sent to serve those who will inherit salvation?" (Heb 1:14, NIV)
We can have assurance, because God's Word declares it, that our Heavenly Father assigns angels for our help and protection.
In Psalm 91 we read,
"If you say, "The Lord is my refuge," and you make the Most High your dwelling, no harm will overtake you, no disaster will come near your tent. For he will command his angels concerning you to guard you in all your ways; they will lift you up in their hands, so that you will not strike your foot against a stone. You will tread on the lion and the cobra; you will trample the great lion and the serpent." (Psalm 91:9-13, NIV) [1]
Notice here the focus is on God, on declaring Him to be our refuge and being firmly positioned in that place of intimacy with Him—not on the angels.
But God does clearly want us to be aware of their protection, to build our faith and our confidence in Him.
He is the source; He is the commander of the angelic hosts. In fact, one of God's Names is Jehovah Tsaba, meaning "Lord of Hosts", or as Eugene Peterson puts it in The Message, "God of the Angel Armies."
When you look into that Hebrew word translated "hosts", it means "a mass of persons, especially organized for war!" (Strong's H6635) And you see that name used a lot in the Old Testament, beginning in the first book of Samuel. [2]
When you need help, call on Jesus, for He is your Savior and Deliverer!
And when you need angel warriors, you can be certain they're there, because God is for you!
---
2. Knowing Angels are Assigned to You is an Antidote to Fear
Let's go back to the story of Elisha, where he said to his servant, "Do not fear, for those who are with us are more than those who are with them." And Elisha prayed, and said, "Lord, I pray, open his eyes that he may see."
Elisha's servant was afraid, because with his physical eyes, things looked very grim.
Elisha's antidote to fear was asking God to open the servant's eyes, to see the angelic realm.
If you are facing opposition right now, know that you serve an extraordinary God and that a mighty Heavenly army is at His command!
We read on: "Then the Lord opened the eyes of the young man, and he saw. And behold, the mountain was full of horses and chariots of fire all around Elisha." (2 Kings 6:14-17)
Two things are noticeable here:
Firstly, we read that they covered the mountain. So in their position, they were higher than the Syrian army.
And secondly, they were more numerous. If that enemy that's coming against you is heavy, know that God's angelic assignment towards you is far greater than that.
---
3. Angels are God's Instruments to Deliver You
Angels are assigned and sent from Heaven for our help and deliverance. But we mustn't have a preconceived idea of how God's going to use His angelic army to deliver us.
In 2 Kings 6, notice the warrior angels didn't engage in actual direct warfare, they enabled Elisha to blind and confuse the Syrian army and lead them off in another direction!
The outcome was that the enemy's plans were foiled and they gave up without a fight.
However, there are signs of direct angelic involvement in many Old Testament battles, where they did fight.
For example:
The fall of Jericho's walls in Joshua 6
The sound of marching in the balsam trees,  in 1 Chronicles 14, indicating to David that God's angelic host had gone before him in battle
In Acts 12, angels played a direct role as an angel broke Peter out of prison. So again, we know God uses angels to deliver us, but there are many ways and means that He does that, so we can't make assumptions about how God is going to direct them to act.
In our culture in the world today, there is a great fascination with angels. Angels are very often pictured in art or movies as regular looking people with wings, white clothing and so on, with a strong, gentle helpful aspect to them.
But in the Bible, we read that many of God's angels are powerful warriors! As the writer to the Hebrews says, they are flames of fire. Elisha's servant saw chariots and horses of fire.
That's powerful, that's awe-inspiring!
Don't allow a cultural, worldly perspective to limit or define your understanding of God's angelic warriors.
---
4. Angels Play a Ministering Role After Spiritual Attack
Angels do not only protect us during spiritual warfare, our Father sends them to us to minister refreshing after a spiritual attack.
In Matthew 4, we read about Jesus' temptation and at the close it says this, "Jesus said to the devil, "Away from me, Satan! For it is written: 'Worship the Lord your God, and serve him only." Then the devil left him, and angels came and attended him."
In 1 Kings 19, after Elijah went on the run from the wicked queen Jezebel, and he was exhausted, an angel came and ministered to him, providing supernatural, nourishing food and restful sleep.
---
5. Angelic Help Brings Glory to God
Not only does angelic help come from God. It also results in praise and glory going to God as we have a glorious testimony of His intervention in our lives!
Notice in 2 Kings 6, Elisha was already aware of the presence of an angelic host, but it wasn't a point of focus for him. His confidence was in God, and God's protection.
This wasn't the first time Elisha had known of these fiery chariots—remember he witnessed Elijah being taken up to Heaven on a chariot and horses of fire (2 Kings 2). In that case, there was a test—would Elisha continue to focus on watching Elijah even when there was the distraction of the angelic realm?
Yes, he did—and God rewarded him with the prophet's mantle.
Like Elisha, our focus should always be on God, worshipping Him and fulfilling His purposes.
Angels were not the central focus of Elisha's vision. They were simply in the periphery.
We need a Biblical balance! Whilst occasional communication from angels is scriptural, seeking contact with them and initiating conversation with them isn't. [3]
And this brings us to another aspect of spiritual warfare:
If Satan can't hold us back, he'll try to push us too far, into extremes. Colossians 2:18 says, "Do not let anyone who delights in false humility and the worship of angels disqualify you. Such a person also goes into great detail about what they have seen; they are puffed up with idle notions by their unspiritual mind."
Notice the outward sign of extremity to be wary of: it's "going into great detail talking about what they've seen". Remember, "Satan masquerades as an angel of light" (2 Cor 11:14) and can counterfeit the things of God.
Any genuine supernatural experience of an angel or the angelic realm should always be a signpost, pointing to God—the experience itself is not the focus.
So let's celebrate angelic protection, but let's also remember to bring all the worship, glory and honor to God.
For He alone is our Deliverer.
---
Note:
The above portion of this article is from my online course, "Spiritual Warfare: How to Identify and Overcome Spiritual Attack" (see below) [4].
---
Your Inheritance in Christ
I pray these five points about the angelic realm have blessed and encouraged you.
Know that your Father is always looking out for you. He is the Lord of hosts, God of the Angel Armies and He's on your side.
Here is one final Scripture to meditate on, as I urge you to remember above all, these assurances are ours as part of our inheritance in Christ:
"But you have come to Mount Zion and to the city of the living God, the heavenly Jerusalem, to an innumerable company of angels, to the general assembly and church of the firstborn who are registered in heaven, to God the Judge of all, to the spirits of just men made perfect, to Jesus the Mediator of the new covenant, and to the blood of sprinkling that speaks better things than that of Abel". (Heb 12: 22-24, NKJV)
---
Notes
[1] I have posted a free downloadable PDF with a personalized declaration from Psalm 91 last week on my post, "While You are Waiting, God is Working"
[2] The first appearance of this name of God is in 1 Sam 1:11
[3] See "Angels: 5 Powerful Reasons to Test Angelic Encounters" for more significant information on this.
[4] First published in 2017.
Do not reproduce this article or significant portions of it without my express permission, and without reference to the spiritual warfare course, where it was originally published.
---
Related Posts:
---
Spiritual Warfare Online Course:
If you would like a faith-based approach to spiritual warfare that is focused more on worship and God's supremacy than on the demonic realm, this course is for you.
This course includes around 30 mini-lectures on video and is full of Biblical wisdom and faith-filled strategies to help you overcome in time of battle.
Find out more about the course, 'Spiritual Warfare 101: How to Identify and Overcome Spiritual Attack' here. Scroll down to see the complete list of lessons and PDFs.
---
Comments:
Do you have a story about angelic help or a prayer request to share with our online community? I'd love to hear from you, so leave a comment in the box below.
---
© 2020 Helen Calder Enliven Blog – Prophetic Teaching
Enliven Ministries
In the David McCracken Ministries family