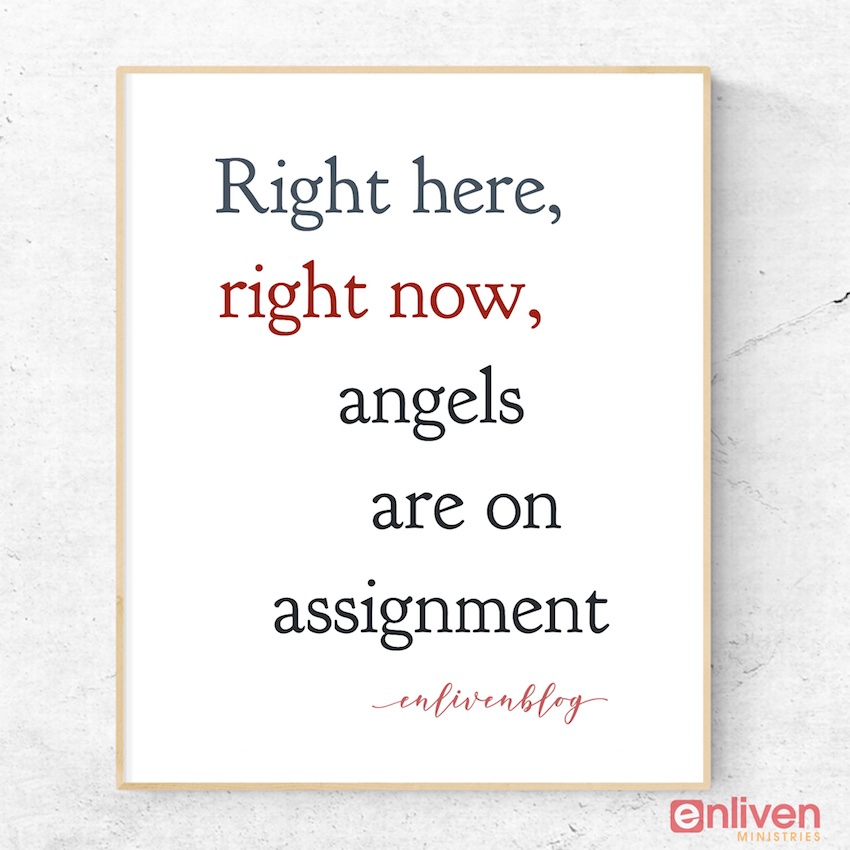 Angels are on assignment!
If you have been praying about a difficult situation, or find yourself in a space of uncertainty or transition, be encouraged by this prophetic insight from the story of Jacob.
The Holy Spirit is anointing your heart. He is touching your eyes!
You will see that right here, right now—in your current circumstances—God is at work.
---
The Day Jacob Encounters Angels
At a time of great uncertainty, Jacob comes across a group of angels.
Right now, Jacob is afraid. His family and flocks may be plentiful, but his future direction is unknown.
He is in a time of transition.
Jacob is yet to wrestle with God and receive the new name "Israel"
He has yet to confront his past and look into the face of his brother Esau
We read:
"Jacob also went on his way, and the angels of God met him. When Jacob saw them, he said, "This is the camp of God!" So he named that place "Mahanaim." (Gen 32:1-2 NIV)
---
God has Assigned Angels to You
Double Encampment
"Mahanaim". The name means, "double camp" (Strong's, H4266).
Jacob, his family, and possessions are camped there
And so is a company of angels
Perhaps, like Jacob, you find yourself in a time of transition. You are "on the way to" something.
Or it may be that God wants to speak to you about the place where you are right here and now.
Hear your Father say, "I am opening your eyes. This is a double encampment. Right here, is Heaven on earth".
---
Angels are Here…God is Near
When Jacob meets angels at Mahanaim, the "double encampment", he is on the way to Jabbok, a place that means "emptying" (Strong's H2999). His self-will is about to be challenged and broken, in a wrestling match with God.
In the meantime, his mind is loaded with concern.
Jacob is formulating strategies, to protect his family from his brother Esau (Gen 32:7-8).
And he is in "risk management" mode.
Jacob has failed to pick up the clues. "Angels are here; therefore, God is near."
He is about to have a life-changing encounter with God.
---
This is Your Spiritual Reality
Jacob passed through Mahanaim, "the double encampment".
For him, it was a brief sojourn. The township endured, and Mahanaim was mentioned in later accounts of Israel.
Like Bethel—another of Jacob's stopovers—"Mahanaim" is also symbolic of a spiritual reality we have today in Christ.
Right here, right now. This is Mahanaim.
You can be assured that angels are camped at your current location. It is a double encampment.
The "Heavenly"—that which is of Heaven—is already here with you!
You have the Holy Spirit—God Himself with you (2 Cor 1:22)
You are a son, a daughter, a citizen of Heaven (Phil 3:20, Eph 3:19)
Angels surround you—sent from God's throne (Heb 1:7,14, Ps 91:11)
---
Your Prayer Releases Angels
You may have a "Jacob" in your life. Someone who is on a journey, struggling, and needs to encounter God.
The Lord wants you to know, that your prayers are powerful.
As you pray, angels are being released. the Holy Spirit is setting up "Mahanaim moments" for others.
These are the prayers God answers, the ones Jesus taught us to pray—not for God to send angels—but for God's Kingdom to come!
For His will to be done (Matt 6:10)
The presence and activity of angels is God answering the prayers of those whose eyes are fixed on Him. Who delight in His Presence.
The ones who submit to His rule.
---
Mahanaim Is Your Constant Reality
We also read in the Bible of a prophet called Elisha.
"Mahanaim" was not just a place Elisha passed through; it was a zone he walked in.
Elisha knew because he was completely surrendered to God's will, that he was at the epicenter of Heaven's angelic army.
Wherever he traveled, angels accompanied him. [1]
But it's important to note that Elisha's focus was always on God and what was on God's agenda. He was never distracted by angels, and he did not communicate with them.
Elisha's example reminds us that angels are to be kept in the periphery, not the focus of our gaze.
Peripheral vision is what you can see surrounding you, "out of the corner of your eyes", not what you are directly looking at.
---
Angelic Power Against the Enemy
One day, Israel's enemies sent a strong army, with horses and chariots, to capture a single man—the Prophet Elisha!
Elisha assured his distressed servant, "Those that are with us are greater than those who are against us" and prayed, "Lord open his eyes."
The servant's eyes were opened to see the chariots and horses of fire up in the hillside (2 Kings 6:17)
Elisha already knew that a contingent of angels was there.
He knew that the camp of the Lord—"Mahanaim"—was mobile, and traveled with him.
So if you are struggling today. If the spiritual battle against you has been fierce, this is also God's word to you:
"Those that are with you are greater than those who are against you."
And, "You, dear child, are from God and have overcome them, because the ONE WHO IS IN YOU is greater than the one who is in the world" (1 John 4:4).
---
Related posts:
9 Lessons on Angels: The Chariots of God are Coming!
---
Notes:
[1] Bible references linking Elisha with angels: 2 Kings 2:11, 2 Kings 6:17, 2 Kings 7:6) This account of Elisha is from 2 Kings 6.
Thanks to Prophet David McCracken for the word "epicenter". He says, "Their [the angels'] central point of focus, their epicenter, was Elisha! They were "around" Elisha. Their geography was determined by Elisha's geography. Where he was, they were!"
---
© 2019 Helen Calder Enliven Blog – Prophetic Teaching
Enliven Ministries: Prophetic Ministry for a Revival Generation