Today, I believe God is encouraging those of you who are praying for loved ones and for others He has placed on your heart. Your prayer is powerful!
There is an anointing coming upon traditional Christmas Carols.
At the sound of those old melodies and words, a prophetic recall is going out to those who have walked away from God.
Hearts are being stirred.
There is a pull back to worship, as people hear words like:
'Come and worship,
Come and worship,
Worship Christ, the newborn King!' [1]
The Holy Spirit is also moving on those who have never known Jesus. Suddenly, words they have never considered before, now have a magnetic pull upon them:
'Hark the herald angels sing
Glory to the newborn King!
Peace on earth and mercy mild
God and sinners reconciled' [2]
Now is the time to pray.
Declare that the airwaves this Christmas season are going to be filled with a Heavenly sound.
Let there be a freshly anointed sound filling the streets, the malls, homes and even places of transport.
---
A Twofold Heavenly Celebration
The Bible tells us that this side of eternity there are two causes of singing and celebration in Heaven. One is the praise and worship of our Almighty and Holy God.
And the second, is the one Jesus mentioned when He said, "In the same way, I tell you, there is rejoicing in the presence of the angels of God over one sinner who repents." (Luke 15:10, NIV)
When those two Heavenly celebrations are combined, we hear, 'Glory to God! Salvation is here!'
Jesus' birth was announced with a Heavenly sound, as a crowd of angels appeared to shepherds keeping watch in the fields.
It was the very first time this twofold Heavenly celebration was heard:
'Glory to God! Salvation is here!'
We read, 'Suddenly a great company of the heavenly host appeared with the angel, praising God and saying, "Glory to God in the highest heaven, and on earth peace to those on whom his favor rests." (Luke 2:13-14, NIV)
---
A Homecoming Call is Going Out
An encounter with God's glory—the atmosphere of Heaven—will stir up our longing for Heaven, because that is our home and destination. Even an unsaved person will experience this 'homesickness' just as the prodigal of Jesus' parable did in Luke 15.
As the writer to Ecclesiastes says, 'He has made everything beautiful in its time. He has also set eternity in the human heart…' (Ecc 3:11a, NIV)
The father in Jesus' parable threw a party in His home, to share his joy with everyone. There was singing, dancing and music, and the sound was carried from the house out into the fields. (Luke 15:24-25)
When people who don't know Jesus, or who once knew Him, encounter the Spirit's anointing carried in a sound, something happens.[3]
We can bring the atmosphere of Heaven to earth. It comes as we make the Father's House our address. It comes as we pray.
Pray while you're working, pray while you're preparing and traveling. See with the eye of faith, God's Presence touching hearts as the melodies and words of Christmas are going out on the airwaves.
'O come all ye faithful
Joyful and triumphant,
O come ye, O come ye to Bethlehem.
Come and behold Him,
Born the King of Angels' [4]
See by faith, people stirred by a sound; drawn to consider the goodness of God as they hear the invitation of Christmas.
---
Notes
[1] From 'Angels from the Realms of Glory'
[2] From 'Hark the Herald Angels Sing'
[3] Some of the thoughts in this section are from the book, 'Prophetic Worship: How to Develop Your Ministry of Encounter'
[4] From 'O Come All Ye Faithful'
---
Prophetic Worship: How to Develop Your Ministry of Encounter ~2nd Edition
When people come into a prophetic atmosphere, they are confronted with the heart of a loving Father who has a purpose and a destiny for their lives. 
Prophetic worship is distinguished by encounter.
Prophetic worship is a key to revival, breaking open the dreams of the Father, and the destiny He has for you, your ministry, church, region and nation.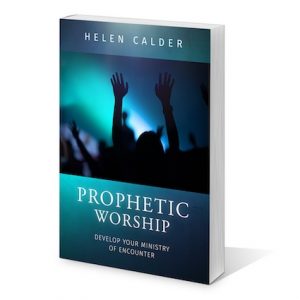 I'm thrilled to announce that I've just finished a significantly revised and updated version of this eBook.
'Prophetic Worship: How to Develop Your Ministry of Encounter' combines Bible study, personal testimony, prophetic insights and practical steps to lead you into a greater experience of God's prophetic purpose in worship.
Learn about prophetic praise for breakthrough, how prophetic flow operates in the worship environment, prophetic art and media, keys to releasing the power of God in worship and more!
Each chapter includes questions for personal reflection, group discussion as well as exercises for worship team activation.
See the full chapter list and purchase 'Prophetic Worship: How to Develop Your Ministry of Encounter' on our eStore here.
---
Have a Blessed Christmas Everyone
Christmas greetings from Malcolm and I along with the Enliven Ministries team, here in Melbourne, Australia. As this year draws to a close, I want to thank all our readers and those who have helped and journeyed with me. Special mention must go to David and Margaret McCracken, to Rob Lister for website assistance and to Rosie Eloff, our Treasurer who has worked very hard this year as we've got up and running with a brand new ministry structure.
We are looking forward to celebrating Jesus' birth here at our home church, Planetshakers. Then on Christmas Day we are having lunch with our close family and friends.
Keep an eye out for next week's post, which will be a prophetic word for the New Year. Then I will be taking a short vacation, and so will Enliven Blog.
---
© 2017 Helen Calder Enliven Blog – Prophetic Teaching
Enliven Ministries
A part of the David McCracken Ministries family