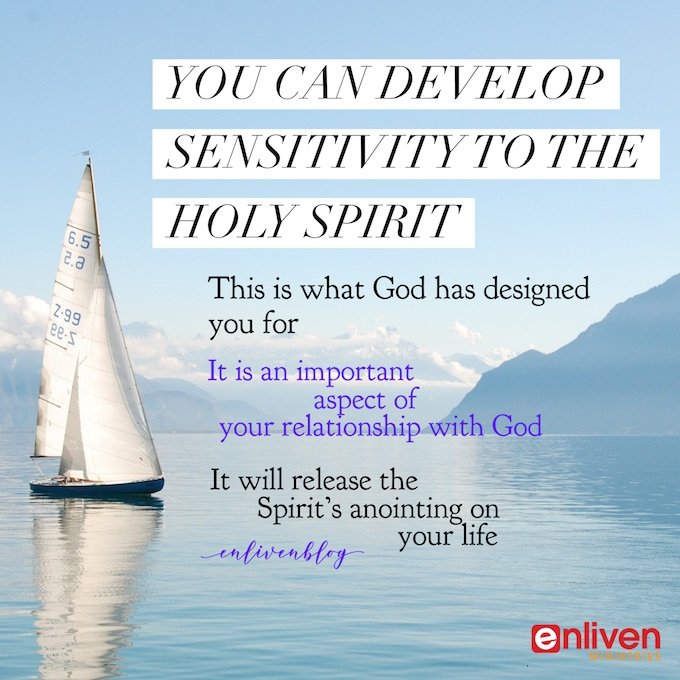 Do you want to be sensitive to the Holy Spirit, His leading, and His desires?
Is your prayer, "Lord help me to see what You see, and to feel what You feel?"
Many prophetic people have a great hunger for the Presence of the Holy Spirit.
This is how God has wired us!
God's desire is that all of His people to develop sensitivity to the Holy Spirit.
Why?

He wants us to have an intimate relationship with Him
---
How to Develop Sensitivity to the Holy Spirit
The skilled sailor of a yacht is alert, aware of every shift of the wind, adjusting the sails accordingly. We can be like the sailor—expectant, positioned, and ready to adjust to the moving of the Holy Spirit.
Growing in your sensitivity to the Holy Spirit is an important aspect of your relationship with God. This is the life He has designed you for!
And it will release His anointing on your life and ministry.
Here are 2 significant keys to developing sensitivity to the Holy Spirit:
1. Foster Compatibility with the Holy Spirit: Have a Love Relationship with Him
"…those who live in accordance with the Spirit have their minds set on what the Spirit desires.' (Rom 8:5)
The most important place to begin developing sensitivity to the Holy Spirit is with what Prophet David McCracken calls, 'Compatibility with the Holy Spirit'.
If we want to live constantly in touch with the Holy Spirit, then our hearts and our lifestyle need to be compatible with Him.
We need to be in harmony with Him.
But this is not about a 'performance' of dos and don'ts and obeying rules. It is about having a love relationship with Him; one in which you don't want to do anything that would bring Him hurt or displeasure.
'Or do you think that the Scripture says in vain, "The Spirit who dwells in us yearns jealously"? (James 4:5 NKJV)
We live from a foundation of grace, not of 'works.' And yet the fruit of grace and a relationship-based life should naturally be holiness, and purity of heart and lifestyle.
We hear our Father say, 'You are my beloved son, my beloved daughter. I am well pleased with you.'
Our heart's response is the desire to please Him.
And that overflows into everything we think, say, and do, in what we choose to cast our eyes upon, and in every attitude of our heart.
'For those who are led by the Spirit of God are the children of God. The Spirit you received does not make you slaves, so that you live in fear again; rather, the Spirit you received brought about your adoption to sonship. And by him we cry, "Abba, Father." (Romans 8:14-15)
---
2. The Key of Obedience to the Holy Spirit: Respond to His Prompts
Obedience is about responding to the Holy Spirit when He indicates something to you.
The more you respond to the Holy Spirit, the more sensitive you become to His leadings, His prompts and His desires.
Jesus said, 'Take My yoke upon you and learn of Me'. (Matt 11:29) In Bible times, two oxen were joined together with a wooden yoke so that they could work together in harness, in unison. Jesus' yoke is one of grace—it is light. However, we get to choose whether or not to be sensitive to where He is leading. We choose to stay in sync with him.
Our desire should be to respond to His lightest movement. When we are in harmony with the Spirit of God, miracles will take place! As we grow in our experience of responding to Him, our sensitivity to Him will increase.
Conversely, when we refuse to respond to Him, or ignore Him, our sensitivity to the Holy Spirit becomes dulled.
---
The Yoke: Respond to the Holy Spirit's Lightest Touch
"Go up to the land flowing with milk and honey. But I will not go with you, because you are a stiff-necked people and I might destroy you on the way."
A whole nation has experienced the manifest Presence of God in the fire and the cloud. God's Presence is the most valuable thing they have!—and now the Lord says that because they are "stiff-necked", they will lose His Presence.
Being "stiff-necked" in Scripture is a metaphor for being stubborn and willful.
One Bible encyclopedia suggests that the metaphor relates to the driver directing the oxen, as they pulled the carts. [1]
A goad—a long pole with a sharp end—was used to direct them. A touch to the neck would indicate the direction the driver wanted the ox to take
However, a stubborn ox would not respond to the touch of the goad—in which case a sharper jab would be required. [2]
This stirs my heart—and I pray it stirs yours.
One man, one hungry heart is contending for the Presence of God.
And because Moses will not settle for less, God's manifest Presence remains with Israel.
We can be the contender for the Presence of God for our own lives, as well as our families, our workplaces, our churches and ministries, our towns, cities, and regions.
I love the metaphor of the yoke because it is a vivid picture of how we can respond to the direction of the Spirit. Will we respond to His lightest touch? Will we be sensitive to His desires? Or will we pull against Him?
When you respond to His lightest touch—are faithful to obey Him—you will develop sensitivity to His Spirit.
And when you miss it, simply repent, tell Him how sorry you are, and don't linger in that place of remorse. God's arms are always open for you to return to that place of communion with Him.
---
Note:
[1] See http://biblehub.com/topical/s/stiff-necked.htm
[2] In Acts 26:14, Paul relates Jesus' words to him: "We all fell to the ground, and I heard a voice saying to me in Aramaic, 'Saul, Saul, why do you persecute me? It is hard for you to kick against the goads.'" This relates to a Greek proverb—if the ox resists being directed, it has the sharp prick of the goad pressed into it. [See http://biblehub.com/commentaries/acts/9-5.htm]
See this related post:
---
Welcome to the School of Intimacy and Prayer
Would you like to grow in sensitivity to the Holy Spirit in the context of prayer?
Does the thought of being empowered in prophetic prayer stir you?
I have devoted a significant amount of the teaching on the School of Intimacy and Prayer to developing sensitivity to the Holy Spirit.
The Enliven School of Intimacy and Prayer is an online video course that can be completed at your own pace.
---
© 2016 Helen Calder   Enliven Ministries: In the David McCracken Ministries Family