The spiritual gift of discernment is the Holy Spirit-given ability to perceive whether an atmosphere, word or action is sourced in God, a person or something demonic. (1 Cor 12:10)
One of the challenges faced by those of us who have a spiritual gift of discernment is to be able to continue to express God's love to someone, regardless of what we are discerning.
Jesus showed great love to the Gadarene man who was affected by demons.
Firstly, He went by boat to the location specifically to minister to the demonized man. Jesus not only set the man free, He also commissioned him to testify—releasing him into his destiny as a worshipper and witness to God's love and saving power. (Mark 5:1-20)
If we are going to operate in discernment as a spiritual gift, then like Jesus, we need to be able to look past the bondage or the issue and see the soul of a person loved by the Father.
We need to see an individual who has a God-given identity and destiny.
If this is an area that you would like to grow in, here are some keys to help you operate your gift of discernment out of God's love.
---
1. Place a High Value on Love—Because God does
'If I have the gift of prophecy and can fathom all mysteries and all knowledge, and if I have a faith that can move mountains, but do not have love, I am nothing.' 1 Corinthians 13:2
Love is vital to operating in our spiritual gifts, including discernment. It is so significant that an absence of love disqualifies the gift in God's sight.
Love is a fruit of the Holy Spirit, so every spiritual gift sourced in Him will manifest in love. (Gal 5:22)
---
2. Have a Revelation of Father's Love and Intent
'See what great love the Father has lavished on us, that we should be called children of God! And that is what we are! The reason the world does not know us is that it did not know him.' 1 John 3:1 NIV
'Dear friends, since God so loved us, we also ought to love one another.' 1 John 4:11
When you know the heart of the Father towards you, it transforms and releases you to love others as He does. Love flows naturally. Continually seek a greater understanding and experience of the Father's love.
Pray for the person and ask God to help you see as He sees.
The Holy Spirit may give you prophetic insight as to Father's intent for the person's life. The prophetic eye sees past what is currently going on, to the God-given destiny of a person.
---
3. Receive Freedom from Fear
'There is no fear in love. But perfect love drives out fear, because fear has to do with punishment. The one who fears is not made perfect in love.' 1 John 4:18
Fear will always get in the way of your ability to love a person. Conversely, fear cannot operate when love is at work, for love overcomes fear. Prize and protect freedom from fear, so that you gift of discernment always remains untainted by it.
---
4. Develop Compassion for People
'When [Jesus] saw the crowds, he had compassion on them, because they were harassed and helpless, like sheep without a shepherd.' (Matt 9:36)
When the Holy Spirit enables you to discern an issue in a person's life, look past the problem. See a person loved by God who is in need of help. It may help to realise that there could be some trauma, hurt or experience in his or her life that has contributed to the problem.
---
5. Don't Allow Judgments to Distort your Perspective
' Who are you to judge someone else's servant? To their own master, servants stand or fall. And they will stand, for the Lord is able to make them stand.' (Romans 14:4)
It can be tempting to judge or be critical of someone who is being influenced by something demonic. Don't let any judgments (negative opinions) affect your perspective of the individual.
If you find yourself becoming judgmental, you can break free by renouncing negative opinions and seeking for Father's perspective on the person.
---
6. Express Forgiveness
' Therefore, as God's chosen people, holy and dearly loved, clothe yourselves with compassion, kindness, humility, gentleness and patience. Bear with each other and forgive one another if any of you has a grievance against someone. Forgive as the Lord forgave you.' Colossians 3:12-13
Someone who has a problem or issue of a demonic nature operating in his or her life is likely to hurt others. As it has been said, 'hurting people hurt people.'
There may be some personal reason why you need to forgive someone. Forgiving someone does not mean that you need to trust him or her, if they have broken trust before. However, forgiveness is vital to your own wellbeing, essential to keeping your gift pure, and it is obedience to God's command.
---
7. Remember that Love is Active and Strong
"The Spirit of the Lord is on me, because he has anointed me to proclaim good news to the poor. He has sent me to proclaim freedom for the prisoners and recovery of sight for the blind, to set the oppressed free, to proclaim the year of the Lord's favor." (Luke 4:18-19)
If you want to have a pure gift submitted to the Holy Spirit, and be used by Him, all of the above things are vital.
However, loving someone does not mean that you put up with bad behaviour. The most loving thing you do may be to be honest with the person, address the problem and face it squarely. It may mean involving spiritual oversight.
Finally, to love someone is to desire God's best for them. And God's best is healing and freedom. After all, Jesus came to set captives free.
---
Related Posts:
What is the Spiritual Gift of Discernment?
8 Signs You May Have The Spiritual Gift Of Discernment
---
UNLOCKING THE GIFT OF DISCERNMENT E-BOOK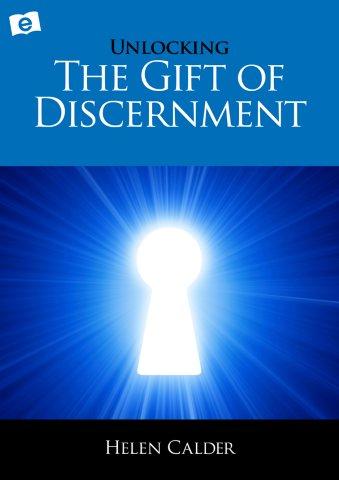 $5.95 AUD e-Book
The gift of discernment of spirits is a powerful weapon in times of spiritual warfare, and can be of great assistance when ministering freedom to individuals. And yet many who have the gift of discernment have difficulty knowing what to do with what they are feeling or sensing.
'Unlocking The Gift Of Discernment' incorporates wisdom from Enliven Blog as well as additional valuable material on how to be protected as a discerner in times of spiritual warfare.
To view 'Unlocking The Gift Of Discernment' in our e-store, click here
---
Can you think of some others keys to using discernment in love? Leave a message in the comments section, on Facebook or check out our new Instagram account. If the blog comments box is not visible, click on this link and scroll down.
© 2015 Helen Calder Enliven Blog – Prophetic Teaching

On team with David McCracken Ministries: Prophetic Ministry That Empowers The Church