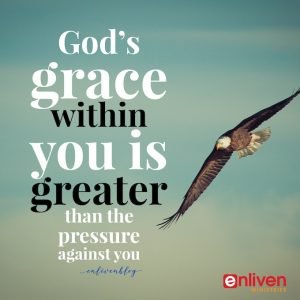 I believe God wants to encourage those of you who may be experiencing the pressure of spiritual warfare. Your Father has released a Heavenly supply to you.
One sign of spiritual warfare is that there is pressure against you trying to distort God's reality for your life and ministry. A battle takes place in your mind, your perception and emotions.
As a result, when spiritual warfare is taking place it may feel as though you are alone, that God is not with you, or that you are unworthy—but this is a demonic lie.
David wrote, 'You prepare a table before me in the presence of my enemies.' (Ps 23:5)
If there are signs that spiritual warfare is taking place in your life, family or ministry, it hasn't taken your Father by surprise. His plan is to bring you through in victory. This test will result in a powerful testimony of His grace and power.
So be expectant. Look up, look around and you will see that your Father has provided generously for you in your time of need.
---
9 Things God Supplies During Spiritual Warfare
1. God's Presence and Intimacy with Him
David saw times of warfare as an opportunity for intimacy with God. Only through hearing God speak in that personal place could he gain the encouragement and strength that he needed, as well as the strategy for deliverance. (1 Sam 30:6)
---
2. God's Word
'Take the helmet of salvation and the sword of the Spirit, which is the word of God.' (Eph 6:17)
God's Word is a 'feast set before us' in times of spiritual battle. It is God's solid rock of truth when we are tempted to doubt. It is comfort in our grieving, wisdom when we most need it, and it reveals our Deliverer Jesus. It is a prophetic weapon of confession in our mouths—a powerful sword to cut down the enemy's strategies and lies.
Jesus turned to Scripture in a time of confrontation with Satan, providing us with an example of the power of God's Word to combat the lies and temptation of the enemy during spiritual warfare. (Matt 4:10)
---
3. Angelic Assistance and Care
'[Jesus] was in the wilderness forty days, being tempted by Satan. He was with the wild animals, and angels attended him.' (Mark 1:13)
We can be assured that our Father provides angels to assist in our greatest times of need. Jesus experienced angelic assistance during His hours of trial. When Elijah was on the run from Jezebel, God sent an angel to provide him with physical refreshment. (1 Kings 19:1-8).
---
4. Authority, Grace and Power
The Apostle Paul speaks of God's power manifesting during his time of trial, which he refers to as a tormenting 'messenger of Satan.' (2 Cor 12:7) God's promise to him and to you is, "My grace is sufficient for you, for my power is made perfect in weakness. " Therefore I will boast all the more gladly about my weaknesses, so that Christ's power may rest on me.' (2 Cor 12:9)
Jesus said to His disciples, 'I have given you authority to trample on snakes and scorpions and to overcome all the power of the enemy; nothing will harm you.' (Luke 10:19)
So, if you have been experiencing battle or spiritual pressure, lift up your hands. Receive a fresh touch of the Holy Spirit today.
And remember, the grace of God within you is greater than the pressure coming against you.
---
5. Protection
Psalm 91 speaks profoundly of the protection God has made available to you during times of spiritual warfare: 'Surely he will save you from the fowler's snare and from the deadly pestilence. He will cover you with his feathers, and under his wings you will find refuge; his faithfulness will be your shield and rampart.' (Ps 91:3-4)
---
6. The Support of Others
'God sets the lonely in families'. (Ps 68:6a)
God created us to share our journey with others in a Church community where others can help 'bear our burdens.' (Gal 6:2) Having healthy oversight and accountability in place gives us a source of protection to turn to. This is no less true of those in a senior leadership role.
Prayer is a powerful means of help and protection during spiritual warfare. The Apostle Paul relied on his supporters to pray for his deliverance and protection when opposition came his way. (2 Cor 1:11, Phil 1:19)
---
7. Father's Love
'For I am convinced that neither death nor life, neither angels nor demons, neither the present nor the future, nor any powers, neither height nor depth, nor anything else in all creation, will be able to separate us from the love of God that is in Christ Jesus our Lord.' (Rom 8:38-39)
During a spiritual battle, the Holy Spirit is ready to give you a greater revelation of the Father's love. God doesn't leave you alone. His perfect love gives you assurance and casts out all fear. (1 John 4:18)
---
8. A Way out of Temptation
Temptation goes hand in hand with spiritual warfare—this includes the temptation to be afraid, negative or discouraged.
But God's Word says, 'God is faithful; he will not let you be tempted beyond what you can bear. But when you are tempted, he will also provide a way out so that you can endure it.' (1 Cor 10:13)
---
9. Prophetic Insight and Encouragement
When King Jehoshaphat of Judah faced the threat of a powerful enemy coming against his people, God's prophetic word came to encourage him. It also prompted an extraordinary strategy—a prophetic song of praise—to declare God's power over the enemy:
'He said: "Listen, King Jehoshaphat and all who live in Judah and Jerusalem! This is what the Lord says to you: 'Do not be afraid or discouraged because of this vast army. For the battle is not yours, but God's.' (2 Chron 20:15)
Through your own intimate relationship with God, and through the encouragement of others standing alongside you, the Holy Spirit will remind you of the purposes of your Heavenly Father.
For this moment of affliction and warfare is temporary—it cannot stand against the plans and purposes of God for your life, your family and ministry.
---
Recommended Posts:
---
Spiritual Warfare Online Course
If you would like to study further on this topic, I invite you to join my Spiritual Warfare Online Course.
This course (suitable for beginners) includes around 30 mini-lectures on video, and is full of Biblical wisdom and faith-filled strategies to help you overcome in time of battle.
I give you clear guidelines and step by step points on how to recognize and combat spiritual attack.
You can find out more here: 'Spiritual Warfare: How to Identify and Overcome Spiritual Attack'
---
© Helen Calder Enliven Blog – Prophetic Teaching
Enliven Ministries: in the David McCracken Ministries family