Your identity is the answer to the question, 'Who has God created me to be?' Your destiny is the answer to the question, 'What has God called me to do?' [1]
So, your identity is prophetic in that it speaks not only of who you are, but of who you are becoming.
It speaks of the purpose and destiny God has created you for.
Our Father wants us to be secure in His love and in who He has created us to be. And yet many Christians today are uncertain or conflicted about their unique, personal identity.
Some signs you may have an unclear sense of identity are:
A lack of personal confidence or self worth
Difficulty accepting both your strengths and limitations
Being affected by fears, doubts, rejection or envy
Other people's expectations are setting your direction
You feel out of place or unfulfilled
To various degrees, many of us need strengthening or even healing in the area of our identity.
---
9 Clues to Your God-Given Identity
Here are 9 clues to help you explore who you are uniquely in God. If identity is a struggle for you, I encourage you to take some time to journal or pray about the points you particularly relate to.
1. Your Family Identity
'Yet to all who did receive him, to those who believed in his name, he gave the right to become children of God…' (John 1:12)
Before you can fully comprehend your personal identity, you need to grasp who you are in God's household. You are royalty. You carry the family DNA and attributes.
Not only that, but you are Beloved, Chosen, you are the Father's Son or Daughter. And, you are Righteous in Christ.
Ask: What does God's word say about who you are as a son or daughter of God?
2. Seasons of Fulfilment
Can you look back on your life and recognise times and seasons in which you felt the most fulfilled, the most alive? This is not about relationships, but settings.
Ask: What were you doing during these times, and most importantly, what aspects of your persona and passion were emerging and being revealed?
3. Prophetic Insights Related to you as a Person
What Scriptures have God used to speak to you personally about your life? What prophetic descriptions—about who you are—have resonated with you?
Perhaps you have personal prophecies you can consider as part of this process, or personal things God has spoken to you directly. [2]
We're not considering here promises about what you will do, or about what God will do. The key is –what words and names describe you as a person? How does God see you?
4. Gifts of People Who have Believed in You.
Throughout your life's journey, God has brought significant people across your path. These are the ones who have believed in you. These people have been gifts from God to nourish your identity and help release your potential.
Ask: Who were they, and what was the best in you that they brought out? What did they see in you (that you may have sometimes doubted yourself)?
5. Trials that Have Brought out the Best in You
'For you, God, tested us; you refined us like silver.' (Ps 66:10)
What tests have you undergone that ultimately brought out something good or strong in you? Can you identify the positive attribute that manifested in your life—how would you describe it?
6. Identity-Damaging Events
'No longer will they call you Deserted, or name your land Desolate. But you will be called Hephzibah, and your land Beulah…' (Isaiah 62:4)
Moses killed a man and fled Egypt – his identity was to be a deliverer, but at that time he was labeled a murderer.
The enemy hates our identity and the image of God upon us and wants to distort and destroy it. One of the ways he does this is through engineering events that damage our identity and self-worth.
Personal failure, circumstances or mistakes can injure our sense of identity—and so can the abuse and rejection of others.
If this has taken place in your life, God's plan is to restore your true identity.
Ask: What markdown label has an event or person inflicted on you? Now—what is the opposite of this? Could this be the true identity that God wants to redeem in your life? [3]
7. A God-Given Name
'The nations will see your vindication, and all kings your glory; you will be called by a new name that the mouth of the Lord will bestow.' (Is 62:2)
In the Scripture, a given name was frequently synonymous with identity. In some cases, God re-named a person as a sign of their identity and destiny. For example, Jesus renamed Simon, Peter, meaning rock. (John 1:42)
Sometimes today parents provide their children with a prophetic name that speaks of their identity, but this is not always the case.
Ask: Is there a name that you have been given by God or others that you believe is prophetic for your life and describes who you are?
8. Who are you When Fearless?
If fear and doubts were not an issue, who would you be? What attributes would be displayed in your life?
Ask: What is the best version of you—not other people's version of what you should be?
9. What is Your Unique Sense of Passion and Purpose?
Your interests and the things that you are passionate about are an important part of who you are. You may even have a sense of destiny or call of God—this is also a clue to your identity.
Gideon's destiny was to lead the Israelites in battle and lead the nation to God. God addressed him by his identity, 'mighty warrior.' (Judges 6:12) [4]
Abram's destiny was to birth a Messianic lineage. God named him 'Abraham', which meant 'Father of a multitude.' (Gen 17:4-6)
Ask: Do I have a sense of particular purpose, or have I had a glimpse of God's call on my life? Working backwards, what does this say about how God sees me and who He has created me to be?
---
Summing Up
If you have used this as a journaling exercise, take some time to summarise what you have explored. Begin your list with the words, 'God has created me to be…'
Your identity is like a crystal that when held to the light reflects many facets and colours. You do not have to come up with a single name or description, although you may have one that stands out and sums up the other attributes.
It's ok to still be uncertain—give yourself the freedom to explore what this means as you live your life with God. Your God-given identity will continue to emerge and become clearer over time.
---
Notes:
[1] This article is a tool to help prophetic people to explore their Biblical, God-given identity. I encourage anyone having severe difficulties in this area to seek help from leadership and if necessary, professional assistance, such as a Christian counselor or psychologist, or prayer ministry.
[2] Personal prophecy needs to be weighed up on an ongoing basis. If you do not have peace about a prophecy, pass over it. See How to Make the Most of Your Personal Prophecy.
[3] Examples—ashamed–>radiant, rejected–>chosen. For more about markdown labels, see Take That Label Off And Agree With What God Says
[4] See Your Identity and Destiny: 3 Keys from the Life of Gideon
---
The Enliven Prophetic School (Video e-Course)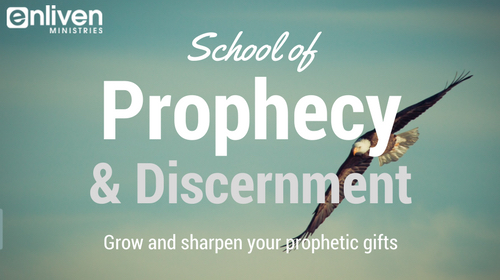 When our starting point is to see ourselves and others as valuable, we have a prophetic mindset.
This empowers us to speak life, even when we are identifying and ministering into that which needs adjusting!
If you would like to grow and sharpen in your prophetic gift, I warmly invite you to join me at the Enliven Prophetic School.
The Enliven Prophetic School includes the following classes:
How to get closer to God and hear His voice
The basics of the discernment gift
Keys to growth in the seer gift, prophetic pictures and visions
Find out how to receive and process prophetic warnings from the Holy Spirit
Prophecy, foundations, prophetic guidance and more
You can view and sign up to my self-paced video lecture series in the Enliven Prophetic School here. Choose between a small monthly subscription, or a one-off payment with no expiry date.
---
© Helen Calder, Enliven Ministries:  Enliven Blog – Prophetic Teaching
In the David McCracken Ministries family