You are emerging in prophetic ministry. You are excited and passionate about your message and the call of God. Intimacy with God is your number 1 priority.
Yet things are not always easy when starting out. You may be asking,
Why is my ministry not progressing quickly?
How do I get more opportunities to share my prophetic insights?
What do I do about the call of God?
If you can relate to this, I want to encourage you today with 6 simple things that will make a big difference.
---
1. Be Relaxed about God's Call
'The Lord will perfect that which concerns me.' (Ps 138:8, NKJV)
The call of God—especially His call to ministry—is powerful and life changing. Some of us get intense about it. We think it should happen all at once and then get stressed when the doors of opportunity don't open.
Almost invariably, our sense of timing and God's are different!
I remember when I was 16 I believed that the call God had placed on my life needed to be fulfilled 'now!' But it wasn't the right time. Thankfully someone reminded me that Jesus lived with the call of God and wasn't released into public ministry until He was 30. [1]
We need to trust God's timing and relax in the call, focusing on faithfulness in stewarding our gifts, as well as serving and honouring leadership. Our role is to position—His role is to promote. He is faithful and will open the doors in His time.
---
2. Be Relevant in Your Expression
'And the common people heard Him gladly.' (Mark 12:37b, NKJV)
Jesus spoke in the language and expression of the day, and shared stories and pictures that people could relate to in their every day life. So when God gives you a prophetic insight, share it in a straightforward way that people understand.
A mistake some who are beginning in prophecy make is to think that prophecy is like a 'dictation from Heaven' and that you can't change the slightest detail from the way you initially received it. No—prophecy is about receiving a revelation from the Father's heart and then conveying it in such a way that people understand and receive it in the way He intends.
---
3. Be Yourself
It can be easy when we admire someone else's ministry to emulate them. But people pick up when we are copying someone else or trying to be something that we are not.
Our prophetic ministry is not about spiritual formulas, using certain words, style of speech or actions. It is about us personally having a relationship with God and from that naturally sharing with others.
It's vital when we are developing in prophetic ministry that we are authentic and genuine. This comes from being secure in our place of being the Father's son or daughter. Our confidence comes from knowing who we are and Whose we are.
---
4. Love God's Word
'I run in the path of your commands, for you have broadened my understanding.' (Ps  119:32)
Those of us who are called to prophetic ministry have a responsibility to know and love God's Word. From the very start, we should be developing a strong foundation in our understanding of the Scripture.
This means studying the Bible for ourselves, not just reading books by prophetic ministries.
Study the Scripture in such a way that you know what God is saying in the original context, as well as what it means for us today. Once you have that foundation firmly in place, you can learn about prophetic symbolism in the Bible.
So, love God's Word passionately. And you will discover that it is a powerful storehouse the Holy Spirit uses, to convey the heart and intention of God to others.
The stronger you are in your Scriptural knowledge, the more accurate and trustworthy your prophetic insights will be.
---
5. Honour Leaders
'Have confidence in your leaders and submit to their authority, because they keep watch over you as those who must give an account. Do this so that their work will be a joy, not a burden, for that would be of no benefit to you.' (Heb 13:17)
Don't be so focused on finding a 'prophetic' mentor that you miss the most important aspect of accountability—and that is, honouring and listening to leadership in your local church.
The best leaders—the ones God uses to grow us in our character and gift—do not necessarily have prophetic gifts. They are governmental leaders in our church or ministry life.
Having the right attitude towards prophetic accountability and implementing it into your ministry, will break through any limitation on your gift and ministry. [4]
---
6. Be Encouraging
'But the one who prophesies speaks to people for their strengthening, encouraging and comfort.' (! Cor 14:3)
In the NT the role of prophetic ministry is primarily one of encouragement, comfort and exhortation (1 Cor 14:3, Acts 15:32). This is especially true when we are starting out. Our ministry should be reflecting the heart of the Father as Jesus expressed Him.
Our goal is not to be an Elijah or Isaiah, but to be like Jesus. Sure, there are many lessons we can learn from the OT prophets, but it is vital that we understand the key differences between Old and New Testament prophetic ministry, so that we can understand what is relevant to prophetic ministry today. [2]
As you grow in your prophetic ministry, God may give you opportunity to share words that address spiritual warfare or sin.
When you're starting out, is the time to prove that you are trustworthy—that you can nurture such words in prayer, and submit them privately to oversight (whether they are personal or regarding the church) in an attitude of love and humility. [3]
---
Notes:
[1] For those interested, I was called by God to preach in my early teens, began to preach in my early 30's, and released into my current ministry as itinerant prophetic minister in my late 40's.  Woven into these times have been opportunities to serve God in music, prayer and administration, serve alongside my husband in his ministry, work in the marketplace, and be a full-time Mum to our two children. The call to ministry is not about an 'event' but is a journey that unfolds over time. It is all joy. 'And whatever you do, whether in word or deed, do it all in the name of the Lord Jesus, giving thanks to God the Father through him.' (Col 3:17)
[2] See 'Differences Between Old and New Testament Ministry'
[3] To weigh up the ministry or words of local or global prophetic ministries who call for repentance or expose sin, see How to Weigh Up What The Prophets Are Saying Pt 1 and How to Weigh Up What the Prophets are Saying Pt 2
[4] See 'The Power of Prophetic Accountability'
---
The Enliven Prophetic School (Video e-Course)
When you have a prophetic mindset, you can walk in the awareness of your Father's intentions. So, teaming up your gift of discernment with the gift of prophecy is a powerful means of growing in your gift!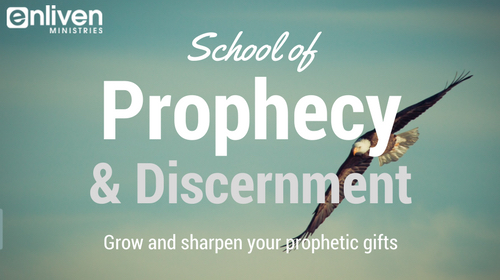 The Enliven Prophetic School includes the following classes:
How to get closer to God and hear His voice
The basics of the discernment gift
Keys to growth in the seer gift, prophetic pictures and visions
Find out how to receive and process prophetic warnings from the Holy Spirit
Prophecy, foundations, prophetic guidance and more
You can find these sessions in the Enliven Prophetic School here.
---
© Helen Calder Enliven Blog – Prophetic Teaching
Enliven Ministries: in the David McCracken Ministries Family