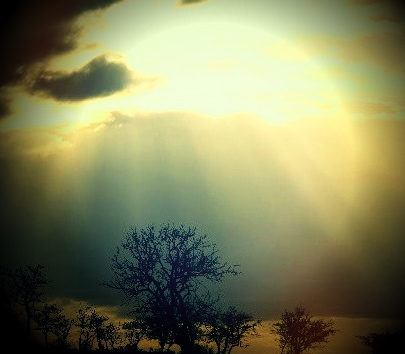 It is dawn in the Israelite camp and the first thing on the minds of people as they awake is, 'What is the cloud doing today?'
Children are peeking outside of the tent to catch a glimpse of God. They are looking for the rising of the cloud—the indication that it is time to raise the tent pegs, break camp and move on.
The question on everyone's minds as they awake is, 'what is the Presence of God doing?'
In all the travels of the Israelites, whenever the cloud lifted from above the tabernacle, they would set out; but if the cloud did not lift, they did not set out—until the day it lifted.' (Exodus 40:36-37)
Fast-forward to the 21st century. This is the generation of the smartphone, the iPad, the tablet, the computer, the TV remote control. Never before has there been such instant and personal access to email, social media, and all manner of communication. We are more likely to wake up and reach for our phones. Our minds are distracted by the constant buzz and noise of our personal worlds.
Many times, the things that distract are good things—but they are hindering us from focusing on the best things.
This is the generation in which there is a contention for our attention like never before. Because the enemy knows that what captures our attention draws our hearts, commands our worship, and impacts our ability to hear from God.
What draws our attention, takes our time—and therefore, our life flow. Ultimately, what captures the attention of God's people also affects the eternal destination of people around us.
5 Reasons You Need to Pay Attention to God's Presence
Attention (n). 'Notice is taken of someone or something; the regarding of someone or something as interesting or important.' [1]
1.
Attention is at the Heart of Your Intimate Relationship with God
As prophetic people, our heart's desire is to know God intimately, to hear Him clearly, and to obey Him fully. However, we cannot have intimacy with someone if we are constantly distracted and our attention is elsewhere. This applies to our relationship with Father God—just as it also applies to our close family and friends. In order to have intimacy, we have to be fully present.
2. Attention Will Help Grow Your Prophetic Ministry
If we want to faithfully steward our prophetic gifts, we need to see our attention and our focus as a precious resource. Our attention is like our spiritual antenna. If our antenna is not up, and we are not tuned in to God, then we cannot clearly receive and hear what He is saying. The ability and the clarity of the revelation we receive is dependent upon the quality of our intimate relationship with God.
3. Attention will Result in Your Christ-likeness
'And we all, who with unveiled faces contemplate the Lord's glory, are being transformed into his image with ever-increasing glory, which comes from the Lord, who is the Spirit.' (2 Cor 3:18) Whatever we gaze upon, we come to resemble. We become like Jesus, glory to glory, when we are focused on Him and His Word. People see the glory of God on us when we have been in God's Presence and soaking in the Scripture that reflects Who He is.
4. Attention Will Empower a Supernatural Life
'Jesus gave them this answer: "Very truly I tell you, the Son can do nothing by himself; he can do only what he sees his Father doing, because whatever the Father does the Son also does.' (John 5:19) Jesus paid attention to what He saw the Father doing and healing, miracles, supernatural signs, and transformed lives resulted.
5. Attention is Vital to Obedience
God spoke to the Israelites saying, "See, I am sending an angel ahead of you to guard you along the way and to bring you to the place I have prepared. Pay attention to him and listen to what he says." (Exodus 23:20-21a) The Israelites kept their eyes on the pillar of cloud—however today, the One we pay attention to is the Holy Spirit, the Guide, and Teacher who is constantly with us. (John 16:12-15) As we respond to the Spirit's nudges and instructions that come from the heart of the Father, we are enabled to fulfill God's purposes every day.
6. Attention Helps You Receive God's Anointing
Intimate communion with the Holy Spirit—loving Him, being with Him, aligning to His will and desires—brings the anointing of God upon our lives. We are smeared with His anointing, the 'oil' of His Presence, as we associate with Him and spend time in God's Presence. [3]
---
How to Reclaim your Attention for God
Distraction (n). 'A thing that prevents someone from concentrating on something else.' [2]
Take a moment right now to reflect on what is taking up your attention and focus throughout your day
Think about the above points and anything else God brings to your mind. Ask the question, 'What is at stake?'
If you recognize that distractions are occurring, repent of allowing them to take you away from Father's highest purpose for your life and ask Him to give you a fresh hunger for His Presence and Word
Reject condemnation and receive the abundant grace of your Heavenly Father. Respond to His invitation to run freely into His Presence. (Heb 10:19)
Have people with whom you can share your mutual challenges in this area
Put practical boundaries in place, including times and zones in which you unplug and remove yourself from online communications—or any other distraction that Holy Spirit is alerting you to
Be aware that distractions may be affecting your relationships with family members and others close to you—and bring these before God in prayer.
Let the Holy Spirit woo you back into a love relationship with God in which He becomes your supreme focus. Allow His glory to dazzle you, His beauty to enthrall you, His love to captivate you—like never before.
---
Notes:
[1] Google "define attention". 15/4/2014
[2] Google "define distraction". Retrieved 15/4/2014
[3] The Greek word meaning 'to anoint', chrio, means to smear with oil. (Strongs #5548)
---
Related Posts:
Intimacy, Prayer, and Releasing God's Power
How to Have an Intimate Friendship with God
Prophetic Praise: 10 Keys to Powerfully Release Your Praise
---
© Helen Calder Enliven Blog – Prophetic Teaching
Enliven Ministries: in the David McCracken Ministries family