Anointing, Grace and the Glory of God
Have you ever noticed that when God calls people in the Bible, He always gives them a job or ministry to do that is beyond their natural ability?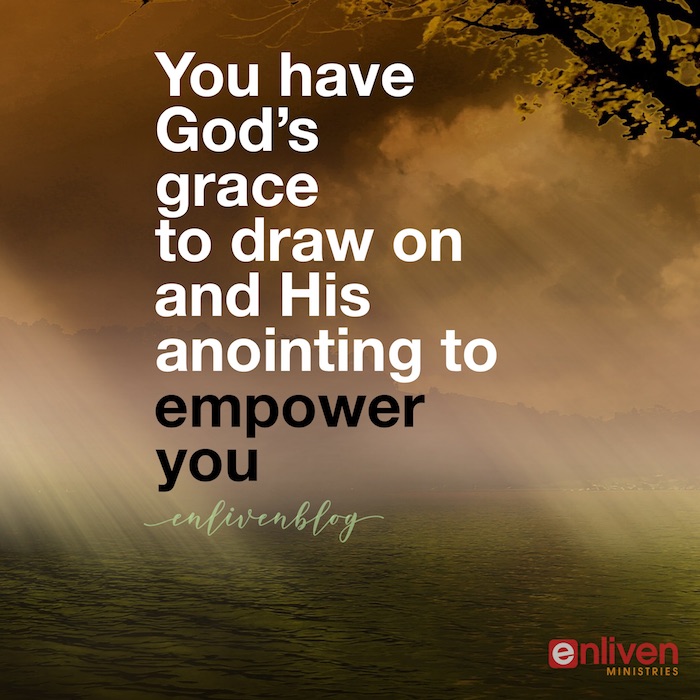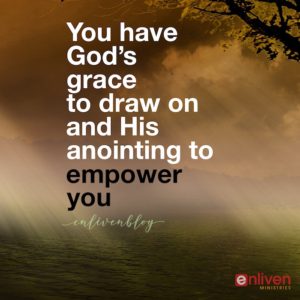 So—that God-sized dream knocking on your heart's door, that one that is audacious and seems more than you can handle in your own strength; the vision that part of you wants to run towards, and another part wants to run from—it is probably from Him. [1]
And here's why:
God longs for an intimate relationship with us. He has designed that we partner with His Spirit in our service for Him. Plus, He uses weak, ordinary people so that He gets the glory. (1 Cor 1:27)
---
Anointing and Grace Bridge the Gap Between Your Ability and God's Call
Here are two things that bridge the gap that our abilities cannot reach across, when it comes to God's purpose for our lives.
1. The Anointing of the Holy Spirit
'He anointed us, set his seal of ownership on us, and put his Spirit in our hearts as a deposit, guaranteeing what is to come.' (2 Cor 1:21b-22)
The Greek word to anoint is chrio, meaning 'to smear or rub with oil' and used in the New Testament (NT) symbolically to speak of the anointing of the Holy Spirit. [2]
"The Spirit of the Lord is on me, because he has anointed me to proclaim good news to the poor. He has sent me to proclaim freedom for the prisoners and recovery of sight for the blind, to set the oppressed free, to proclaim the year of the Lord's favor." (Luke 4:18)
Just as Jesus was 'anointed to…' we are also anointed to fulfil God's purpose for our lives.
With the Presence and anointing of the Holy Spirit, we also receive God's power to do the work He has called us to do.
'God anointed Jesus of Nazareth with the Holy Spirit and power, and… he went around doing good and healing all who were under the power of the devil, because God was with him.' (Acts 10:38)
In the Old Testament, Prophets Priests and Kings were the classes of people anointed with oil—foreshadowing Jesus the Messiah—and also signifying that the anointing sets apart God's people for service to Him.
This also reminds us of the link between anointing and authority. As David McCracken often says, 'The authority you are under determines the authority you carry.' [3]
In the NT, anointing is not a substance or impersonal power, but the Person of the Holy Spirit. We need to highly value and treasure the Spirit and His anointing. This means:
Maintaining an intimate relationship with Him and being filled with the Holy Spirit
Being sensitive to obey Him and follow His timing
Valuing accountability and honouring God-given leadership (Eph 4:11)
Treating His Presence and anointing with honour and respect
As you do this, you can trust in His anointing and Presence to be evident in your life and calling from God.
So, if you are wondering how you will get the supernatural results God intends for your ministry, remember that the source is not you, but the Presence and anointing of the Holy Spirit.
2. The Grace of God
Unsure where the strength will come from to do what God has called you to do?
'But he said to me, "My grace is sufficient for you, for my power is made perfect in weakness." Therefore I will boast all the more gladly about my weaknesses, so that Christ's power may rest on me.' (2 Cor 12:9)
God's grace, charis, refers to the undeserved favour of God freely given to us in Jesus Christ. [4]
Grace also refers to God's empowerment in our service for Him:
'But by the grace of God I am what I am, and his grace to me was not without effect. No, I worked harder than all of them—yet not I, but the grace of God that was with me.' (1 Cor 15:10)
This enabling grace relates to our specific calling from God:
'Through him we received grace and apostleship to call all the Gentiles to the obedience that comes from faith for his name's sake.' (Rom 1:5, see also 1 Cor 3:10)
When the call of God is daunting and you are tempted to focus on your limited ability, remember that you have God's grace to draw on and His anointing to empower you.
---
Notes:
[1] Personal guidance, like all prophetic revelation, needs to be weighed up and tested. See the following post: Personal Guidance for the Important Decisions of Life.
[2] Strongs ref G5548
[3] This is the 'Centurion Principle' (Matt 8:5-13)
[4] Strongs ref G5485
---
Related Posts:
Ministry that Breaks Open God's Anointing
8 Ways to Make Room for the Holy Spirit in Your Ministry
Preventing Ministry Burnout: 6 Questions You Can Ask
---
© Helen Calder
Enliven Ministries: In the David McCracken Ministries family