'I am interested in learning about prophecy, but I am not sure whether or not I have a prophetic gift. What should I do?'
If you can relate to this, here is an open invitation, written by Paul to the church in Corinth, and given to you today:
'Pursue love, and desire spiritual gifts, but especially that you may prophesy.' (1 Cor 14:1)
You do not have to 'know whether or not you have a spiritual gift' to learn about, to explore, or even to pursue the ability to prophesy at a basic level—which, in the context of Paul's invitation, is to 'strengthen, encourage and comfort.' (1 Cor 14:3)
'Your Sons and your Daughters will Prophesy'
On the day of Pentecost, Peter proclaimed under the Spirit's inspiration,
'…this is what was spoken by the prophet Joel: "'In the last days, God says, I will pour out my Spirit on all people… Your sons and daughters will prophesy…' (Acts 2:16-17a)
At the very outset, at the birth of the NT church, God announced a new era of relationship. One in which every Christian can receive communication directly from God in the form of prophecies, dreams and visions.
Hearing and conveying the purposes of God is no longer limited to a few Prophets, as it was in the Old Testament. It is available to every child of God. No one is exempt.
'All people…your sons and daughters.' Not confined to a single generation, but for every generation to come.
Prophecy is not Exclusive to Those who are Gifted
We need to understand that just because some people have a spiritual gift, does not mean that a ministry or ability is exclusive to those who are gifted in that area.
A spiritual gift is a Holy Spirit-empowered, turbo-boosted version of an attribute and ability that should be present in every Christian's life.
For example:
Some people have a gift or ministry of evangelism. However, all Christians are called to be witnesses and to share their faith.
Someone may be gifted in the area of intercession, however, all Christians can pray. In fact prayer is foundational to our relationship with God.
Some have a spiritual gift of discernment of spirits. However the Bible instructs us all to be discerning.
Some Christians have a special gift in the area of hospitality, However, the Bible exhorts all of us to practice hospitality.
There is a spiritual gift of healing. However, all of us have the mandate to pray for and heal the sick.
It is the same with the gift of prophecy.
Yes, there is a spiritual gift of prophecy, there are prophetic callings and ministries and there is the five-fold prophetic office. (Rom 12:6, Eph 4:11-13 ) And those who have these prophetic gifts and ministries will operate more frequently, with greater authority and with greater focus and influence in prophecy.
However, every Christian has a prophetic ability, due to our relationship with God and the ministry of the Holy Spirit who is within us. This is our heritage.
The Simple Nature of Prophecy
Many people believe that prophecy is an unnatural and miraculous thing—and therefore, limited to a few who have special gifts and abilities.
When we understand the simplicity of the prophetic mandate, and the fact that we have the Holy Spirit within us—the One who knows and communicates God's purposes to us—we realise that prophetic communication is not an abnormal thing.
It is the natural outflow of our relationship with God.
Have you ever seen a little child run to his sister and cry out,
'Daddy says we can go outside now!'
'Papa says Uncle John is coming to visit!'
We have turned prophecy into an unnatural thing, when it should be the most natural thing in the world—the simple receiving and conveying of Father's purposes.
And His purposes are good. (Jer 29:11, Luke 11:11-13)
The heart of prophetic ministry is the Father's heart—one of love and redemption. The purpose of prophecy at its basic level is to build up—to 'strengthen, encourage and comfort.' (1 Cor 14:3)
Every Christian has a prophetic ability, due to our relationship with God and the ministry of the Holy Spirit who is within us. This is our heritage.
---
Related Posts:
Taking The Pressure Off When You Are Growing In Prophecy
What Are Some Signs That You Have A Prophetic Gift?
You Don't Need To Have A Special Gift To Be a Supernatural Christian
---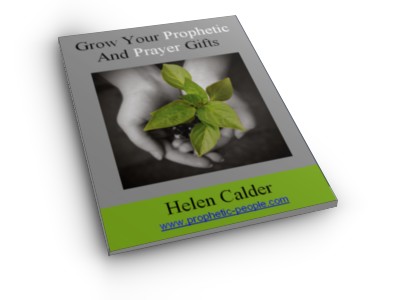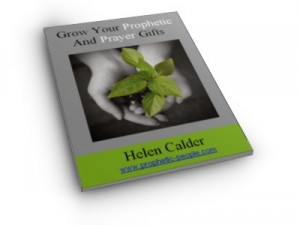 'Grow Your Prophetic And Prayer Gifts' is a high-value e-book specifically written to help you grow in your prophetic gifts – at whatever stage or season you are on the journey.
Check out our e-books page for more e-books related to prophetic and prayer ministry.
---
© Helen Calder Enliven Blog – Prophetic Teaching
in the David McCracken Ministries family