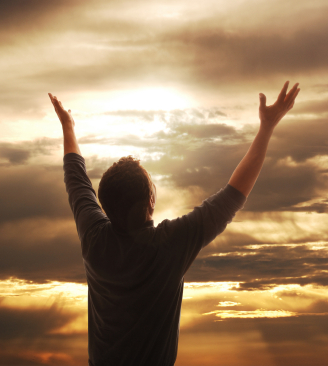 As prophetic people, the greatest passion of our lives should be intimacy with God.
Everything else flows out from that.
One of the ways in which we can discover how to have an intimate relationship with God, is to learn from those in the Bible who walked closely with Him.
4 Lessons from Moses' Intimate Relationship with God
Moses experienced an intimacy with God that many of us aspire to today. Exodus 33 provides us with an open window through which we can view Moses' friendship with God, and learn from it:
1. Be a Friend to God, as well as a Friend of God
'The Lord would speak to Moses face to face, as one speaks to a friend.' (Ex 33:11)
In a true friendship, intimacy goes both ways. We may know that God is our friend, but are we being a friend to Him?
Friendship involves:
Sharing Heart to Heart
Friendship means listening, not just to the words, but also to the desires and emotions behind those words.
As a friend of God, we will not just be sharing what is on our mind and heart; we will be listening to what is on His heart.
Not Holding Back
Moses was honest and shared his feelings, even his negative ones. Likewise, by laying our souls bare before God, we allow Him to address what is in our hearts and minds, and to bring adjustment when necessary. Moses also had the privilege of hearing God's purposes first hand—and seeing His glory.
Perseverance
Friends are there in hard times and good times. Likewise, it takes perseverance to maintain an intimate relationship with God. That means, not giving up or backing off when times get tough. Times of trial are the fires through which our intimate relationship with God is forged.
2. Take Time to Meet with God
'Now Moses used to take a tent and pitch it outside the camp some distance away, calling it the "tent of meeting."' (Ex 33:7)
God was always with Moses, as He was with all Israel at that time, in the cloud and fire. For Moses, however, knowing God was present was not enough. The intimate relationship he enjoyed was to be found in personal encounters with God.
Moses had a meeting place with God, and he kept that appointment as a priority.
Intimacy is intentional. We can live in the same house with someone, but that doesn't mean we have a close relationship. Knowing that God is always with us does not constitute an intimate relationship—spending regular, personal, one-on-one time with Him does.
3. Value God's Presence more than His Power
'Then Moses said to him, "If your Presence does not go with us, do not send us up from here.' (Ex 33:15a)
Following Israel's sin of idolatry, God offered to send an angel ahead of them in His place, to enable them to enter the Promised Land. Effectively, He was saying, 'You can still have my power, and I will fulfil my promises—but you can do it without My Presence.'
All of Israel failed to appreciate the priceless treasure God was offering them—Himself. But Moses knew what was at stake. He had just received God's instructions for the Tabernacle.
"Then have them make a sanctuary for me, and I will dwell among them." (Ex 25:8)
But having God's power, even having all of God's promises fulfilled, would not satisfy Moses if God Himself did not go with them. So Moses took a stand, contending for God's Presence.
Even today, it is possible to have the power of God, and lead others and ourselves into the fulfilment of God's promises—in a measure, at least—without God's manifest Presence. And, without experiencing the fullness of relationship with God that is available to us.
But to have an intimate relationship with God means not putting up with second best.
4. Run to, not away from, God's Holiness
In Exodus 33, we see a stark contrast. On one hand, Israel's sin of idolatry—they have just worshipped a golden calf—is standing in the way between the nation and God's Presence. On the other hand, we see Moses' humble transparency before God in his intimate relationship with Him.
Today, because of what Jesus has done, we can experience the transparency and intimacy in our relationship with God that Moses did. Jesus has made the way open once and for all. We have access into God's intimate Presence—not by our own righteousness or worthiness, but by Jesus' blood. (Heb 10:19-22)
Unconfessed, undealt-with sin will put a barrier between God and us. It will prevent us experiencing an intimate relationship with God.
But to know God intimately, is to know His grace.
To embrace God's Presence is to say,
"Father there are issues of hurt, or of fear, or of sin that I am still struggling with. Here they are. You and I can work on these together."
To truly have a close relationship with God is to know that the safest place for us to bring our problems and struggles is our intimate friendship with God. It is safe for us, but dangerous to sin and the work of the enemy in our lives.
And there, in His Presence, His goodness and kindness leads us to repentance and freedom. (Rom 2:4)
---
Related Posts:

Relational Pathways to Intimacy with Father, Jesus and Holy Spirit
Hunger for God: 6 Ways you can Stir it Up
How You Can Have An Intimate Relationship With The Holy Spirit
---
Do you have any stories, insights, scriptures, poems or questions on the topic of intimacy with God to share? I would love to hear about it. Leave a comment in the box below. If the comments box is not visible, click on this link and scroll down.
---
© Helen Calder   Enliven Blog – Prophetic Teaching
On team with David McCracken Ministries: Prophetic Ministry That Empowers The Church
Did you receive this from a friend? Read more from Enliven Blog or sign to receive our weekly prophetic teaching updates at https://www.enlivenpublishing.com/blog