Are you free to be and do all God has designed and prepared you for, in the coming year?
The cicada sheds its shell for the purpose of transformation.
After many years of living in the dark unseen, feeding on the sap of tree roots deep within the soil, the cicada emerges out of the ground. It climbs the tree it has fed from and crawls out of its shell. It spreads its wings—now free to fly, sing and find a mate. [1]
Climb out of that Shell!
It is time to shed the inhibitions and limitations of the past. And for you, that may be for further growth—or it may be a time that you need to emerge into your true identity.
Others animals shed their skin to make room for growth. As the time draws near for a snake to shed, its outer layer of skin becomes dull in color. The old skin is dry, uncomfortable, and irritating. Underneath, a bright new layer of skin is becoming ready.
It is time to let go of past information about who you are.
It is time to get out of the comfort zone of how history has defined you to be.
And it is time to enter the miracle zone of who your Heavenly Father says you are.
Everything that Hinders
"Therefore, since we are surrounded by such a great cloud of witnesses, let us throw off everything that hinders and the sin that so easily entangles. And let us run with perseverance the race marked out for us, fixing our eyes on Jesus, the pioneer, and perfecter of faith." (Heb 12:1-2a)
I believe that Holy Spirit is instructing us today to identify and cast off everything in our life that hinders God's purpose for our lives.
Note: not everything that holds us back from being all God that has called us to be is an obvious sin.
We must allow Him to put His finger on limiting mindsets! These are sinful in that they fall short of what God has called us to believe about our God, our circumstances, and ourselves.
What do you believe about your ability? Your personality? Your gifts and ministry? God's desire and ability to provide for your vision, your needs, your ministry, and your family?
Is there a gap between your definition of who you are and what you can do—and God's definition of who He has created you to be and what He has called you to do?
That gap is a limiting mindset.
A role or title can help identify our job or ministry and define what others can expect from us. But there are times when God calls us to enlargement—to think and behave bigger than where we have been. Recently the Holy Spirit spoke to me clearly about a limiting definition I was using of myself and said, 'I don't care for your labels.'
For those of us who are leaders, limiting definitions can hold our ministry, church or organization back. It is time to review every defining statement and label that we have made. We can bring our words into alignment with God's intention for the new season.
Let's be clear here: this is not about trying to be something we are not, but embracing all that we are designed for.
And I believe that He is speaking to many of you that this year is a year to take ownership of that calling. As well as the dream that He has planted into the very DNA of who you are.
Because this is a year of enlargement.
It is time to take time to worship and commune with Him, and rediscover the desires that are on His heart for your life. "Take delight in the Lord, and he will give you the desires of your heart." (Ps 37:4)
That doesn't mean that you run ahead of God and push the doors open!
But as you call 'alive!' what He calls alive, His creative Word causes it to come to pass. "He (Abraham) is our father in the sight of God, in whom he believed—the God who gives life to the dead and calls into being things that were not." (Rom 4:17)
---
A Prayer for the New Year:
Father, I choose to move forward and embrace all that you have for my life and ministry in this New Year. I ask that You would reveal any limitations, sin, and areas that need adjustment: everything that would hold me back from the fullness of all you have purposed for me. Lord of my life, I surrender to You every definition, every defining statement, or label that I have used about my life or ministry up until this time. (Name any that come to mind) Show me which are right for the current season, and which to release.
I repent of limiting Your work in my life by believing and speaking out of expectations that are less than what You have for me. In Jesus' Name, I renounce them (name any negative descriptions/opinions you have spoken about your life, ministry, circumstances, family, or future). Father, I embrace and receive all of Your promises for this coming year and beyond, including (name those that the Holy Spirit brings to your mind). I rejoice in the anticipation of all you will do in this coming year!
In Jesus' Name.
---
Notes:
[1] If you are interested in finding out more about the cicada life cycle, I recommend an inspiring David Attenborough clip on YouTube. Search for:
'Amazing Cicada life cycle – Sir David Attenborough's Life in the Undergrowth – BBC wildlife.' (begins with an ad you can skip)
---
Related Posts:
Take That Label Off And Agree With What God Says
Are You Seeking A Prophetic Word For The New Year?
---
Study Online: Classes for Those Growing in Prophecy: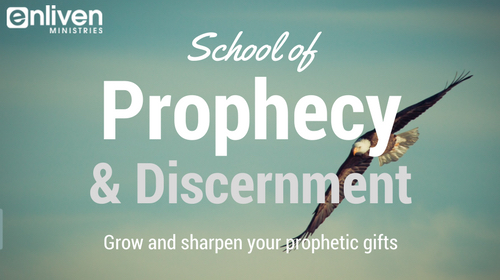 I've been privileged to receive extraordinary prophetic mentoring, as one of a ministry team of prophets and teachers with David McCracken Ministries.
But it hasn't always been that way. When it comes to spiritual gifts, I know what it is like to go on a long journey, and often a lonely one.
My own experience of struggling to find good mentoring is why I am extremely passionate about helping others learn how to hear God's voice, and grow in their gifts of prophecy and discernment.
The best mentoring and teaching I can give you is now rolled into this one place, on the Enliven School of Prophecy and Discernment.
You can view and sign up for my self-paced video lecture series in the Enliven Prophetic School here. Choose between a small monthly subscription or a one-off payment with no expiry date.
---
Does this article speak to you? Do you have a testimony to share, or a prayer request? Leave a comment in the comments box below.
---
© Helen Calder Enliven Blog – Prophetic Teaching
Enliven Ministries: in the David McCracken Ministries family