I am currently preparing to go to Sydney for a 'School of Healing and Impartation' with Bill Johnson and Randy Clark.
It's a funny thing, that there are 'Schools of the Prophets', 'Prophetic Conferences,' 'Healing Schools,' and so on. But whoever heard of a discernment conference? There are books a-plenty on the topics of healing and prophecy—but few on the topic of discernment.
When I first started to navigate my way through the mysteries of encountering the spiritual realm, I had few resources to help me. It seemed that I had 'marched off the map.' I did have some prophetic mentors, but not all of the advice I received was healthy. For the most part, I was alone.
Over the next few posts I am going to discuss how to grow in and exercise the gift of discernment.
---
Seeing the Way the Father Sees
Discernment of spirits is the Spirit-given ability to distinguish whether Divine, human or demonic origins are the source of what is presented—whether it be in an atmosphere, encounter, event, or prophetic message.
Our goal in discernment is twofold: firstly, to see what the Father would have us see, and secondly, to communicate that in such a way that we represent His viewpoint as closely as possible.
When He shows us something—even if it is demonic in nature, it is because He has a purpose for us in revealing it. His heart is always to redeem and restore people and for His church to be purified and made holy (Eph 5:25-27).
Whatever I perceive in the spiritual realm, I do not want my impression or communication to be coloured by my own viewpoint, prejudices or fears. This is a danger common to all who have the gift of discernment of spirits, and one that I have struggled with continually. [1]
The Discerners Heart
'In a large house there are articles not only of gold and silver, but also of wood and clay; some are for noble purposes and some for ignoble. If a man cleanses himself… he will be an instrument for noble purposes, made holy, useful to the Master and prepared to do any good work.' 2 Tim 2:20-21
I have come to realise that the most important thing, as I seek to grow in the gift of discernment, is to prepare and guard my heart, and to cooperate with the Holy Spirit in cleansing myself from those things that endanger the clarity and purity of His gift in my life.
Here are some qualities to seek after if you would like to grow in the spiritual gift of discernment:
1. Love for God
We need to have a passion for God and His intimate Presence. As I have said, the highest use of the gift of discernment is not to see what the enemy is doing, but to discern what the Spirit of God is doing.
When we love Him, we will desire to know His heart and to faithfully represent Him in the expression of our gift.
2. Love for People
There is a reason why 1 Corinthians 13—the love chapter—is sandwiched between Paul's two chapters on spiritual gifts.
I realise now that it is vital I do not jump to conclusions about a person, situation or anything based on my perceived discernment without first moving into Jesus' position of love.
When I step into judgement, I inevitably get it wrong. I grieve over times in the past when I have formed opinions about people based on 'discernment' and missed Divine appointments.
Love for people will also keep us in Christian community. Our gifts were never meant to operate in isolation but in the environment of a local church (1 Cor 12-14).
3. Faith.
I want to learn to respond in faith and not fear, no matter what I perceive taking place in the spiritual realm.
It is important for us to always look for God's positive outcome, not just to focus on the negative. God's plan is to overturn every strategy of the enemy! I want to grow in faith and to place increasing value on looking for His redemptive purposes in the things He allows me to see.
4. Humility ( Teachability)
I have learned to be open to being adjusted about my discernment and to present and release my insights with 'no strings attached.'
We will not always have similarly-gifted people around us to guide us in our gift. Pastors and leaders who do not have the gift of discernment themselves may be leading us.
As with other prophetic ministry, our leaders will not always respond to or act upon our revelations. God has graced them with the ability to see the bigger picture and we need to trust Him—and our leadership—in their response.
Even when we have been misunderstood or unfairly treated, it is important to keep a right heart attitude. I know that these are the times that I have learned and grown the most in my gift and character.
4. Wisdom (Balance)
All revelationary gifts need to be balanced with wisdom. Wisdom instructs us how to share what we are receiving, and also when to share, or when to hold back and pray.
People who are 'flaky' in their gifts are usually those who do have a gift of discernment, but have not developed the wisdom to use and communicate the gift properly (another reason is not receiving instruction on how to operate in the ministry in a way that honours God and people).
5. Purity (Wholeness)
The things that cloud my discernment often relate to areas of past hurts or circumstances that I have not responded well to. I want to grow in wholeness, so that old fears, temptations, judgments and wrong beliefs lose their hold on me (Eph 4:22-24).
The degree to which I can see clearly, and be sensitive to how the Holy Spirit would have me respond, is the degree to which I become more like Jesus—having cooperated with His Spirit in experiencing restoration in my heart.
I am still a long way from seeing what God sees, and perceiving how He sees, but my desire is to draw ever closer to that place when I am reflecting Him in my heart, thoughts, life and gifts—and that includes the gift of discernment.
Now, gotta go pack my suitcase…..
[1] This is one reason why, as in all revelatory gifts, it is vital that whatever we perceive is given to the opportunity to be assessed by others who are leaders or mature in the gift of discernment. As Paul said, "Every matter must be established by the testimony of two or three witnesses."  2 Cor 13:1-2
---
UNLOCKING THE GIFT OF DISCERNMENT E-BOOK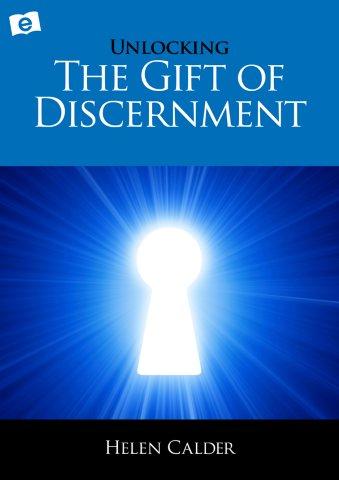 $5.95 AUD e-Book
Are you sensitive to what is taking place in the spiritual realm? Have you ever been adversely affected by a negative atmosphere?
You may have the spiritual gift of discernment.
The gift of discernment of spirits is a powerful weapon in times of spiritual warfare, and can be of great assistance when ministering freedom to individuals.
And yet many who have the gift of discernment have difficulty knowing what to do with what they are feeling or sensing.
'Unlocking The Gift Of Discernment' incorporates wisdom from Enliven Blog as well as additional valuable material on how to be protected as a discerner in times of spiritual warfare.
To view 'Unlocking The Gift Of Discernment' in our e-store, click here
---
Related Posts:
8 Signs You May Have The Gift Of Discernment
8 Ways To Grow Your Gift Of Discernment
6 Tips For Exercising The Gift Of Discernment In Church Life
---
©  Helen Calder   2010   Enliven Publishing