A Prophetic Song of Praise Releases the Power of God
It has been said that 'desperate times call for desperate measures.'
In God's Kingdom, however, desperate times call for extraordinary measures.
Occasionally, I find myself in a crisis that requires an exceptional response of faith. In these times, I know I can pray—and I do. But when I know that extraordinary measures are needed, I turn to praise.
A song of praise is a powerful prophetic tool that
Celebrates victory in the face of apparent defeat.
Declares God's ability in the circumstance of your inability
Gives thanks to God for answers that have not yet been sighted
It is prophetic because it gives voice to the word that God has spoken to you, concerning His outcome for your circumstances and life.
We can choose to believe and respond to that prophetic word over and above the voice of our circumstance, or the negative whispers of the enemy in our minds.
There is something about singing songs of praise that has a powerful magnetic pull on the resources of heaven. And this is why:
The Bible's Prescription For Our Desperation: A Prophetic Song Of Praise
God has prescribed the prophetic song of praise in scripture as an instrument of breakthrough. Here are some examples:
1. Warfare (2 Chron 20)
King Jehoshaphat received word that a 'vast army' was coming against Israel. In answer to a prayer of desperation, he received a prophetic word: 'The battle is not yours, but God's.'
Jehoshaphat sent out a choir singing praise to God in front of his army. He was not sending the praisers to their death, but to proclaim the victory that he had already received by God's word.
The Bible records, 'As they began to sing and praise, the LORD set ambushes…' 2 Chron 20:22
The enemy armies turned on each other and victory was won with no weapon except a song of praise to God.
When it feels as though all hell is breaking loose against you, break heaven loose against the enemy and overcome with a prophetic song of praise.
(see also Psalm 149:5-9)
2. Provision (Numbers 17)
Israel returned to the place God had miraculously provided water for them in the past and sang this song:
"Spring up, O well! Sing about it, about the well that the princes dug, that the nobles of the people sank–the nobles with scepters and staffs." (Num 21:17-18)
This prophetic song of praise did two things. It
Commemorated God's past provision and
Anticipated His present supply
3. Impossibility (Isaiah 54)
Are you waiting on promises from God to be fulfilled? Does fulfillment to be out of your reach?
In Isa 54:1-3 God says to His people,
'Sing, O barren woman, you who never bore a child; burst into song, shout for joy, you who were never in labor…
Enlarge the place of your tent, stretch your tent curtains wide, do not hold back; lengthen your cords, strengthen your stakes. For you will spread out to the right and to the left; your descendants will dispossess nations and settle in their desolate cities.'
In the face of barrenness and impossibility, sing! Sing a song that celebrates the fulfillment of God's promise. A glorious, prophetic song! Don't stop there, prepare and make room for His answers.
4. Obstacles (Acts 16)
Persecution and imprisonment threatened to cut short Paul and Silas' ministry in the city of Phillipi. Instead of the effectiveness promised by God in a prophetic dream, they found themselves flogged and cast into the stocks of an inner dungeon.
But outward circumstances could not rob them of their inner faith. They prayed and loudly sang hymns to God, and these were heard throughout the jail. Suddenly an earthquake shook the prison, opening the doors and breaking chains.
There could have been no doubt of the correlation between the song and the earthquake, for the jailer cried out, "Sirs, what must I do to be saved?" (Acts 16:30)
As a result, more people came to know Jesus, and the Kingdom of God was advanced in that city.
When you find yourself trapped, in pain, and there is no earthly way out, try a prophetic song of praise—and make sure that others know you are singing.
The Power of Prophetic Song: When Singing Is The Hardest Thing You Can Do
Sometimes singing a song of praise can be the hardest thing to do. It helps to remember that even when Jesus faced the cross, He was able to sing praises to God.
Mark records of that night,
'When they had sang a hymn, they went out to the Mount Of Olives.' (Mark 14:26).
Singing a song of praise is not about feeling good, and certainly not about sounding good. You don't have to be a singer or musician to sing a praise song to God.
Let the Holy Spirit release Heavenly praises within you today
Here are some ideas to help you stir up and sing a prophetic song of praise to God, no matter what your circumstances are:
Find a recorded song of praise that gives voice to God's prophetic word for you, and play it—over and over. Sing along to it
Attend a church service, and sing the praise songs with all your heart
Sing praises when you are alone—in the car, in your room, under your breath while you are out walking
When you feel tempted to worry or fear, recall the song to mind
Tell someone how you are responding to God in the crisis. It will be a powerful testimony to them.
Desperate times call for extraordinary measures. Sing a prophetic song of praise and watch as God moves!
---
Related Posts:
6 Benefits of Prophetic Worship
Prophetic Praise: 10 Keys to Powerfully Release Your Praise
4 Benefits of Prophetic Praise and Thanksgiving
---
Prophetic Worship: Develop Your Ministry of Encounter
Partner with the Holy Spirit so that you and others can encounter God through your ministry of worship.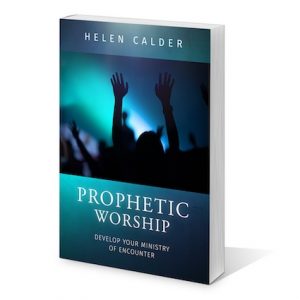 In 'Prophetic Worship: Develop Your Ministry of Encounter' you will learn about prophetic songs, and praise for breakthroughs, how prophetic flow operates in the worship environment, prophetic art and media, keys to releasing the power of God in worship, and more!
To view 'Prophetic Worship: Develop Your Ministry of Encounter', click here
[**2022 Announcement: I've temporarily removed this book from the eStore while I'm working on another significant edition of this book.
If you'd like me to let you know when it comes available, leave a note in the comments section below]
Alternatively, you can find our Prophetic School here.
---
© Helen Calder    Enliven Ministries: in the David McCracken Ministries family