The Power of Hunger For God
"You will seek me and find me when you seek me with all your heart." Jer 29:13
In Song of Solomon, the Beloved is knocking on the chamber door. The maiden resists getting up to answer. "I have taken off my robe—must I put it on again? I have washed my feet—must I soil them again?" (SOS 5:3)
She is in a state of repose, and for that moment, her comfort is more important than her relationship.
The maiden rises to open the door to her Beloved, but he has already left. Her hesitancy has cost her his presence. Now, her heart is stirred. Comfort is no longer an issue as she loses sleep and risks her safety to search for the one she loves.
Unable to reach him, she passes on a message, "Tell him I am faint with love." (SOS 5:8)
"Here I am! I stand at the door and knock," Jesus calls to His church. "If anyone hears my voice and opens the door, I will come in and eat with him, and he with me." (Rev 3:20)
Jesus' call to intimacy is a challenge to our comfort. To answer His knock, we must stir ourselves from our place of spiritual repose.
His promise: "I will come in and eat with him, and he with me."
Jesus' invitation is to Christians who are hungry.
---
Why Be Hungry For God?
Hunger: that gnawing ache on the inside of you; that sense of need that is not content until it is filled.
Hunger is an active state, for it results in you seeking out the object of desire that will satisfy your need.
Hunger for God is the longing to encounter Him, to be with Him, and to be filled with His Spirit.
As prophetic people, we need to hunger and thirst after God.
When we are hungry for God and His Presence, we will do whatever it takes to get close to Him. The place of intimacy is where we will catch, not only the revelation He wants to give us, but we will also catch His heart.
Many of us want to be filled with the Spirit, we long to be close to God and see miracles happen in people's lives.
When we hunger and thirst for God, we will seek Him, and when we seek Him, we will be filled and empowered.
---
6 Ways You Can Stir Up Hunger For God
1. MISS IT
A person who is fasting eventually loses their appetite as their body adjusts to the absence of food. Although in Christian leadership, I was spiritually famished for so long, I lost the ability to hunger after God.
My turning point came when I realized what I was missing.
I noted in my journal,
"I have come to realize that the real tragedy in the church is not spiritual famine: it is famine without hunger, dryness without thirst."
2. PRAY FOR IT
Even the desire to seek God is a gift from Him (John 6:44).
When we pray for spiritual hunger, we are praying in accordance with God's will. He wants us to be hungry for Him. (Matt 5:6). It is a prayer God loves to answer.
3. RECALL IT
Jesus told the Ephesian church, "You have forsaken your first love. Remember the height from which you have fallen" (Rev 2:4-5)
You can stir up a desire for God by remembering a time when you were pursuing God and experiencing intimacy in your life with Him.
Do you have books that you read at that time, worship you listened to, or letters or journals that you wrote in? These can be aids to help you recall what it felt like during that season.
4. CATCH IT
Spiritual hunger is contagious. Get around hungry people, or people who are further on in the journey than you. Study their books, listen to their messages, read their blogs.
A friend wrote a blog post about having an ache in his heart for God. When I read it, it stirred the same sense of hunger in me.
5. HEAR IT
A new sound of worship can help impart hunger to you. When was the last time you heard fresh worship music that stirred your soul to worship and spend time with God?
These days, it is easy to purchase worship music through iTunes for a very small cost. A couple of songs from Rick Pino, 'Your Love is Like' and 'My Romance' have stirred the hunger in me recently.
6. ACT ON IT
"Taste and see that the Lord is good." Ps 34:8
With the little sense of need that you have, pursue God. Like me, you will learn that the more you encounter His presence, the more you will hunger for more.
And most amazing of all, you will discover that no matter how much you long for God, and how much you hunger for Him, His desire for you is greater.
The maiden who sought her Beloved in Song of Solomon discovered this wonder:
"I am my beloved's, And his desire is toward me." (SOS 7:10)
---
Help for Prayer Warriors: Overcome Spiritual Dryness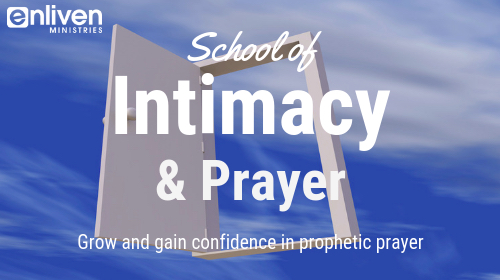 If you have felt dry or depleted in your prayer life lately, the lessons in my Prophetic Prayer School will be of benefit to you.
You will find these in the class, "How to Prevent and Recover from Dryness in Prayer":
Causes of Dryness and Depletion in the Intercessor
Ten Keys to Being Replenished as an Intercessor
Receiving Prayer: How to Stay Filled with the Holy Spirit Through Soaking Prayer
This impacted me personally, and I'm sure it will benefit many of you! I warmly invite you to join me in the Enliven School of Prophetic Prayer
For a short period of time, while the Prayer School is under construction, I'm bringing the full price down to $19.95 USD.
Currently on the Enliven School of Prophetic Prayer are 41 video lessons (complete in your own time), along with PDF transcripts, exercises, and bonus eBooks.
Alternatively, you can view all online courses, including the Prophetic School here.
---
Related posts:
4 Powerful Benefits of Hunger for God
---
© Helen Calder –   Enliven Ministries: in the David McCracken Ministries Family