"You are the light of the world. A city that is set on a hill cannot be hidden" (Matt 5:14)
The Flashing Light
It was a Friday night in February 2020, and I paused work on the blog. I'd been aiming to publish a new post that evening, but the labor had become exhausting.
So, I stopped to pray, and found myself in a vision.
I was standing in the living room of a beach house, looking out of the window.
It was night, and I could see a flashing light, on the distant shore.
In my mind's eye, I was back in Portarlington, on the Bellarine Peninsula, where I'd stayed for a prayer retreat a few weeks earlier.
---
"Put it on Airplane Mode"
For the first three nights I'd been there, I assumed the light was from a lighthouse—as there are a number of lighthouses in the area.
But on the fourth evening, when my husband Malcolm joined me, he brought binoculars with him.
Then, as I looked through those binoculars, I realized that the flashing light was not a lighthouse. It was an airfield beacon, set there to guide planes in to the landing strip.
I was looking across at the Avalon Airport!
I felt Holy Spirit's familiar presence.
"Put it on airplane mode", He said.
Go offline. Take time to rest.
---
"I am Your Pace-Maker"
Perhaps today, you need to hear the words Jesus spoke to me that night:
"Beloved, I am your Timekeeper! I hold your time in My hands." (Ps 31:15)
He says, "Let Me be your Pace-Maker.
In My time zone, there is no pressure, as you know it on earth.
There is no hurry. I am your grace and empowerment."
A flashing light can indicate a warning. And sometimes, we just need to need to take a break.
In life and in ministry, there are times we need to go offline.
But there is another type of rest we need to pay attention to.
---
Let Your Light Shine!
Your purpose, like mine, is unique.
You may be a lighthouse—be an anointed lighthouse! But if you are like the airfield beacon, be what your Father has created you to be!
And this also speaks to prophetic ministry.
The lighthouse shines a light on the problem—dangerous waters.
The beacon shines a light on the promise—the landing strip.
The lighthouse declares, "Don't go this way!"
The beacon declares, "Come this way!"
The lighthouse warns, "There is danger here!"
The beacon welcomes, indicating "Your place of rest is here!"
Both are critical to navigation!
But their purpose is different; contrasting.
---
The Distinctive Nature of Your Anointing
You may relate more to being:
An encourager or an exhorter
One who comforts, or one who calls to war
Someone who welcomes, or someone who warns
Or even both at times!
Both types of ministry are essential in the Kingdom.
So, let your light shine and honor the way God has created you to be.
"We are His workmanship, created in Christ Jesus for good works, which God prepared beforehand, that we should walk in them." (Eph 2:10, NKJV)
As you are true to your DNA—the "Distinctive Nature of your Anointing"—God's glory will shine out from you.
---
A Kingdom Mindset
"But one who prophesies strengthens others, encourages them, and comforts them." (1 Cor 14:3, NLT)
Yes, I do relate more to being a "beacon" (and am both at times).
But I am learning to be grateful to God for the lighthouse leaders He has paced around me.
They are an essential part of my life and ministry—and without them, I'm incomplete.
We need each other!
Without the insights of the beacon ministry, someone with a lighthouse ministry could become focused on performance—being primarily about "do's and don'ts"
Without the perspective of the lighthouse ministry, someone with a beacon ministry could lean towards being permissive—lenient towards sin
It takes security in our gifts, along with a Kingdom mindset, to celebrate and embrace those whose ministries are different to ours.
So, if you have been struggling with weariness, insecurity, or with the style of others' ministries, receive fresh insight to your heart today.
Perhaps your Father has some new "binoculars" for you; the ability to see your circumstances from Heaven's viewpoint.
Hear Him say,
"Lean into Me. Draw breath from Me and be at rest concerning the way I have created you to be.
And know this:
"You are the light of the world."
---
Leave a Comment
Which do you most relate to – the airfield beacon, or the lighthouse? I'd love to hear from you, so scroll down to share your thoughts in the comments box below.
---
Related Posts:
11 Types of Prophetic Ministry: Which do You Relate to?
Pattern and Presence, Apostolic and Prophetic (Why Both are Important)
Prophecy, Repentance and the Coming Move of God
---
A Glimpse into My World
Since the prayer time I've recorded above, I have recognized more readily when it is not wise to complete a blog post in a week.
Sometimes, it's because I have other ministry—speaking engagements—requiring my time.
I may be taking a special break or have family commitments.
Often, a blog post requires extra research. For example, last week's post, "9 Lessons on Angels" was the result of many days' thought, prayer and study.
So—as I'm in my 12th year of blogging, the blog has gained a little more fluidity!
And while I could send out excerpts from past posts, smaller devotions, etc., and keep a strict weekly schedule, the Holy Spirit's anointing is not in that for me.
(For now, that is).
Now, what does this mean for my readers?
I'm still aiming to produce 3 posts in a month, but sometimes the days of the week I send them will vary.
---
The Enliven Prophetic School (Video e-Course)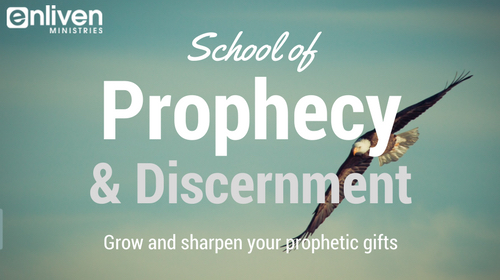 When our starting point is to see ourselves and others as valuable, we have a prophetic mindset.
This empowers us to speak life, even when we are identifying and ministering into that which needs adjusting!
If you would like to grow and sharpen in your prophetic gift, I warmly invite you to join me at the Enliven Prophetic School.
The Enliven Prophetic School includes the following classes:
How to get closer to God and hear His voice
The basics of the discernment gift
Keys to growth in the seer gift, prophetic pictures and visions
Find out how to receive and process prophetic warnings from the Holy Spirit
Prophecy, foundations, prophetic guidance and more
You can view and sign up to my self-paced video lecture series in the Enliven Prophetic School here. Choose between a small monthly subscription, or a one-off payment with no expiry date.
---
© 2021 Helen Calder, Enliven Blog
Enliven Ministries: In the David McCracken Ministries family